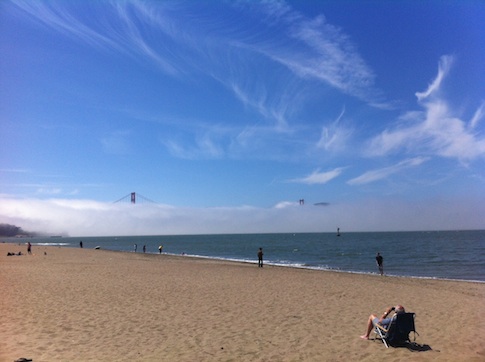 In "Please Believe In The Man I May Become," a Yakezie Writing Contest finalist writes about his frustration with his critical father who expects nothing short of excellence. The post has great structure and engenders empathy even though the writer's family is wealthy.
The essay reminds me a little of my own upbringing. Although not as harsh, my father expected me to do well in school.  I remember one afternoon proudly showing him a 95% score on a difficult exam I spent ages studying for.  His response was, "What happened to the other 5%?" I felt deflated because I worked so hard.  All I wanted was a high-five and perhaps a trip to the park where we could play catch afterward.
My father's tone wasn't deleterious in intent. Rather, his response was halcyon with a hint of sarcasm. Regardless, I was disappointed and lost the urge to study hard for that little while. After I got over my self pity, I decided I would no longer boast to my parents about any good grades I got in school. It was hard because I ended up getting A's for the remaining two years of high school. All I ever wanted was to make them proud. Grades and sports at that time were the main ways I could show how.
What If….
If my parents didn't have high expectations of me growing up, I'm not sure whether or not my own expectations would be high enough for my standards now. I didn't grow up poor, so I wasn't constantly motivated by the desire to "get out of this town" or lift myself out of poverty. But, I wasn't in a bubble either because I lived in third world countries growing up and saw poverty all around.
I was afraid of ending up poor. I wanted shoes to walk in and clean t-shirts to wear. I couldn't stand seeing the faces of young mothers begging at the stoplight with their babies. With fear came motivation not to mess around in school so I could have as many options as possible when I graduated. Even if my parents weren't strict, I think I would kick my own ass.
The lingering effect of my parent's high expectations is that I constantly feel reluctant to share big wins in my life for fear of disappointment or the perception of pomposity. After all, for 20 years I've had this memory of my father's response to my test score. As a result, I do shoot for 100% in many of the things I do. However, seldom do I ever achieve 100%.  At least by shooting for excellence, I sometimes achieve a 90-95%.
Imagine wanting to work hard but never being given the chance? My parent's discipline helped me not drown in a competitive world when I went out on my own. I didn't like their disciplinary ways then, but I sincerely appreciate it now that I have nobody to depend on but myself.
How About Now…
I've spent a lot of time with my father recently thanks to recent vacations and our collaboration on my book about how to profitably quit your job. Just think about the nice long philosophical discussions we've had about whether or not I should take the leap!  Because he was so critical of my writing growing up, I asked him to be one of the editors.  After all, I wanted the book to be error-free and as criticized as much as possible before selling it to the public!
Of course he obliged. And in the end, I got my dad to put in around 15 hours of free labor for his son! Yes! The key to criticism by a loved one is utilizing their criticism to let them produce a work they deem acceptable. It's all about moving around the Yin and the Yang. Like using your opponents force in Judo for your own benefit. Thanks again dad!
Nowadays, I get back at my father by poking fun at him for duck hooking a drive or going all-in with pocket jacks when it's obvious he's beat. Ribbing each other is what men do, and in retrospect, that is what my father was doing when he asked where the other 5% of my test score went. I just wasn't mature enough at the time to rib him back.
Readers, do you have parents with high expectations? Were your parents ever really strict?  Did their strictness help or hurt you in the end?
Regards,
Sam