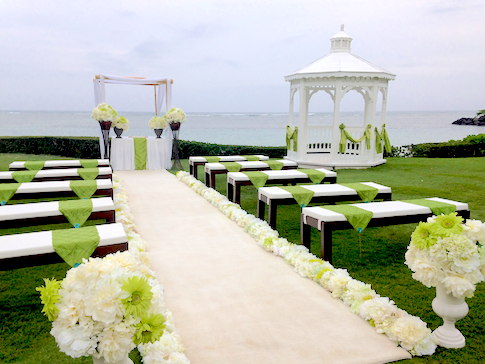 Weddings are a ginormous industry in the U.S. That's right, an industry. Did you know there are roughly 2.5 million weddings each year? That generates a whopping 40 billion (yes forty beeeellion) dollars every twelve months. That is nuts. Which begs the question, who should pay for a wedding? If you're engaged – congrats, it's probably you!
The Bride, The Groom, His Parents, Your Parents – Who Should Pay For A Wedding?
You may not like the answer, but the vast majority of couples that get engaged today pay for their entire wedding out of their own pocket. Why is that you may be wondering? Independence and age. Many couples live together now before getting married, or have their own separate apartments away from the nests of their parents. And a lot of people are getting married when they're older and have stable careers, instead of during school or in their early 20's. All of these changes have shifted the cost of weddings from the bride and groom's parents to the engaged couple themselves.
If paying for your own wedding comes as a shock, you may want to pop that bubble in your head right now if you've been wishing for something akin to the glamorous $230,000 NYC Sex In The City wedding. Even if you were lucky enough to get a $24,000 Vivianne Westwood wedding gown on the house, hollywood style weddings are best left to the movies. They just aren't practical! Even without that amount of glitz, the average wedding cost is crazy.
Receiving Wedding Money? Surprise, There Are Strings Attached!
If you are mature enough to get married, you better be financially independent of your parents. If you're young, just wait and give yourself more time to get on your own feet. Get educated on personal finance and pay down debt. There's really no need to rush to get married. Relationships that prematurely turn into marriages with rocky financial situation are in for rough and stormy waters. Anyway, that's a topic for another day…back to who should pay for a wedding.
If you're engaged, it's totally possible that your parents may want to contribute to some of the wedding costs, but please realize as an adult you should never expect them to. It's your wedding, your relationship, your celebration, your wish list, and yep your responsibility.
And always keep in mind, if you do accept money from any parent regardless of which side of the family he/she is on, you're also accepting their involvement in the planning and guest list. Ha that may not be what you want at all, so think very hard before accepting money if you want to have total control over your wedding plans. There's invisible fine print that comes with "yes that'd be great if you could help pay for xyz mom and dad!"
Alternatives To Paying For Your Wedding Entirely On Your Own
If you have a financial hardship, personal reasons, family pressure, or other grounds that prevent you and your fiancé from paying for the entire wedding yourself, there are some other options you can explore and discuss. For example, each family can pay for the costs associated with the number of guests from their respective sides. Or costs can be split three ways between the couple, and each set of parents.
I must advise against going into a lot of debt for your wedding however. Getting married is a big step, and you don't want to put unnecessary financial strain and extra debt on your relationship and lifestyle.
Prioritize Your Wish List And Plan Frugally
If you have a wedding to plan, decide with your fiancé what's most important to you. For a lot of couples, priorities are a talented photographer, delicious food, or a special location. There are lots of ways to save on all the other things. For example if you don't want to pay thousands for a venue, you can choose a public locale like a beach or park that only requires a local permit for a couple hundred bucks. Some places don't require permits at all.
What About Costs For The Wedding Party? Bridesmaids, Maid of Honor, Groomsmen, Best Man
It's a nice gesture to give the members of your wedding party a thank you gift for their participation, help, and friendship. They most likely organized and paid for your shower or bachelor/bachelorette festivities, so it's a nice way to say thank you on your wedding day. For the brides out there who have photography high on the list and want to go to the salon with your bridesmaids, it's good etiquette to cover this cost for all your girls.
If you have the means, it's also a nice gesture to cover the costs of tuxedo rentals and bridesmaid dresses, but it's not an expectation. Tux rentals aren't that expensive for the groomsmen to cover on their own. Bridesmaid dresses can range vastly in price, so if you agree on an affordable dress they can cover the cost themselves. At the last wedding I was in, we agreed on a dress together that was under $100 so we paid for our own.
It's common for the wedding party to pay for their own shoes, accessories, transportation, airfare,  and hotel accommodations.
Who Should Pay For A Wedding: The Old School Way
If you're stuck in the past, have an extremely traditional family, or are just curious how wedding costs used to be divvied up for older generations, the below summarizes how expenses were often split out the old school way.
Bride
Wedding band for the groom
Gift for the groom
Salon treatments
Bridesmaids gifts
Bridesmaids bouquets
Groom
Engagement ring for the bride
Wedding band for the bride
Bride's bouquet
Gift for the bride
Groomsmen gifts
Boutonnières for the groomsmen
Corsages for the moms and grandmas
Officiant and marriage license fees
Honeymoon
Bride's parents
Announcements, invitations, programs, postage
Engagement party
Bride's wedding gown
Flowers
Reception
Ceremony, decor, rental fees
Photographer
Transportation costs
Groom's parents
Rehearsal dinner
Gift for bride and groom
Family members' corsages and boutonnières
There's no right or wrong way to have a wedding. You can elope, have a church wedding, get hitched on the beach, or whatever you can dream up. Try and be sensible with wedding costs because they can add up quick. After all, a marriage is way more than what a wedding looks like. And who should pay for a wedding? It's your wedding, your circumstances, and your family, so ultimately you have to decide.
Untemplaters, how have people in your immediate and extended families handled wedding costs? For those of you are married, did you pay for everything yourself? What are your thoughts on who should pay for a wedding? Have you ever considered creating a wedding fund for your kids?
Copyright 2014. Original content and photography authorized only to appear on Untemplater.com. Thank you for reading!