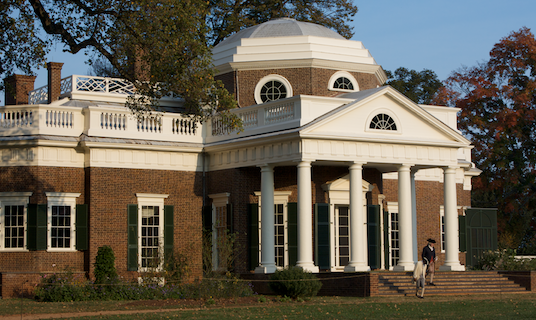 What are some of the first things that come to mind when you think of Thomas Jefferson?  Third President of the United States, Declaration of Independence, Founding Father, Inventor, Architect…  It is pretty amazing what he was able to accomplish in his time, and if you ever get a chance to visit his home in Virginia, Monticello, I highly recommend it.
Money Problems Haven't Changed Much
Accomplishments aside, Jefferson lived most of his life buried in crushing debt!  Even with all of his countless achievements, he died in 1826 with over $100,000 in debt – which is roughly $1.5 million dollars in today's terms!  So how did he end up in the hole after all the years he spent working and contributing to our budding country?
He inherited a ton of debt from his father in law
A lot of people he lent money to never paid him back
Farming didn't provide a stable income
He spent beyond his means
The Panic of 1819 financial crisis
Even though a LOT has changed in the last few centuries, there are still plenty of parallels in Jefferson's financial situation that we can relate to today.  Chances are one of your close relatives has bad debt problems (unfortunately there are several in my family).  Friends and relatives not repaying loans is still a common problem today, and I'd wager that farming is still a difficult way to earn a living.  Tons of people still continue to spend way more than they make, and we are still trying to recover from the 2007/2008 financial crisis.
How Are Your Parents Doing?
I was so shocked when I learned about the debt that Jefferson inherited and was never able to overcome that it prompted me to talk with my parents and find out how they are doing financially.  Unfortunately I found out that between the two of them they have over $200,000 in debt and they're less than a year from retirement!  I started to panic. Maybe that doesn't seem like a lot of money, but that amount of debt at their age, with less than $3000 in savings between them, is so much worse than I ever imagined it could be.  I thought that all of that debt would be dumped on to me if they were to die tomorrow, but Jeff Rutherford kindly corrected me and fortunately that is not the case.  That doesn't mean that their retirement years will be easy though – if they have trouble paying bills, get really sick, and need help paying for medical care not covered by their insurance – I'll be the one they call first.  And that's scary to think about.  Not everyone's parents may do that, but I want my parents to feel they could come to me for help if they really needed it.
It's so easy for us to spend so much time focusing on our own bills and our own financial goals that we totally forget about checking in on our parent's situation.  If your mom and pop are already debt free and happily enjoying retirement, jump for joy and count your blessings.  If your parents sound more like mine, better take the time to talk to them now and put a plan together asap.  Get your siblings involved too if you can and don't be afraid to ask for the nitty gritty details of mom and dad's expenses, savings, loans, assets, wills, and trusts too.  Make sure they aren't forgetting to budget for big annual items like property tax, car repair, house maintenance, healthcare, rising insurance costs, and travel.
It's Never Too Late To Take Action
I regret not taking action years ago when my mother got divorced and started living on her own.  She admitted to me just recently that she'd never made a budget before.  (What?!)  After I sat down with her and calculated out all of her expenses, we were both horrified to realize that she'd been over spending by about $2,000 a month for years.
My dad's financial situation isn't any better and unfortunately he's battling cancer and unemployment on top of all of his money problems.  So how did things get this bad?  They didn't plan well, stick to a budget, manage their debt, or anticpate how much they could lose in the financial crisis.  I'm doing what I can to help both of them each month but I definitely don't have the means to pay off their $200k in debt anytime soon and it still scares me.
Check In Regularly
Now that I know the details of how bad their situation is, I'm checking in on them all the time asking for udpates and doing my best to keep them motivated to whittle away at their debt.  I put together a budget for them and am helping them keep track of their expenses each month.  They're finally facing their fears and doing their best to take control of their situation, which is all I can really ask for.  I try to point out ways they can cut back on spending and find ways they can be more resourceful with what they already have.
It takes a lot of patience and perseverance though because we all know that parents don't want to be lectured by their kids.  Don't let your mom and dad use that as an excuse not to talk to you though.  It gets easier and easier the more you talk to them about their finances.  The way I look at it, if they haven't been responsible enough to get themselves on track financially, it's up to us to straighten them out!  We owe it to them and to ourselves.
Untemplaters, do you talk with your parents about their financial situation regularly?  How have their money circumstances impacted your life?