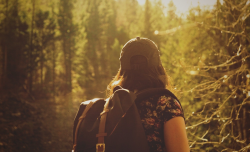 A common mistake a lot people make when they're single is overlooking the importance of saving for retirement. If you have no one to depend on except for yourself, you may be blindly near sighted with your finances. Of course you know you need to make enough money each month to cover your living expenses, but if that's basically as far as you've gotten with retirement planning, you've got some work to do.
Studies show that the rate of divorce is up (not a huge surprise), but what's quite interesting is that not only is the percent of married couples down, the rate of people who have never married is on the rise.
Singles are on the rise
Why? It seems to be a generational thing. Older generations had more societal pressures to get married and have kids even if they weren't sure they'd found the right catch. Nowadays even though we're all busy, busy, busy, it seems a lot of people don't feel the need to rush into marriage and starting a family. I think the increase in more career driven women has something to do with it. And hopefully more people are also choosing not to settle for a troubled relationship just because they're getting older and haven't found anyone else.
Did you know that according to Pew Research Center, 48 percent of Baby Boomers were married when they were between the ages of 18-32? Compare that to only 36 percent of Gen X'ers and just 26 percent of Millennials during the same age range. That's quite a big shift between generations.
What does this mean? If this trend continues on, chances are good that more people could be single in their retirement years – those who never end up getting married, those who divorce and those who become widowed. It's already happening – more than 50 percent of women and 27 percent of men aged 65 were unmarried during the 2013 Census. Since the life expectancy in the U.S. is currently about 79, like it or not, a lot of us are probably going to live out our retirement years alone.
The good news and the bad news
So what's the good news? Saving for retirement isn't as complicated to plan if you're single and don't have any dependents. This means it won't take as much time to come up with a plan for your individual needs. The downside is it can unfortunately be harder to retire if you're single than if you're a couple.
Why? Singles may face tax disadvantages compared with couples. Plus, couples have the advantage of being able to share a lot of living expenses such as rent, a mortgage, car payments, food, health insurance, etc. Having a spouse can also come in really handy in old age because if one person gets ill the other may be able to step in as a caretaker. So if you think there's a chance you could be single in retirement, you may want to consider getting long-term care insurance sooner rather than never and building that into your budget.
The more you prepare for retirement, the happier you'll be. Nobody wants to have a financially stressful retirement that's uncomfortable and depressing.
7 Retirement tips for singles
Here are some straightforward tips you should consider taking if you're currently single or anticipate you could be single in retirement.
1) Figure out what you want your retirement to look like
This should be a fun exercise. Set aside some time to envision your retirement and interview yourself. Where do you want to live? What type of activities do you want to do? What age do you want to retire? What do you want the rest of your career to look like? Will you have to take care of any family members such as a sibling?
All of the answers to those questions will affect how much money you're going to need and thus how much you should start putting away now in order to reach your goals. It's much easier to plan your future when you have a vision and it doesn't hurt to be conservative. Life is great at throwing us curveballs so it's better to end up with more than too little.
2) Start saving now, don't wait
Too many Americans don't save anything for retirement and completely underestimate the importance of starting early. One of the most critical concepts to grasp in personal finance is the power of compounding. This not only affects the amount of debt you take on, it also affects your savings and investments.
It's much better to start saving a small amount now and consistently investing that money over time versus waiting until you're old and saving a large sum.
Take a look at the chart below as an example. Let's say you have a goal to save $24,000 for retirement. How much you end up with at retirement age is greatly impacted by when you invest that money. The below chart uses a generous annual return of 8 percent (which may be hard to achieve), but the point is if you set aside $24,000 for 20 years between the ages of 21 and 41, you'd have way more money (>$412,000 extra dollars) than if you waited until you turn 47 to start investing the same $24,000.

3) Maximize your 401(k) plan
If you're lucky enough to have a 401(k) plan at work, please do yourself a favor and use it! It's becoming more rare to have company matching benefits, so if you do have access to a match tap into that free money it while you still have access to it. If you're confused about what a 401(k) and company matching are, please talk to your HR manager who can explain the specifics of your employer's plan.
In simple terms, 401(k)s are retirement accounts that let you save and invest part of your paycheck, giving you a tax break in the year you contribute. You don't have to worry about paying taxes on any gains until you withdraw money in the future. Don't let laziness or feeling intimidated prevent you from contributing to a 401(k). Your future self will be really grateful if you start early and save often. Check out these suggestions on 401(k) savings amounts by age.
4) Don't invest in stocks alone
The older I get, the more diversified my income and investments have become. I used to only invest in stocks, but then I wised up and expanded into ETFs, bonds, CDs, structured notes and real estate. Everybody has to start somewhere and stocks or ETFs are a popular starting point, but it's a good idea to spread your money around into different asset classes as soon as you have the means. Don't put all your eggs in one basket as they say. We are overdue for a recession after all. Are you prepared for when the good times end? If you want to invest more regularly but need help, consider signing up with one of the best wealth management firms. They can help you save time, stress and anxiety while helping grow your wealth.
5) Expand your sources of income
I've also worked hard to build multiple income streams. Many people rely on just one primary income stream so if anything happens to that income stream, their financial health can get jeopardized quickly. Life's too short to just do one thing I often say, so think about how you can start making money in new ways. Get creative and don't be embarrassed to try something new in your free time.
6) Utilize the benefits of being single
Did you know that if you get divorced or become widowed, you may be eligible to receive your former spouse's Social Security benefits? How about the IRS' Savers Credit program – if you're single and make less than $30,750 in 2016 you can actually get a tax credit if you contribute to a retirement plan.
When you're single without any dependents you have full control over how much money stays in your bank accounts each month. Push yourself to spend less and save more. Becoming financially independent is a very attractive quality so who knows, your financial prowess may help you find the special catch you've been looking for.
7) Make the most of your time alone
If you're single and longing for love, try not to let that get you down or distract you from achieving financial goals. Make the most of your time alone to develop new skills, pursue a passion, travel, work on a side gig or two and spend time with friends and family. The more active you are, the more fulfilled your life will become. Everything has a way of working out.
"You can't connect the dots looking forward; you can only connect them looking backwards. So you have to trust that the dots will somehow connect in your future. You have to trust in something – your gut, destiny, life, karma, whatever." – Steve Jobs
Recommendations
Get A Free Personalized Investment Plan – Want to invest but aren't sure where to start? Wealthfront is an excellent choice for personal wealth management for those who want the lowest fees and can't be bothered with actively managing their money themselves. Check out this thorough Wealthfront review to learn more. In the long run, it is very hard to outperform any index, therefore, the key is to pay the lowest fees possible while investing your money in the market. Get a free personalized investment plan from Wealthfront in just a couple minutes by answering a free six-step questionnaire. You don't have to transfer a single penny to see Wealthfront's recommendations for your investments, but it's easy to fund an account if you choose to do so and they can help you invest headache free.
Break free! If you're burnt out of your day job, believe that you have options and can turn your career around. I didn't believe I could escape for the longest time, but fortunately I wised up before I destroyed my relationships with family and my health. I never would have thought I could negotiate a severance package and get paid to leave a job I grew to hate, but I did! Learn how you too can get paid to leave your job like I did and open your eyes to new opportunities.
Untemplaters, have you spent any time planning for your retirement? What types of retirement accounts are you actively contributing to? Do you have any retirement tips for singles?