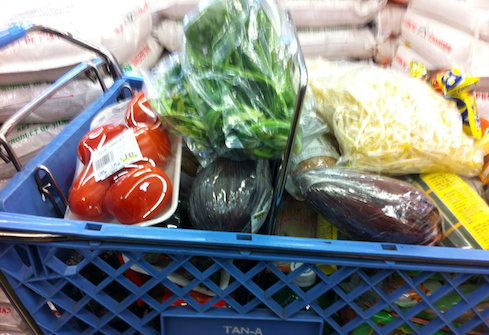 Some days I get so fed up with how expensive food costs, don't you? With food prices continuing to rise, we really have to be proactive about keeping costs down to stay within our budgets. Perhaps you're wondering, can you save really money on groceries with coupons? The answer is yes, but not all methods are created equal. I'm excited to tell you about an online service I started using, SavingsAngel.com, which has totally transformed the way I use and think about coupons now! Their website makes it easy to save a lot every time you shop, even for the coupon clueless like me, and I'll tell you why in this post. Be sure to check out my pros and cons in my SavingsAngel.com review below and some helpful tips.
Before I joined SavingsAngel, I'd use coupons from time to time to save money, but I was never any good at it! I'd either lose the coupon, forget to put it in my wallet when I went to the store, wait too long and it'd be expired, or simply didn't even bother printing or tearing it out of the paper. I remember when it used to be uncool to use coupons, but I think that perception has really changed since the recession hit. We've become obsessed with deals now and saving money is a lot of fun, even addicting!
SavingsAngel.com Review: Even Busy People Can Save Money On Groceries
We're all busy people. We work a lot of hours, travel, take care of families, run businesses, struggle to find time to exercise, etc. So you may think you're too busy to look for deals and clip coupons. I hear ya. But if you want to save money on groceries, it isn't going to just happen by itself. You have to be willing to put in some time and effort and that's where SavingsAngel.com can help.
It is an aggregating service that compiles grocery deals across multiple formats (print ads, online coupons, register rewards, store deals) and lets you slice and dice the data. They can get you savings on all sorts of products you want at big national stores like Whole Foods, Safeway, Kroger, Walmart, Target, Walgreens, CVS, and more.
Tell SavingsAngel What You Want And They'll Find It For You
SavingsAngel lets you to search by your favorite stores, the products and brands you want, and the percentage in savings you're looking for. When a sale or coupon deal meets your savings target, you'll get an email alert. Simply log on, pick the deals you want, and SavingsAngel will create a custom shopping list for you, and all the info on the coupons you need. You don't have to spend hours searching and comparing dozens of stores across multiple websites and newspapers for deals on thousands of products because SavingsAngel collects all that data for you automatically.
So How Much Can You Save On Groceries Using SavingsAngel?
Currently there is a $20/month fee to use SavingsAngel, but the savings you'll get can easily cover the cost if you shop for a family and there are even ways to get your membership for free through referrals. The amount you can save using their service will depend on your shopping habits such as frequency, product types, how many people you're shopping for, if you are willing to stack coupons, and your location.
If you spend about $300 a month on groceries right now, you can probably save about $75-100/month which can really add up nicely. Families can typically save between $200-400/month! That's a LOT if you can maximize deals and the products you need are on sale. You just have to stick to buying things you actually need and will use, and not get caught up in spending just because things are on sale.
The other great thing about SavingsAngel is they let you try it risk free with a 100% money back guarantee. If you're not satisfied in the first four weeks, just contact them 48 hours before the end of your billing cycle and you'll get fully refunded.
SavingsAngel Pros & Cons
PRO 100% Money Back Guarantee in the first four weeks.
PRO Plenty of free straight to the point video tutorials that help you learn the system fast (currently 20 videos available).
PRO It's flexible and easy to adjust alert setting for the stores, products, and discounts you want.
PRO Stores you actually shop at like Walmart, Target, Whole Foods, Safeway, Albertons, Kroger, and more.
PRO New deals are constantly coming in every day unlike other sites who only post once a week.
PRO Shop when you want and where you want. Create multiple shopping lists and easily sort and edit your lists.
PRO You can also add notes to your shopping list before you print it as well like reminders for items you need to buy that aren't on sale.
PRO Multiple ways to search for deals: by store, by product, by brand, as well as non-sale items.
PRO Coupons are color coded so you can tell the difference between manufacturer coupons from newspaper inserts, online coupons, store coupon or store promotion, and those expiring soon.
PRO Find unadvertised deals from other members as well as exchange recipes and coupons in the forums.
PRO Large range of products from fresh produce, frozen foods, spices, drinks, personal care products, household items, baby care, etc.
PRO There are links that will show you what the products on sale look like which comes in handy if you are unfamiliar with the item or brand.
PRO Non members can also enjoy free features like the listing of 90% off products on Amazon, and a consolidated daily email alert for local deals from Groupon, LivingSocial, Eversave, and more.
PRO Great way to save a lot of money for families who are shopping for multiple people.
CON Initial setup is time consuming, mainly if you want to use online coupons. Most sites that SavingsAngel alerts you about require registration and installation of coupon printing software. After you get that done once, it's a lot easier, but expect to spend a good chunk of time in the beginning getting setup.
CON Savings will be smaller for single shoppers. You'll have to try it out to see if the cost is worth it based on your shopping habits. It really works best for families. A lot of coupons require "buy 2 of xyz" to get the discount, so if you're single it's harder to cover the monthly fee.
CON If you tend to shop at only 1-2 stores, you're probably better off using the free rewards program from those stores directly unless you buy in bulk.
CON If you don't want to buy name brand products, the savings you'll get may not be as big as you hoped because you won't be using many manufacturer coupons. SavingsAngel does show alerts for some store brands however, ex. Safeway products.
CON Currently no Price Watcher product setting for vegetarian frozen meals (which I tend to buy a lot) although I can do a manual search.
CON Having to click through lots of pages of deals takes time (which can actually be a PRO too since there are so many ways to save!)
CON The links to product pictures aren't that quick or easy to view because they take you to external websites.
CON If you don't have access to a major newspaper, you won't be able to benefit from the alerts for printed manufacturer coupons.
CON You'll need a printer to maximize your savings so you can print any online manufacturer coupons as well as your shopping list. Some stores have digital coupons, but a lot don't.
CON Expect to take more time at the register and get some eye rolls from people in line behind you. They'll be jealous of how much you're saving though!
CON Sometimes the products listed may not be available at the store in your area. This isn't SavingsAngel's fault as the inventory at individual stores will vary and products also tend to sell out much faster when there are deals out there.
Tips On Using SavingsAngel
Their free video tutorials help a LOT in getting the hang of how the site works and are worth watching.
Don't click on every store and every product. Fine tune your account settings to the stores you frequently shop and the products you need.
There are a lot of sales every day, so don't be afraid to narrow down your search so you don't get overwhelmed.
Start with the 30% discount default settings until you get a hang of the site. It will automatically include deals greater than 30% as well.
The Price Watcher feature will show you 2 separate deal tables in the same browser. You can pretty much ignore the one at the bottom b/c it lists deals that are below your settings.
If your search returns multiple pages of deals, before browsing to the next page in the Price Watcher, click the "Add To Selected Shopping List" FIRST. Give the browser about 5 seconds to process the save, then click on the next page you want to navigate to.
Don't buy something you don't need just because it's on sale!! It may feel like you're saving extra money, but you won't come out ahead if you spend your money this way.
Learn how to use their other features like 90% savings on Amazon products, weekly meal plans using sale items, and the flexible search options.
Be patient. It takes time to figure everything out, especially the acronyms in the coupon descriptions, and get everything set up.
SavingsAngel will take some getting used to if you're new to online couponing, so don't expect to understand everything all at once. I highly recommend watching the video tutorials which are also free to non members. Their customer service is also really patient and there are helpful forums and FAQs you can reference. Here's an introductory video to give you an idea of how it works.
Untemplaters, how much do you spend on groceries each month? Do you use coupons? What SavingsAngel.com review feedback do you have?