Thanks to the internet, we've seen a boon in creative applications that help people do anything from staying in better shape to growing their wealth. Without a strong handle on our finances, it's hard to pursue our interests with 100% focus because we'll always be wondering whether we have enough money. At Untemplater, we believe money is only a means to an end; a better life for you and your family. This Personal Capital Review will explain why their free personal finance tools are a must for financial independence.
Let me share with you some reasons why I think Personal Capital is one of the best free money management tools out there. I've been using them for the past three years to manage my finances, and my net worth has really accelerated higher thanks to Personal Capital's free app and a robust recovering in the stock market. They are free, secure, and easy to use on my laptop and mobile phone.
Five Reasons To Join Personal Capital
1) Track Your Net Worth
Focusing on net worth is just as important, if not more important than growing your income. After you link your accounts, Personal Capital makes it easy to track all your assets and liabilities in one place. No more manual updating of an Excel spreadsheet. They provide you weekly updates of your net worth change, portfolio results, and stock market performance.

2) Track Your Cash Flow
Budgeting is personal finance 101. Personal Capital allows you to manage your income and expenses so that you always know where your money is going. You'll be able to see in graphic form where your cash is going so you can better optimize your budget. In the example below, this entrepreneur is doing great with income of $38,167.04 and spending of only $3,096! Spend less than you earn and all will be good.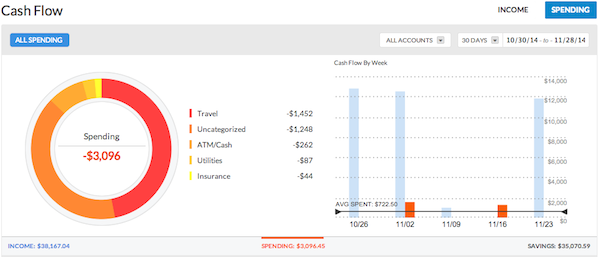 3) Helps You Manage Investment Exposure
As you grow your wealth, you'll likely have much more complicated finances. Personal Capital allows you to better manage your investment exposure by letting you see your overall investment allocation. Once you see your entire picture, you can better rebalance your money into stocks, bonds, alternative investments, and so forth. Did you know that YTD in 2014, India (+37%) and the Shanghai Composite (+24%) have been the best performing markets while the Commodity Index (-16%) and Brent Oil (-28%) have been the worst performing asset classes? By seeing the bigger picture, you can rebalance more efficiently.
4) Helps Reduce Investment Fees
Utilize Personal Capital's Portfolio Fee Analyzer or 401k Fee Analyzer to x-ray your portfolios for fees you probably have no idea you are paying. If you are investing in an active mutual fund, prepare to be shocked by how much in fees you will spend over time. Better to stick with index funds or ETFs. See the picture below of an investment portfolio that will end up paying $87,420 in fees over 20 years. That's a lot of money!

5) Specific Dollar Amount Recommendations
Financial advice is useless if there is no actionable advice. Personal Capital will recommend the specific dollar amounts to invest or reinvest in each asset class to get you to an optimal asset allocation. In this example below, the investor is too heavily weighted in cash. In order to get to his recommended target allocation the investor needs to increase stock holdings by roughly $200,000 and bond holdings by roughly $100,000. The fun part is figuring out which index funds to invest in each category. All investment related charts and analysis can be found in the Investing tab.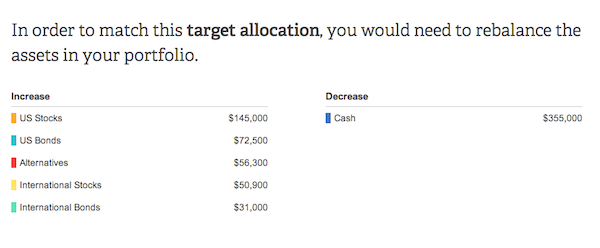 Leverage Free Software To Build Wealth
There are many useful financial tools on the web today, and Personal Capital is by far one of the best for managing your money and growing your wealth. The company was founded four years ago and now tracks over $100 billion dollars among 600,000+ users for free and $1 billion in client money. They recently raised $50 million in series D funding, led by Corsair, BBVA, and USAA because they strongly believe in the value Personal Capital is providing to the community.
Get a handle on your finances by signing up with Personal Capital and aggregating all your accounts. The financial management tools are free, takes less than a minute to sign up, and empowers you to take better control of your finances. A lot of us are looking to change careers, build businesses, travel, and lead untemplate lifestyles. Why not let Personal Capital help manage our finances while we focus on changing the world?
Updated for 2017 and beyond.
Personal Capital Review
Summary
Personal Capital is the best personal finance tools platform today. It's free to sign up and utilize their wealth management tools. You can link all of your financial accounts together securely, track your net worth, plan for retirement and more.