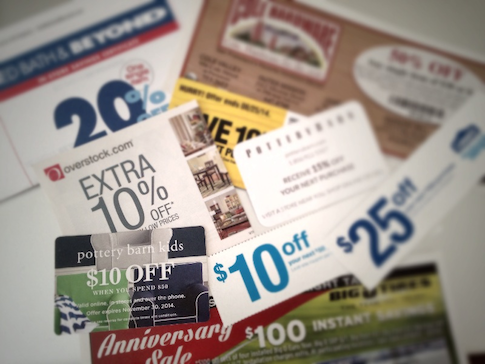 I consider myself a value shopper. For example, I only like buying clothes at cheap places like Target, Old Navy, and Ross. I have absolutely no desire to buy anything from stores like LV, Gucci or Prada. Luxury goods feels like such a waste of money to me because designer brands have 90%+ gross profit margins. And as a fan of personal finance and minding how I spend my money, I would feel really foolish paying for such a premium.
As I've aged and become financially independent, I've also realized that it doesn't really matter what brand you buy when you're shopping, so long as the quality is OK and you're paying for something you'll actively use. Buying a bunch of stuff just because it's cheap is just as wasteful as getting a few items that are super expensive if you're not going to use them.
I'm also pretty frugal and careful before I buy things online or at the store. So before I pull the trigger to buy something, I like to ask myself a series of questions:
Why do I want this?
Is it just a want or an actual necessity?
How will I use it?
When will I use it?
Do I already have something similar?
Is someone else selling it for a lower price?
Do I have a coupon I can use?
Is there something else available of better value?
How much have I spent recently? Can I really afford it?
Do I really need it today? Can I wait and buy it later?
Am I 100% sure I really need it?
The habit of quizzing myself before buying things has really helped me manage my spending, surpass my savings goals, and become financially stable.
How Often Do You Use Coupons?
Even though I'm a frugal shopper, I certainly don't fit the description of an addict to extreme couponing. I will definitely use coupons if I have them for something I'm already looking to buy, but otherwise I tend to just shop when things are on sale. Why? I learned the hard way that actively searching for coupons can get very time consuming and can also make you feel obligated to buy something just because you have a coupon, even if you don't need the item. On average right now, I'll use about 1-2 coupons a week depending on what comes through my inbox or in the mail. How about you?
I tried a grocery coupon membership platform last year called Savings Angel, and while the amount of data and coupons they had available was fantastic, I decided to cancel my membership after a few months. Why, you may ask? Well I started off thrilled at all the potential savings I would have, but I underestimated the amount of time it would take, and generic prices were often cheaper. Plus, a lot of the deals are best suited for large households that go through a lot of inventory very quickly.
Couponing Can Get Very Time Consuming
I remember one night when I got access to a coupon platform, I spent about 4 hours searching for deals, and only ended up saving $3 when I went to the store. Haha! I didn't find it funny at the time, but I do now. It took me such a long time to gather a set of coupons because a lot of the deals required you to register with the manufacturer, sign up for a lot of marketing emails, or download a custom software in order to print out the coupons. What a PITA!
I quickly realized that searching for coupons that way was inefficient and not worth the trouble especially because of my hectic schedule. If I had spent those 3-4 hours working on my job or a side gig instead, I would have earned a lot more than the $3 I saved from those coupons.
So definitely watch the amount of time you spend clipping coupons and searching through droves of deals, because your time could be better spent actually earning income. In my experience I also quickly found out that a lot of coupons require you to buy 2, sometimes even 3, or more of a product before the coupon kicks in. Buy more, save more – and that's a slippery slope to go down because it's so easy to overspend and end up with too much excess that goes to waste.
Which Items Are Worth Buying With Coupons?
I'm not an extreme coupon addict by any means, but I like using them when I can. Here are the things I currently like to buy with coupons:
* Groceries – If I'm going to be buying the same old granola bars, salad, fruit, and juice over and over again, then I'll start collecting manufacturer coupons that come in the mail. Mostly I like to keep an eye out for what's on sale when I walk around the store though, as that's easier and keeps things interesting. I like Safeway's buy one get one free sales on dry and canned goods. Those come in handy.
* Household goods and small appliances – I am all over Bed Bath And Beyond coupons! I confess that of all the coupons out there, I am the most addicted to their coupons, and have 5 email accounts signed up plus my mobile phone (ooh maybe I should also add my work phone…shhhh! 🙂 ) and have saved a ton of money on things like my toaster, trash bags, curtains, bathmat, placemats, towels, and linens.
* Furniture – Try to avoid paying full price for furniture from places like Crate & Barrel, Pier1, Pottery Barn, West Elm, etc. I got my hands on 15% off coupons from these stores pretty easily and that can save a lot if you're buying high ticket items like a dresser, table, chairs, bed frame, etc.
* Clothes – As I mentioned earlier, I like buying cheap clothes from places like Old Navy. Stores like that tend to have a lot of sales and 10-15% off coupons throughout the year. So if I have clothes to buy, I like to wait until I get email or mailer coupons before I go to the store because sales tax in SF is ridiculous and every bit of savings helps.
* Free Shipping – I prefer to shop online because driving and finding parking is a pain where I live. So I'm always looking for free shipping coupon codes, or delay my orders until I have enough in my shopping cart to qualify for free shipping. Postage isn't cheap, and now that sales tax is required on most online purchases in California, I do everything I can to apply free shipping coupons.
Shop Around And Price Match
The good news is that if you don't like bothering with coupons there are still plenty of ways to save money these days. It's easy to compare prices at different stores, and a lot of retailers offer price matching. Even certain credit cards offer buyer protection and will credit you back if you find an item elsewhere for cheaper within a certain date range.
What I do value most is my time and an easy shopping experience. Nothing makes me happier than walking in a store, seeing what I like in stock, and paying a price that's lower than what I thought the item costs. Remember just because something is on sale or you have a coupon doesn't mean you should buy it. Get in the habit of asking yourself a series of questions like the ones I listed earlier every time before you buy something. I've saved a lot of money by quizzing myself and thinking things through before taking something to the register.
Untemplaters, how often do you use coupons to save money? What type of products do you use coupons for the most? What is your favorite method of finding coupons? Do you know anybody who goes overboard with clipping coupons and would qualify as an extreme couponing addict?
Copyright 2014. Original content and photography authorized only to appear on Untemplater.com. Thank you for reading!