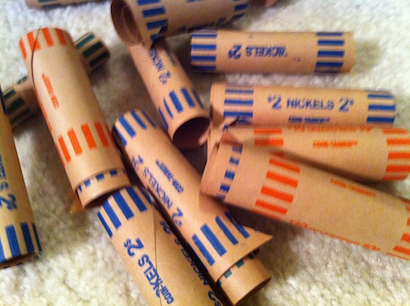 There is nobody on Earth I know who enjoys taking a needle and jabbing their eyeballs. I also don't know anybody who takes pleasure in dropping a dumbbell on their bare toes. Doing either of these things is completely irrational. Given not saving is like jabbing your eyeballs with needles, it's safe to say that everybody saves money. With this premise, the economy is very resilient to downturns as people use their savings to wait it out.
Many of you have argued against the premise that "many people" have nothing to show for after 15, 20, 25, 30 years of work in my post entitled, "Is Unemployment Really That High?" You and I know people who have worked for 15-30 years have PLENTY to show for, because anybody with a calculator will realize that compounding any savings or investments over the past 15-30 years yields tremendous results. As a result, we really shouldn't worry about those who become unemployed after so many years of work experience.
Furthermore, it's important to note that there's a trend of "you know somebody who is suffering, yada, yada, yada" yet you yourself are doing just fine. The fact of the matter is, if you are everybody, and you are doing fine, then everyone is doing fine!
THANKFUL AFTER SO MANY YEARS
I'm reminded of an AP article I read that highlighted how several 45-50 year old people were so thankful to have unemployment insurance be extended further. They talked about how it was "their life line" after being out of work for over a year. I'm really excited that the unemployment benefits are working and going to people who need it most.  Up to 99 weeks of benefits is a tremendous amount of time.  The people profiled in the article all sounded like hard working people who just need a little bit of help to get by.
Part of me started wondering what happened though? After working for 28 years, shouldn't we logically have at least 25 years worth of savings to hold us over for the rest of our lives?  In fact, I would hope we'd be about to double dip by collecting 99 weeks of unemployment while also living off the interest and dividends from my savings and investments!
If you saved just $10,000 a year on average for 28 years, you'd surely have more than $500,000, if not millions due to compound interest and investments! Take a look at the numbers in my retirement savings guideline by age table and you'll see what I mean.  It's possible to save more for your retirement even if you don't make that much money too.  So I got to thinking, perhaps the government should skew their unemployment benefits more towards younger unemployed workers and less towards older unemployed workers instead?
WHY WE NEED TO HELP OUR YOUTH
If you are 28 years old and get laid off, chances are you don't have much savings to hold you over for a long time. After only 6 years of working, you are at the bottom of your earnings power, while the fixed cost of living is relatively high compared to your salary. You might even have school loans to pay off. As an unemployed 28 year old, your last resort is to move back home with mom and dad after your friends get sick of you for sleeping on the sofa.
Some may say the younger you are, the more resilient and resourceful you are. Really? Is that just an excuse older people make? If you're older, you've got that many more connections and that much more knowledge. I know I am way more resourceful and savvy now than I was 15 years ago.
Others may highlight that when you're young, you have much less responsibility, debt, and dependencies. True, but you also have much lower savings and income. Whatever the case may be, there always seems to be an excuse for everything. All I know is that the longer you work, the more you have time to save and invest. We all talk about the time value of money and the miracles of compounding.
SAVE OUR YOUTH?
It is a tautology that a younger person is at a disadvantage to that compounding miracle as the older person. Hence, if you look at any demographic wealth chart around, you will see that younger people are worth less! There's no gray areas here. Since younger people are disadvantaged by time, perhaps they should get even higher benefits from unemployment than older people. Perhaps after working for 30 years, maybe you shouldn't even be allowed to get unemployment. It sounds cruel, but this post is a thought exercise in allocating resources properly. The government does it all the time by punishing the rich and redistributing income to the poor.
Related Posts:
How To Retirement Early And Never Have To Work Again
How Much Should I Have In My 401k?
Personal Capital Review With The CEO
Updated for 2015

Regards,
Sam