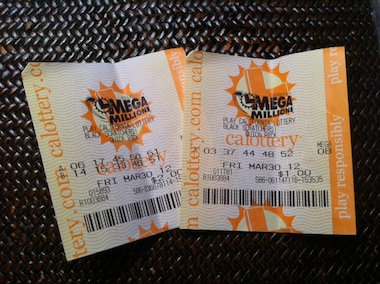 Like millions of other Americans who decided to donate money to help fund schools around their local communities, I went to go buy some lottery tickets for the recent ~$650,000,000 Mega Millions Super Lotto jackpot.  I had to get gas for Moose anyway, so I figured what the hell.
You might think that the money scam and rip-off I'm talking about is the lottery system itself.  Well, it's not in this case.  I know some of you folks think that spending money on the lottery is just a waste of money and that it's just a tax on the middle class and poor who don't know better.
Sure, spending several bucks to buy a lottery ticket is a waste of money, but so is buying designer brand clothing, eating at fancy restaurants, and buying cars.
THE CONFRONTATION
I buy maybe one lottery ticket a year because it's fun.  As a result, I don't really know how to choose the numbers nor do I know how much the tickets cost.  When I got to the counter, I was greeted by an extremely nasty woman who had little patience.  When I asked if I could buy a Super Lotto ticket and asked how much it cost, she huffed and puffed and said, "Machine or by hand?"
Given I didn't want to hold up the 10-person line, I said I'd prefer the machine to pick my numbers. She then put out her hand and told me, "Give me $2 dollars for the machine."  I didn't think nothing of it until I saw the blank forms on the side counter and decided to fill my 5 numbers and the mega ball number myself.  By this time, the line had died down and I went to the next register where I handed in my form and she said, "$1 dollar please".
I naively asked her why anybody would pay 100% more for a Super Lotto ticket just so that the machine can choose your destiny.  It only takes a couple minutes to fill out at the most!  The woman at the register shrug, and said again, "$1 dollar please."  She looked agitated and seemed fussy as well.
Finally, it clicked in my mind that I was ripped off by her neighbor cash regteller attendant.  I went back to the original cash register attendant and asked why she charged me double for my ticket?  She murmured something, couldn't look at me, and gave me back a dollar.
ARE YOU KIDDING ME?
I couldn't believe it!  This woman at the Chevron gas station was ripping unsuspecting customers off, $1 dollar at a time!  There was a mad rush of newbies like me who decided to play the lottery and she was profiteering an extra $100 or so a day for the entire week!  It's one thing for the state and federal government scam money from voluntary people via the lottery system, it's another thing for an individual to rip-off an unsuspecting individual, even if it was only $1!
Readers, have you ever gotten ripped off before?  If so, how did you find out, and how did you handle it?  What do you think I should do with this woman?  The more I think about it, the more annoyed I am.
How many of you guys play the lottery?  If you do play, how often?  Is a lottery bad or good for society?
Regards,
Sam