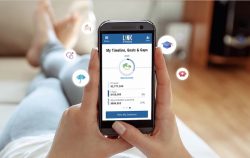 One of the main reasons I was able to leave my office job to pursue my dreams as a writer, small business owner, and now be a stay-at-home-mom is financial independence. I became financially independent through discipline, setting goals, and educating myself on personal finance topics. It wasn't always easy! In today's hectic and competitive world, designing a clear financial roadmap that will help get you ahead of the curve can feel overwhelming when you're short on time and expertise.
Financial Solutions With LINK By Prudential
The good news is technology is continually improving the money management industry. It's easier than ever to take control of your financial health now and into the future. LINK by Prudential is one such example of a new online financial solutions platform that can help you on your financial journey I decided to partner with Prudential to learn more about LINK and share my thoughts in this review of their newest tools. Although this post is sponsored by Prudential, the opinions expressed are entirely my own.
Here are some of the basics about LINK.
LINK is a personalized experience because it learns about what's important to you.
It helps you achieve your goals through customized solutions and guidance from financial professionals.
LINK is flexible and helps you navigate the twists and turns of your financial journey.
Financial tools help you protect your family, invest, and prepare for retirement.
Connect with team members over the phone, online or in person.
Backed by Prudential's many years of providing quality, reliable service.
Create your own individual goals and build a financial roadmap to success.
A Detailed Walk Through Of LINK by Prudential
In order to learn more about LINK, I signed up for an account to explore it first hand. I grabbed my laptop one evening while taking a break from playing with my son and started clicking through the sign up prompts. The sign up process was simple, straight forward and stress-free.
After clicking on the Get Started button, the system gives you a quick overview of what the sign up process is like. It's divided into three steps.
Profile. Input your profile information and answer some basic questions about yourself and your finances.
Timeline. LINK then takes your answers to create a timeline of your goals. Then it figures out what steps you need to take to achieve those goals.
Solutions. Customized suggestions and ideas on how to achieve your goals are presented for your review.
Profile And Goals
The profile steps are easy to complete if you're in touch with your spending and savings. If it's been a while since you ran your numbers, this is a perfect motivator to take a look at how much money you regularly have coming in and how much you have going out on average. The more accurate your numbers, the better the tools will help you.
Some of the information you'll enter includes:
Marital status
Age
Zip code
Annual Salary
Number of dependents
Risk tolerance level
Total monthly expenses
Financial goals (ex. emergency fund, buying a house, retirement age)
Current savings total for each goal
Monthly contribution amounts for each goal
I wanted to experiment using a realistic profile of a single, 28-year-old millennial female living in San Francisco making $100,000 a year. Let's call my profile woman Chloe.
The average San Francisco salary is around $88,000 these days, but since there are plenty of $115,000-$125,000+ paying jobs, I gave Chloe a nice round $100,000 for simplicity. I made six-figures in San Francisco when I was 28, and many other women do too. She has a medium level risk tolerance at the moment.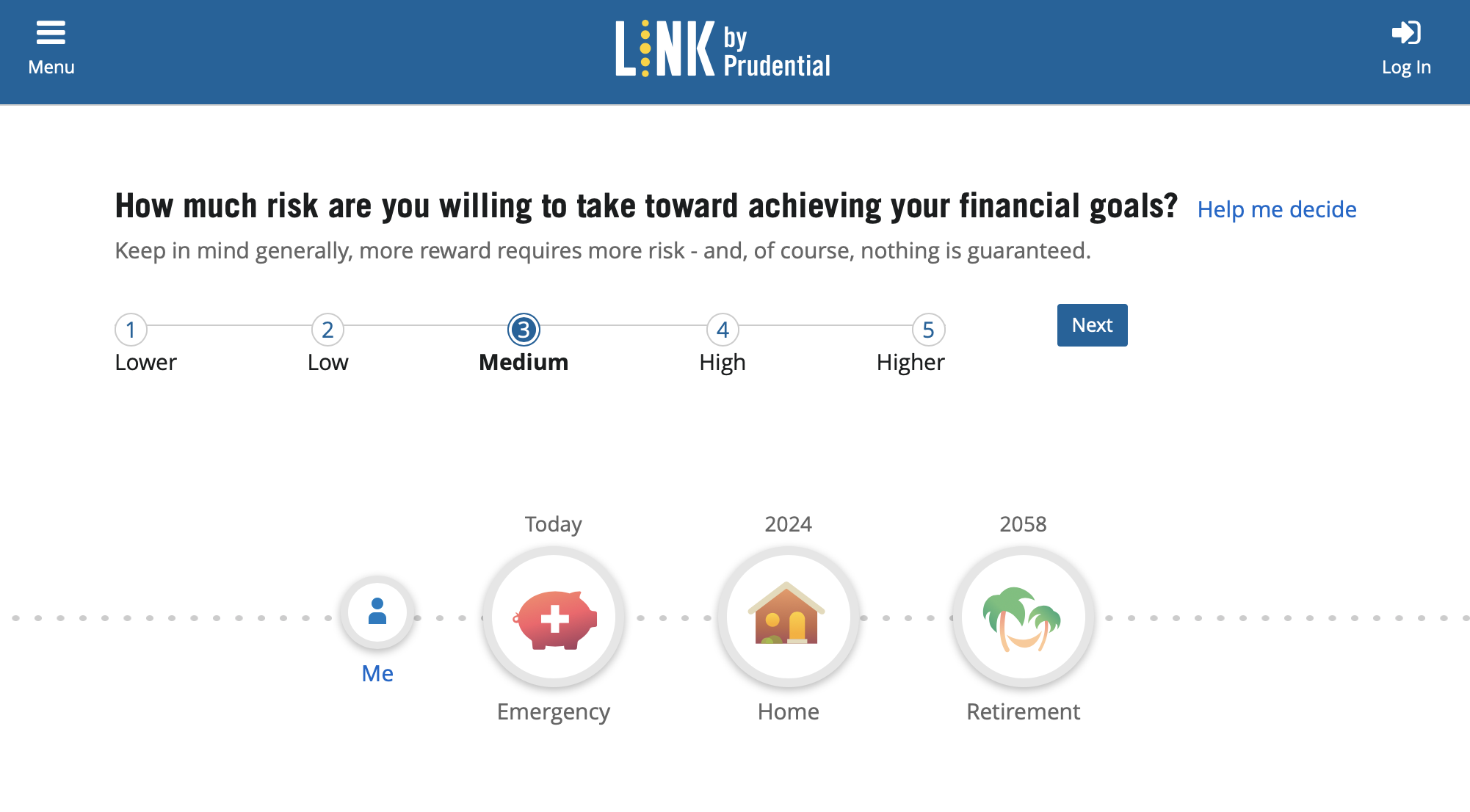 Here's some more about Chloe. She's spending about $3800 a month on rent, transportation, food, utilities, student loans, and miscellaneous items. That leaves her roughly $2100 in savings each month. She didn't do too well with saving in her early 20s, but she has been trying hard to turn that around the last couple years. Currently she has three goals.
Build an emergency fund to cover 9 months of expenses. So far she's saved $5,000.
Buy a house in Daly City, CA near her sister and her parents by the time she's 33 for roughly $700,000. So far she's saved $15,000.
She's also hoping to retire down by the beach in Pacifica, CA at the age of 55. Why work until 67 when you can retire earlier, right? So far she's saved $20,000. Well, Chloe's in for a bit of a surprise…stay tuned.
LINK asks you helpful questions about your goals as you create them. Examples of goals you can input include:
General investment
Emergency Fund
Education
Retirement
Family Protection
Home
Car
Baby
Wedding
Custom
Here's an example of what it looks like to create a retirement goal. You enter the age you want to retire, how long you hope/expect to live, whether you think you'll have a mortgage, what type of lifestyle you want, and where you want to retire. You can even modify your risk preferences for a specific goal like retirement.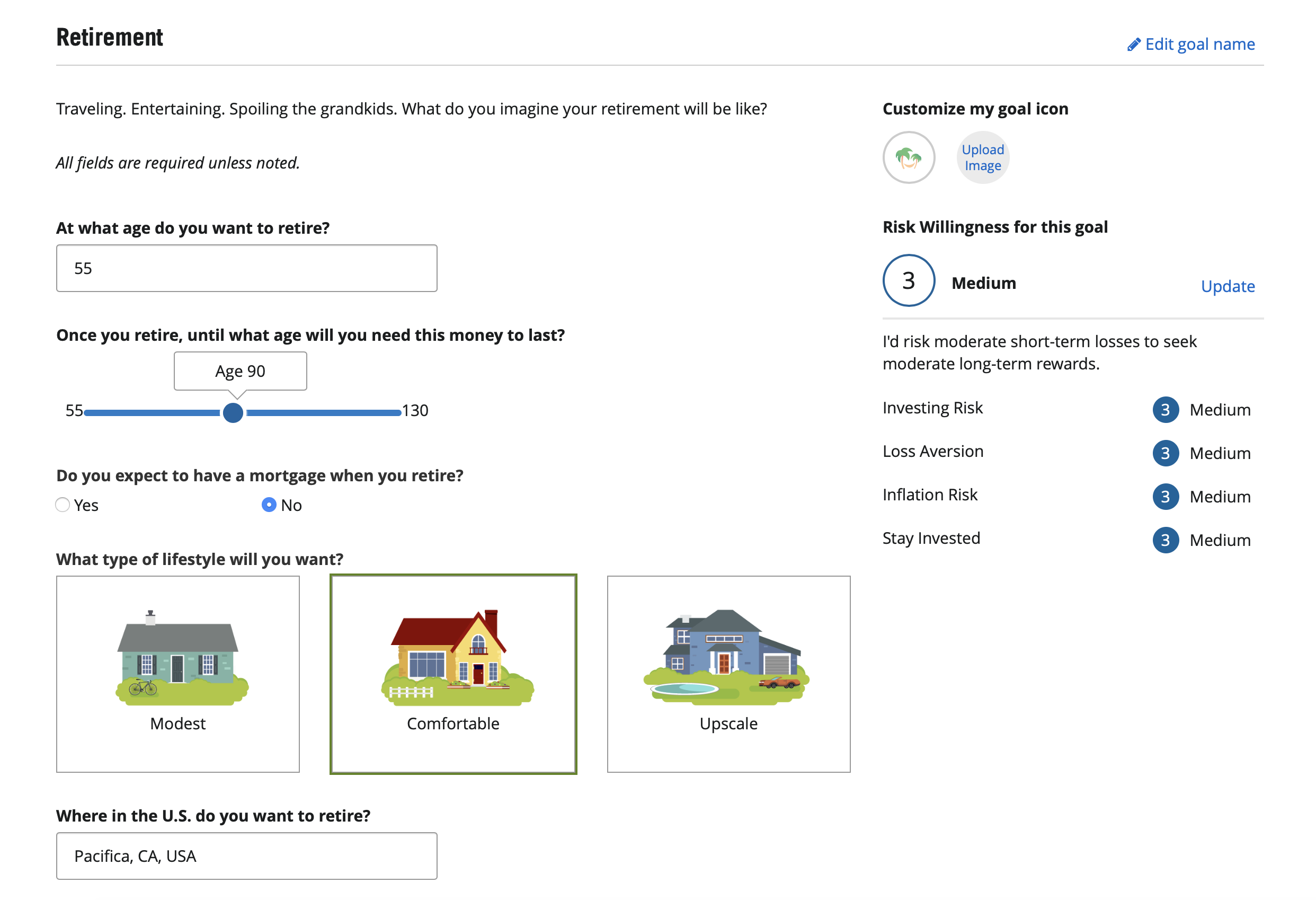 After inputting your goals, LINK automatically calculates how much money you'll need based on the target timeline for your goals, how much you currently have saved for each goal, and how much you plan to contribute every month.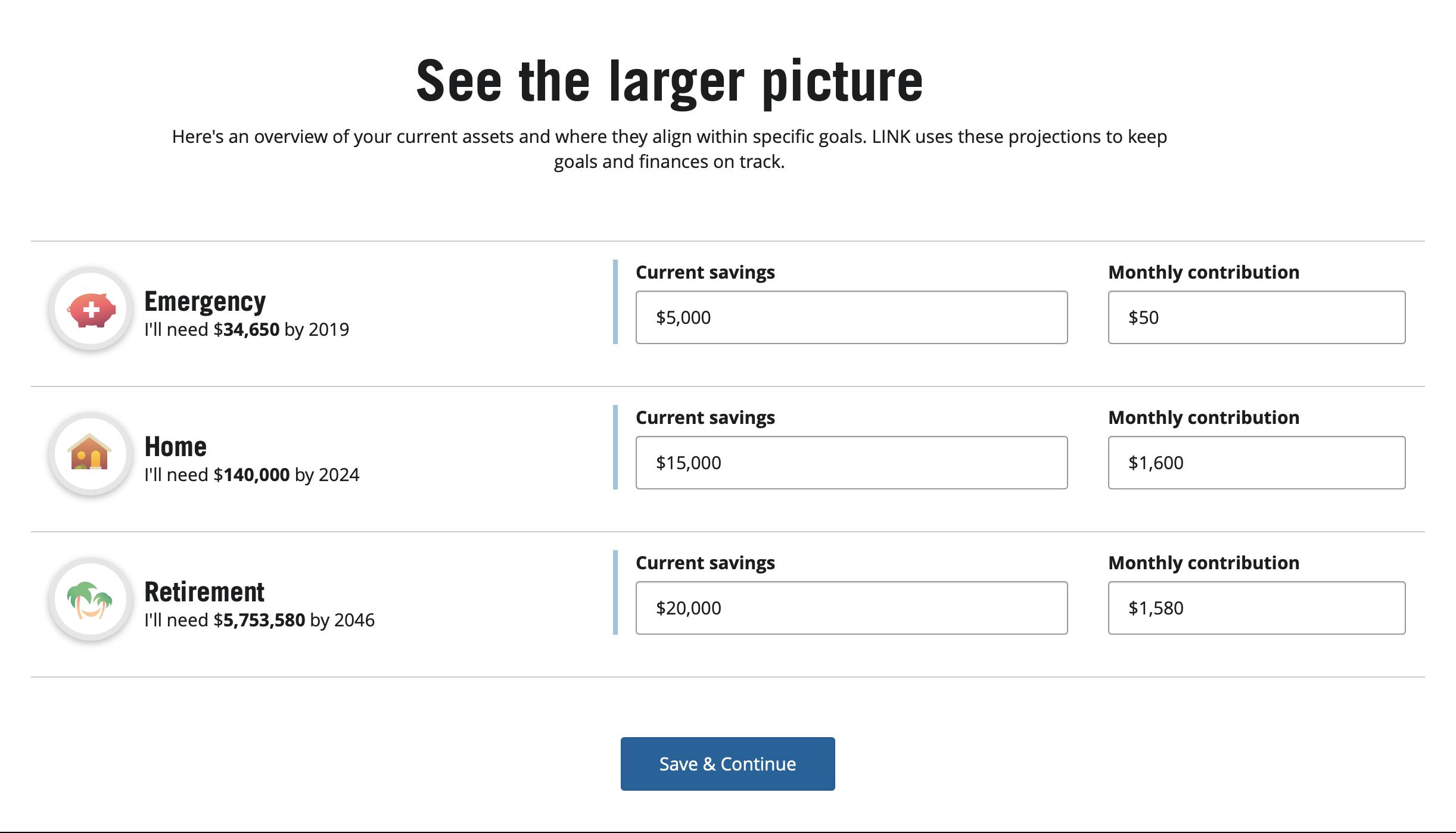 Timeline
My favorite feature of LINK is the timeline. This feature uses the information from your profile and goals to create a very helpful timeline. It displays your goals in chronological order, the estimated amount of money you'll need for each goal, how much you currently have saved, and how much you are expected to have by the target deadline. Here's a look at Chloe's timeline.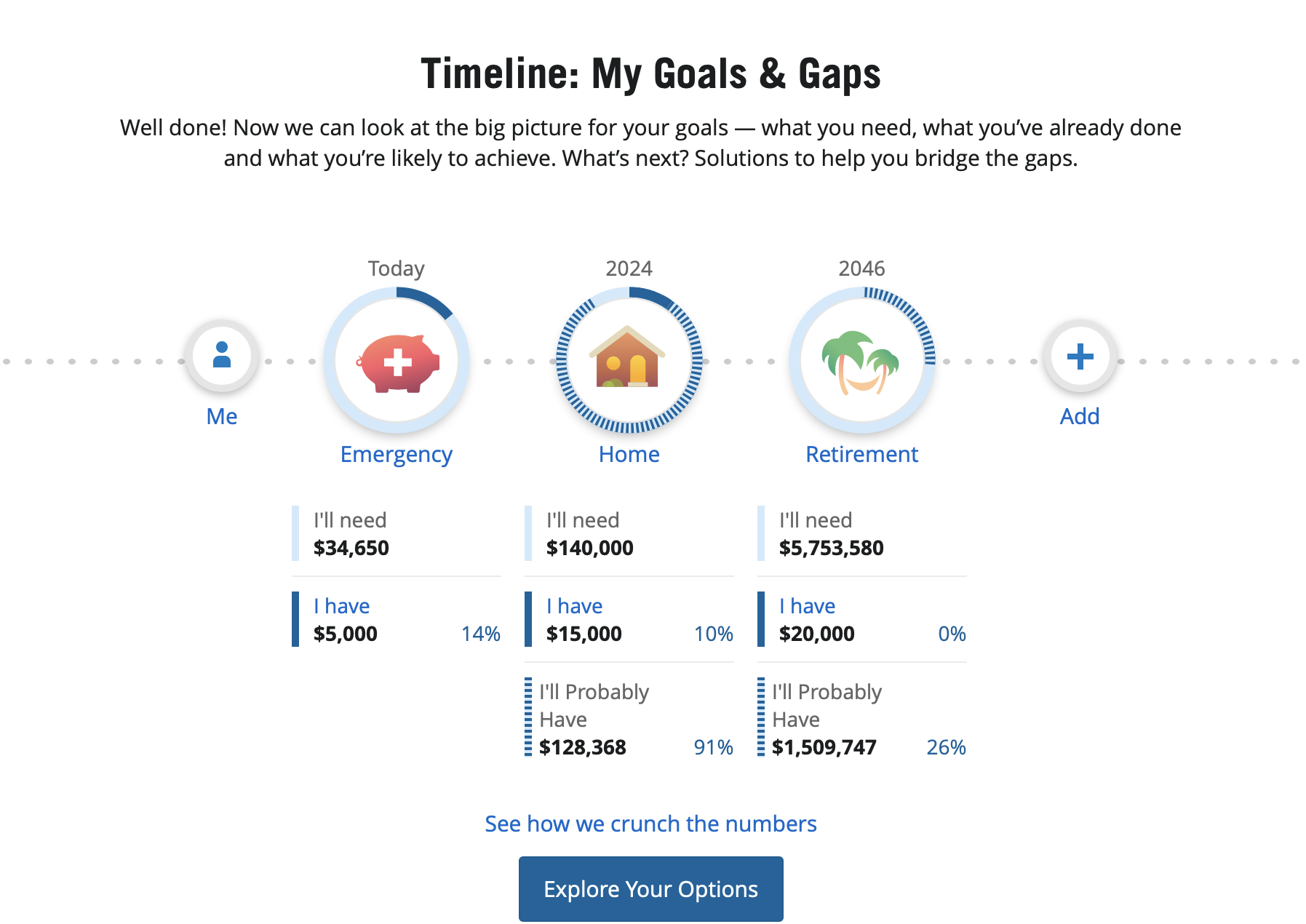 Chloe is only 14% done with her emergency funds goal. Perhaps Chloe can rethink how much she's putting into her emergency fund in the short term and if 6 months versus 9 months of living expenses is better for the short term.
She's doing well on her home purchase goal and is expected to have 91% of the funds needed for a 20% downpayment on a $700,000 property in 2024.
The biggest wake up call for Chloe is her retirement goal. LINK estimates she'll need a whopping $5.75 million to retire in 2046 and live a comfortable lifestyle in Pacifica. At this rate, she's only expected to have $1.5 million by then or only 26% of her goal. Chloe really needs to start saving much more aggressively, find ways to earn more income, think about extending her retirement age, and/or modify her retirement location and lifestyle desires.
The great thing about starting retirement planning early is you have more time to prepare, adjust, experiment, and learn. I recommend playing around with your goals in LINK by Prudential and see how the numbers can change based on different inputs. Letting the system crunch all the numbers instantly and do the calculations for you is a helpful and insightful feature.
Solutions
Once you've completed your timeline, the next steps in LINK are their suggested solutions. They offer several choices at the start of this section.
Work on you goals with help using specific solutions by LINK
Talk to one of their financial professionals for free over the phone or in person.
Explore articles, videos and tools tailored to your goals.
Here are some of the suggested solutions presented to Chloe for her retirement goal, which is the most daunting.

I like that the tools to input and analyze goals and your timeline are free and easy to understand. It's so insightful to be able to input different scenarios and see various possible outcomes. When it comes to financial independence and long term financial security, knowledge and planning are invaluable.
Check out LINK By Prudential.
Untemplaters, are you surprised by Chloe's timeline and gaps? How are you preparing for your financial future? Do you have specific goals? Have you put together your own timeline and retirement plans?