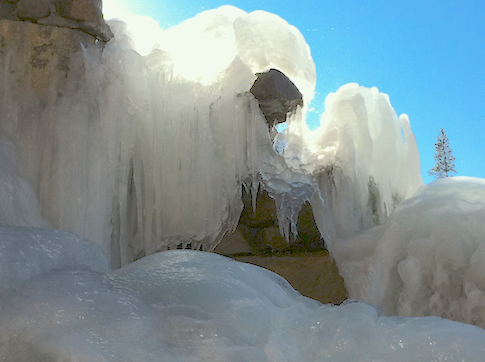 Take a look at the video below. You will see something you've probably never seen before, a wall of ice quickly moving off a lake to destroy all the homes in its path. The official term is an ice shove, but that doesn't sound nearly as interesting as ice tsunami! I had no idea that this type of phenomenon even existed; it's totally insane. And how creepy is the sound of the ice cracking, crunching, and roaring as it moves?!
What's shocking to know is that most insurance companies will not pay for any damages caused by these "ice tsunamis" because there are no clauses for ice shove coverage in the policies. In other words, insurance companies win again. Can you imagine if this happened to your home and there was nothing your insurance company would do to help?! It sounds too horrible to be true, but it is. Insurance companies don't always have your best interests in mind. You can read more about how home insurance companies and appraisers screw their customers.
I don't know about you but if I was paying monthly premiums for home insurance, especially natural disaster insurance, I'd be irate if my insurance company didn't help pay for any rebuilding costs. The good news is that ice shove damage as severe as in the video is a rare occurrence.
That doesn't make those lakeside homeowners feel any better, but at least most of us don't have to worry about this type of damage ever happening to our homes. I certainly don't have plans to buy lakeside property in a frigid area, especially after seeing that video! It really makes me wonder though why those guys haven't packed up and gotten the heck out of there. Well, maybe now they've had to since they've learned the hard way they don't have any ice shove coverage.
Buildings Versus Land
Another thing to keep in mind is the difference between building coverage and land coverage when it comes to home insurance. Rebuilding a damaged home is expensive because the structure and everything in it can literally crumble to the ground. Land damage is quite different.
Most of the effects natural disasters have on land are just temporary. For example, water from flooding will seep back into the ground over time, fallen branches can be picked up and removed, and ice will eventually evaporate once the temperature rises. Insurance companies are always trying to cut costs, and they don't want to have to pay you for things that mother nature will resolve on her own.
So when you're trying to determine the ideal amount of home insurance to get for your own property, you need to think about the ratio of building vs land that you have. If the worst happened, what parts of your property would you need repaired and roughly how much would it cost?
Freak Accidents And Weird Phenomenons – Are You Covered?
There are so many crazy things that can happen to property, people, and cars that you start to wonder yikes, would my insurance pay for that? The only way to know for sure is to read your policy closely and ask your provider directly. Here are some freakish scenarios to consider and inquire about with your insurance carrier.
An ice shove comes out of nowhere and plows through the front half of your house
Wet, heavy snow causes a large branch to fall on your roof
A frozen pipe thaws and then bursts in your house causing severe water damage
An oversized delivery truck backs into your front yard fence and crushes it to bits
A tree in your yard falls on your neighbor's house and causes damage to their property
A thief breaks into your home and destroys everything in his path searching for valuables

Your water heater leaks and destroys all the carpeting and furniture in your basement

A faulty power strip catches fire and destroys 2 rooms in your house
As you open your car door, a cyclist smashes into it, flips over and breaks his neck
Your foot slips on the gas pedal and you crash into your closed garage door
These types of accidents and freaks of nature are a good reminder for everybody to:
1) Get the appropriate amount of home insurance if you have not updated your policy in a while.
2) Call your home insurance company and ask them to tell you exactly what they cover.
3) Shop around for home insurance online if you are not satisfied with what you've got.
RECOMMENDATIONS
Looking for affordable term life insurance? Check out PolicyGenius, an independent insurance broker that is revolutionizing the way we shop for life insurance – for free! You need life insurance if you have dependents or debt. Chances are high that if you currently do have life insurance, it's not the best policy for you. PolicyGenius provides unbiased advice on more than 25 A-rated top life insurance companies they have thoroughly researched and vetted. Because life insurance prices are regulated, you don't have to worry about not getting the best deals. PolicyGenius helps you compare the best quotes all in one place. I've met the CEO, Francois de Lame in person in NYC and strongly believe in his business
Need affordable health insurance fast? Take a look at the plans offered on Agile Health Insurance. They offer term coverage for as little as $1.50/day with premiums up to 50% less than Obamacare (ACA) plans. There are no lock-out periods so you can enroll any time of year, get immediate approval and get coverage in as little as 24 hours. Agile Health Insurance also offers broader doctor networks than most Obamacare plans and has customizable options for dental and discounts on prescriptions. Find a plan that works for you today.
Updated for 2017 and beyond.