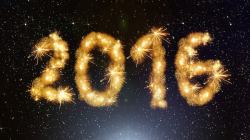 The first couple weeks of every January are filled with a lot of excitement and hope. The hard part is holding on to that energy and motivation of setting new milestones throughout the entire new year. Life has such a sneaky way of distracting us from our resolutions and goals. It takes focus to fight off laziness and doubt as each week goes by. If you want to save more money in 2016 plus start and end this year strong, here are a few steps to keep you on track.
1. Automate As Much As Possible But Don't Put Blinders On
It's funny that even just a few years ago I still got paper bills in the mail because I was too lazy to setup online payment accounts. I'd use my online bank to send e-payments, but the process still relied on me getting a bill in the mail and manually inputting a payment transfer. Eventually I came to my senses. Now I avoid all manual bill pays and think it's nuts I waited as long as I did.
The catch with automatic bill payments is that studies show they tempt people to spend more money. When you don't "feel" the pain of moving money from your bank to a vendor to pay for a bill each month, your brain can forget about the impact of those expenses. Automate your bills to save time, but don't put blinders on. Stay aware of where your money is going and make sure you're not paying for overages or inaccuracies.
One of the best ways to utilize automation is with saving money. That's made a huge difference in my ability to grow my net worth close to $1 million. Set up auto sweeps into your savings, investment, and retirement accounts. The easier you make it, the better your chances are of saving more money this year.
FACT: People who save using direct deposit are twice as likely to build up their savings faster.
2. K.I.S.S. And Earn > Spend
Spend more than you earn each month and you're going to run into a lot of problems in life. It sounds obvious, but you'd be surprised how many people aren't able to follow this simple principal to growing wealth and achieving financial independence.
Perhaps you're like me and feel great about making and sticking to a budget, but most people hate thinking about their personal finances. One tip on making it easier for yourself is to be realistic. Trim the fat, but don't set a budget that's so tight that you get frustrated and give up after one month.
FACT: Less than 40 percent of adults have a budget. How do you beat these odds? If you don't like spreadsheets, use an app instead. The plus side of using a money management app on your phone like Personal Capital is you're likely to spend at least 15 percent less than folks who don't. And that means more cash in the bank.
3. Protect Your Identity And Review Your Credit
Checking your credit score and reviewing your credit report for any inaccuracies doesn't have to be a pain. The internet makes it so easy. For only $1 you can check your latest Experian credit score straight from their website. It's best practice to check your credit score and report every month to  monitor your information and make sure no one has opened new credit lines using your identity.
It's also a good idea to see what your credit score is on a regular basis before applying for any type of loan. If it's below 720, you won't get the best rates, but at least you can spend time to improve your score. Furthermore, did you know that 1 out of 4 credit reports have errors?! Check your credit score and report fully to make sure errors aren't affecting you.
FACT: Paying your bills on time sets you up for a strong credit score. 96 percent of people with a high credit score of 800 pay their bills on time.
4. Stop Being Impulsive And Drop Your Debt Already
We've all made impulse buys at one point or another. But that's a bad habit you should toss as quickly as possible. Train yourself to wait a month before making any major purchases. This trick works for small purchases too. Save more money this year by slowing down your spending.
Forcing myself to achieve a certain goal before buying something has really helped me reduce my spending. Sometimes by the time I reach a goal I've lost all interest in making a particular purchase – that feels like winning. 🙂
Here's a look at the top reasons why people make impulse buys. How many of these reasons can you relate to?

FACT: The fewer impulse buys you have, the less likely you are to wrack up a lot of debt. Did you know that the average credit card balance is $16,140? Don't fall into the trap of uncontrolled debt. Make a plan to start paying off your balances this year as quickly as possible.
5. Open A Retirement Account And Max It Out
No matter how young or old you are, it's so important to think about retirement! We all like to think we'll be healthy forever and never run out of money, but don't fool yourself into thinking you can procrastinate. The earlier you start saving and investing for retirement, the better.
If you have a 401k through your employer, take full advantage of it. Here's a look at how much you could accumulate for retirement by age if you max out your 401k every year.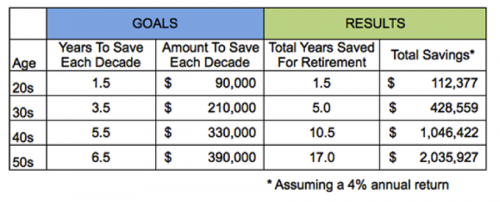 Earn And Save More Money This Year
Track your own net worth for free – If you're interested in tracking your own finances, sign up for a free account with Personal Capital. You can quickly link your checking accounts, savings accounts, investment accounts, mortgage, student loan debt, credit cards, etc. all in one place.
The best features are their Portfolio Fee Analyzer tool and their Retirement Planner. I found out I was paying over $1,000 a year in fees I had no idea I was paying. The Retirement Planner is great because it uses your real inputs to calculate your future cash flows. Try to get above a 95% probability. Take advantage of Personal Capital's free financial tools to maximize your net worth today.
Get A Free Personalized Investment Plan – Wealthfront is an excellent choice for personal wealth management for those who want the lowest fees and can't be bothered with actively managing their money themselves. In the long run, it is very hard to outperform any index, therefore, the key is to pay the lowest fees possible while being invested in the market.
It's free to open an account and get a personalized investment plan without having to deposit any money. If you do decide to let them manage your money, Wealthfront charges $0 in fees for the first $10,000 you invest with them, only 0.25% for any money over $10,000, and only have a $500 minimum to get started. Invest your idle money cheaply, instead of letting it lose purchasing power due to inflation.
Start Your Own Website Today – Want to make more money and be more free? Work on building your brand by creating your own website the easy way with a WordPress site like mine through Bluehost for super cheap. You can register your domain for under $20/year and get hosting for only $3.49/month. Whatever your interests are, focus on building your skills and developing your own unique niche.
I've been blogging since 2010 and it has allowed me to break free from the corporate grind to travel, work from home, and do so many more things I've always wanted to do but couldn't. The income is relatively passive as posts I've written years ago are still being found through Google and generating income. What's better than making passive income and creating a valuable asset you can one day sell for a multiple of annual income? There's not a week that goes by where I'm not thankful for starting this site!