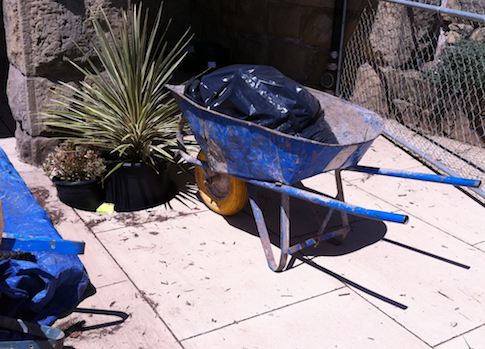 The real estate market is at last beginning to show signs of recovery, and this means that many people are again turning their thoughts to selling up and moving on. Many people have been putting this off following the recession, as prices fell and then stagnated.
US real estate prices reached a peak in 2006 and since then, things have been sluggish until January 2013 saw prices rise by 8.1% in 20 cities (year-on-year).
Whilst the market is not recovered to the extent that it has peaked like it did before the crash, any form of upwards movement is a good sign, and for sellers, it's a decent time to make a start getting their property in the best condition possible.
The cost of renovation
However, in most cases it's not cheap to give a house, office, or retail space a full makeover, so we've come up with a few ideas to make improvements, without breaking the bank or spending too much precious equity tied up in the property.
The first steps to making home and office improvements include planning and getting rid of clutter. We accumulate so much stuff over the years! It's always refreshing trying to simplify and become more in tune with minimalism. There's nothing that makes a home look messy and unattractive more than piles of unnecessary stuff everywhere. Same goes for office space and retail stores that are cluttered and cramped.
To begin with, work out how much cash you can spare on improvements and what you can do with it. It's essential that you are realistic with the budget and stick to it rigidly, in order not to overspend. Anyone who's done home improvement and renovation projects will tell you it always takes longer and costs more than you thought before you started!
Think about:
• How the exterior of the property can be improved, is it cosmetic, or are there things you will need to get a professional in to fix.
• Doors/screens/decking/yards – anything that is letting the property down and needs improvement.
• Interior tiling/wallpaper/woodwork/painting/flooring
It's amazing how much can be done to a property without spending a fortune. Once you have your list, you'll have a much clearer idea of how far your budget will stretch. Remember to plan for all eventualities, including whether you will need to hire people, the cost of tools such as paint rollers etc. All that stuff adds up.
Cheap ways to make big improvements
As mentioned before, firstly toughen up and get brutal with clutter. Hire a removals company if you have a lot of heavy items that you want to clear out, or see if a local charity is interested in taking any of your old furniture or large items. With a little bit of planning and organization you could even make some cash by holding a yard sale, thus further improving your budget.
Once you have done this, make a start on the exterior, as this is the first impression that anyone visiting your home, office, or store front will get of it overall. You don't want them to drive away before even taking a look inside!
Exterior Home Improvement
Screens can make a huge difference and are pretty inexpensive to replace.
Paint or stain doors, decking and exterior woodwork to freshen up.
Landscape the yard, ensuring grass is cut and all bedding plants and trees are trimmed back neatly.
Invest in solar powered exterior lighting so that the property is lit up nicely at night. Not only will this not impact your utility bills, it looks attractive and suggests security has been considered.
Repair any fences or rotting woodwork as well as look at the roof to make sure it doesn't need attention.
Doors can also be improved with a lick of paint and new handles, locks and accessories to give them an overhaul.
Interior Home Improvement
Now that your property is clutter-free, you should be able to see and think clearly where improvements are necessary.
Engineered wood flooring can cost as little as $1.25 per square foot and can significantly improve the look of any room. This is also a great alternative to replacing expensive or worn carpets and is much more aesthetically pleasing.
Tiling in kitchens and bathrooms can also make a big impact and won't cost the earth if you can do it yourself either. If there are just a few areas that look tatty, then re-grout to brighten tiles, clean thoroughly and replace broken tiles. In the kitchen, consider doing under the units and behind the sink. Mr. Clean Magic Erasers do wonders in the bathroom and on kitchen grout without a lot of elbow grease.
Cabinets can also be refreshed much cheaper by replacing doors, rather than a new unit, and with new tiles and floors, the kitchen can look brand new.
You can also add under-unit lighting to give it a more upmarket feel. If you don't have the skills to do this, or anything else mentioned, think about using skill swaps to get it done using an online resource such as SwapaSkill.com or asking around friends and family.
Also think about which of your friends might have equipment you can borrow or lease from them cheaply.
Walls should all be repainted, taking care to prepare surfaces thoroughly first. Don't make the mistake of purchasing the cheapest paint you can find though, this is often a false economy as you will need much more to get the job done.
Finally, do one room at a time and get it finished before starting on the next project. This will guard against running out of cash with rooms half-finished and keep you sane when things are untidy.
Recommendation:
Shop around for better mortgage rates. LendingTree Mortgage Refinance offers some of the lowest refinance rates because they have a huge network of lenders to provide mortgage loans, home equity loans, and home equity lines of credit. If you're looking to buy a new home, consider using LendingTree to get multiple offer comparisons in a matter of minutes. When banks compete, you win.