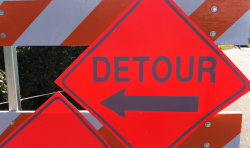 When I was in college I had no idea how important building credit is and how much I would need a good credit score throughout my adult life. Thankfully my mom knew I should start to build credit as soon as I could so she co-signed for me on my first credit card. I didn't spend a whole lot, but I always paid my bills on time and over time I developed a strong credit history.
Here are some interesting things about credit scores you may not know.
FICO (Fair Isaac Corporation) is the most popular credit score.
There are over 60 different variations of FICO scores.
VantageScore, CreditXpert, and PLUS score are some examples of "FAKO" scores that compete with FICO.
There are three main credit bureaus: Experian, Equinox, and TransUnion.
Credit scoring systems can vary but most are out of 850. The higher, the better.
Common inputs into a credit score include payment history, length of credit history, amounts owed, types of credit in use, and new credit.
You probably already know that a poor credit score can make it difficult to get a loan or a credit card. Some niche lenders are starting to use other data points instead of, or in addition to, credit scores for borrowers with limited or no credit, but the vast majority of lenders still heavily rely on credit scores. Thus, it's important to know the numerous ways that having bad credit can negatively affect your life.
15 Ways Bad Credit Can Hurt You
1. Problems At Work And Getting A Job
What does your credit history have to do with your job performance? Federal law lets employers pull both active employees' and applicants' credit reports. Plus, the information can be used to make hiring decisions, take disciplinary action, or even fire someone.
Only 11 states restrict an employer's ability to access your credit report or use it when making employment decisions: California, Colorado, Connecticut, Delaware, Hawaii, Illinois, Maryland, Nevada, Oregon, Vermont, and Washington. Did you know that about 10 percent of people are rejected from jobs due to information in their credit report.
2. No Utilities, No Smartphone
Many utility companies check your credit information before providing service. The same goes for getting a lot of phone plans. I got a new iPhone last year and running a credit check was one of the first things the Apple store employee did before I could get activated on my new monthly plan.
If you've missed payments or have a bad credit score, the vendor could require you to make a large deposit, get a co-signer, or deny you service completely.
3. Expensive Emergencies
We just don't know what could happen tomorrow, let alone this afternoon. I was blindsided by emergency surgery a few weeks ago and was out of work for about a week and a half. I haven't seen my hospital bills yet, but thankfully I have insurance to pay the majority of it. I wouldn't be surprised if my bills before insurance are well over $10,000.
If you have bad credit, you probably lack an emergency fund. And when — hits the fan, you could be in serious financial jeopardy and be unable to qualify for an emergency loan. Start saving money asap and build a safety net to fall back on.
4. Way More Stress 
Poor credit can affect so many different parts of your life and cause a lot of extra stress. I know someone who is maxed out on her credit cards, drowning in debt, and having a really hard time getting a loan because she has bad credit and a low income. The earlier you take control of your finances the better off you'll be and the less money stress you'll have.
5. An Unhealthy Lifestyle
If you have bad credit, your bank account is probably constantly running low. If you're tight on cash flow every month, chances are you're skimping on important things for your health like fresh fruits and vegetables, medications and doctor's visits.
Don't risk going without health insurance. If you're in between jobs, I strongly suggest you get short-term health insurance.
6. Difficulty Renting
If you live in a city like San Francisco, getting an apartment is like trying to get into college – it's very competitive! Landlords want the pick of the litter and most definitely will check your credit before offering you a lease. If you've been bad at paying bills and have a low score or have little to no credit history, renting could be pretty tough. You may also be forced to get your parents or a sibling to co-sign with you.
7. More Expensive Insurance
Did you know that most states permit insurance companies to charge drivers higher premiums if they have bad credit? They can even allow denial of auto insurance coverage. Why? Many insurers don't want to take the risk of covering people who are irresponsible with their finances.
Homeowners with bad credit can also be forced to pay more for property insurance. A lot more actually – a study by InsuranceJournal say some pay 91 percent for coverage than owners with a great credit. Ouch! Only three states ban this behavior: California, Massachusetts, and Maryland.
8. Professional Delays
The Fair Credit Reporting Act allows government agencies to run credit checks before issuing professional licenses and certificates such as those for teachers, medical professionals, and contractors. If yours is bad, you could run into delays working if they withhold your license.
9. Difficulties With Higher Education And Student Loans
Education opens many doors. If you want to boost your career through an advanced degree, it could be tough if you have bad credit. Living paycheck to paycheck with a bad credit score makes it difficult to qualify for student loans, especially those at low rates.
If you already got your undergraduate degree and want to get an MBA, however, you can try applying for student loans through a company called SoFi. SoFi utilizes employment history, your track record of meeting financial obligations, and your monthly cash flow minus expenses to determine if you are qualified instead of your credit score. They also offer services to refinance student loans and are becoming a leader in the P2P lending space. Read more here about SoFi's FICO-Free Loan Application.
10. Relationship Troubles
Bad credit can bleed into your personal relationships. Research shows that money troubles can cause major marital problems – it certainly did with my parents! Couples that accumulate debt are more unhappy than those who work to pay off debt together.
Money stress leads to divorce more than infidelity and other problems and I believe that. So if you want to have a strong relationship, talk about money with your significant other and work together to build strong credit scores and financial security.
11. Higher Interest Rates And Larger Down Payments
If you have a bad credit score, you may be able to borrow money but expect to pay a lot more than those with higher scores. Higher interest rates can make a huge difference over time. Some people struggle with debt their whole lives because they can't get out from under high interest loans and continually overspend. Don't throw your money away on interest until you have gray hair – improve your credit asap and refinance for better rates!
In addition to paying higher interest rates, many lenders require those with bad credit to pay more cash up front in order to get a loan. A common example is having to pay a bigger down payment on a house than someone with excellent credit.
12. Burdening Family
If you have bad credit and are unable to get a loan, chances are you'll be forced to turn to your family to support you. While that might be tolerable for the short-term, burdening family financially over the long-term can really strain and damage relationships. An alternative option is to apply for a loan through a peer-to-peer (P2P) provider. They help many people consolidate debt and get loans who are rejected from traditional banks.
13. Inability To Refinance
The financial crisis forced most banks to step up their lending standards. It's not an easy process to refinance. It takes a lot of paperwork, documentation, and waiting around even if you have excellent credit. Folks with bad credit scores can be completely shut out of refinancing options with many lenders.
14. Giving Up On Entrepreneurship
Not everyone wants to start a business or launch a digital startup, but if you do it's going to be one heck of an uphill battle if you have bad credit. Even if you put your house up as collateral, you still could get denied for a small business loan. Besides, if you're unable to handle your own personal finances, you're definitely not ready to run a business. Get the basics nailed down first before starting down an entrepreneurial path.
15. Limited Travel
Everyone can benefit from a vacation every now and then, even if it's just taking a staycation at home. But if you want to buy airfare, and your credit is really bad, how are you going to be able to afford it? If you've maxed out your credit cards, you're going to run into trouble trying to make it by just on cash.
Nowadays pretty much all hotels, rental car companies, and airlines require a credit card to make a reservation or purchase tickets. If you're in that much financial trouble, you shouldn't be traveling anyway. Cut back on your spending, pick up some side gigs like driving for Uber, and start paying down your debt.
Check Your Credit Score And Take Care Of Your Finances
The good news is bad credit doesn't have to haunt you forever! Start taking control of your finances today. Here are some easy recommendations to get started.
Check Your Experian Credit Score Today For Just $1: Protecting your credit score is more important than ever. For only $1 you can check your latest Experian credit score straight from their website. It's best practice to check your credit score and report every month. It's also a good idea to see what your credit score is on a regular basis before applying for a loan. If it's below 720, you won't get the best rate, but at least you can spend time to improve your score. Furthermore, 1 out of 4 credit reports have errors, negatively affecting one's credit score. Check your credit score today.
Keep Track Of Your Money The Easy Way For Free – Utilize free technology to track your own finances and net worth with Personal Capital. You can quickly link all of your accounts in one place. The best features are their Portfolio Fee Analyzer tool and their Retirement Planner. I was able to save over $1,000 a year in fees by using their free tools. The Retirement Planner is also great because it uses your own inputs to calculate your future cash flows. Take advantage of Personal Capital's free financial tools to maximize your net worth today.
Start Your Own Profitable Website Today – Want to make more money and be more free? Work on building your brand by creating your own website the easy way with a WordPress site like mine through Bluehost for super cheap. You can register your domain for under $20/year and get hosting for only $3.49/month. Whatever your interests are, focus on building your skills and developing your own unique niche.
I've been blogging since 2010 and it has allowed me to break free from the corporate grind to travel, work from home, consult for companies that I like, and do so many more things I've always wanted to do but couldn't. The income is relatively passive as posts I've written years ago are still being found through Google and generating income. What's better than making passive income and creating a valuable asset you can one day sell for a multiple of annual income?