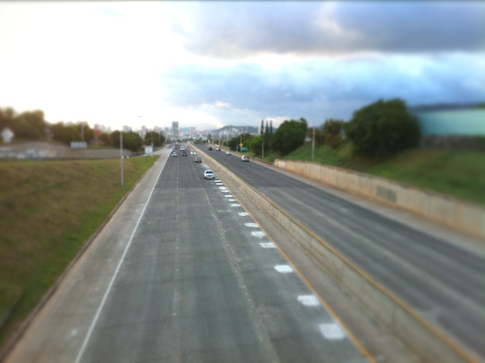 Those of you who have followed along my untemplate journey know that I'm a fan of experimenting in order to find the things you love to do and live the life you want. A big part of living a happy and fulfilling Untemplater lifestyle is finding a career path that blends well with your interests and goals. And more and more people like myself are living location independent lifestyles and working on the road or relocating and settling down abroad.
I wanted to highlight a new guide I just finished reading called, Working On The Road. As you guys know I'm a big supporter of Chris Gillebeau's line of Unconventional Guides and this latest ebook in particular has been particularly helpful for me since I recently broke free of my own cubicle job. I'm actually working on the road right now on a retreat to the mountains as I write this post. 🙂 Here are my thoughts and highlights of the guide.
Working On The Road Review
So what exactly is Unconventional Guide's Working The Road About? It's all about how to achieve and enjoy a rewarding career outside of a cubicle whether that's full-time or part-time. You might want to become a fulltime freelancer like me, start a location independent business, find a job in a foreign country, backpack across the globe finding work as you go, or perhaps something less extreme like finding a way to do your job remotely from home a few days a week, or taking a sabbatical. No matter how actively you want to be on the road, this ebook has it covered.
About The Author
Working The Road is written by Nora Dunn, a location independent writer and travel blogger. After a stable career in financial planning, Nora decided to take her career and lifestyle in a different direction. Well, a lot of directions actually. Since leaving her day job in 2006 she has been traveling, exploring, and working on the road in 40+ countries ever since.
There's a section in the guide that I really liked where Nora explains how she figured out how to take all of her interests paired with the random, various skills she'd acquired in her past and repurpose them in her life as an international freelancer. I can relate to a lot of the things she writes about.
Advice From Many Experienced Experts
I loved that this guide uniquely shares insights from many location independent folks from all over the world, which complement the expertise of the main author. There is a range of stories and words of wisdom from retirees, families with kids, and singles of all ages living abroad. The possibilities of a location independent lifestyle are as endless as you can imagine. Here are just a few examples of the wide range of contributors to Working The Road:
Dyanne

– a woman over 60 who relocated to Southeast Asia after retiring in order to travel and teach English part-time. Who says you have to be in your 20s to be adventurous?!

Rachel and Greg

– a young couple who have been working and traveling the world for the last eight years. The surprise? They are doing all of this with six kids!

Sean

– he landed a full-time job with a company in Melbourne without ever having stepped foot in the city, let alone their office. He works remotely from North and South America.

SoulTravelers3

– a couple and their now trilingual daughter travel full-time for less than $25,000/year. They are living proof that raising a family abroad doesn't have to be expensive. It can actually be extremely cheap!

Wandering Earl

– a travel blogger I've followed for quite some time, Earl has been just about everywhere. For well over a decade, he has done all sorts of things ranging from working on cruise ships, travel writing, teaching English, and leading small group tours.
Who Should Buy It
I think this guide is great for everyone who wants to have more flexibility and control in his or her career. The tips and insights are helpful even if you're simply looking to stay local but want to be able to work from home and make your own schedule. And it's filled with plenty of inspirational stories for those who have big dreams of hopping around the world or settling into a foreign country too.
What's Included In The eBook
I won't list out every single topic that's covered in Work The Road, but here are a few subjects that were most interesting to me:
Working on boats
Developing transferable skills
Visas and official documents
Teaching at international schools
Traveling and finding jobs along the way
Family living on the road
Benefits of slow travel
Automating bills and financial management
Tools and tips for a life on the road
Costs of running a business on the road
My Favorite Highlights From Working The Road
Start Off Telecommuting On A Trial Basis
"If you have an office job you like, you might try to show your boss the benefits of allowing you to telecommute, even for a trial period. Otherwise, there are telecommuting jobs available on the market."
This is sage advice. I took advantage of this towards the end of my cubicle career. There's absolutely nothing wrong with office jobs and they are practical and stable choices for a lot of people. However, sometimes things at work can cause so many distractions that make it hard to concentrate. Or you may need more flexibility to run to doctor appointments or take care of your kids. And being able to work remotely from time to time can be a big help.
Not every job can be done remotely all of the time, but negotiating a trial or temporary period can often be worked out if you have a good relationship with your manager. And if your current employer is adamantly against it, you may want to consider searching for one that openly supports telecommuting.
Real People Real Tips For Teaching English Abroad
When I was in college I considered teaching English in Asia for a year or two but didn't end up pursuing it. I really enjoyed reading about the experiences of several people who made it happen in countries such as China, South Korea, and Vietnam. Perhaps I will join them some day to experience something totally new. There are a lot of great recommendations on how to increase your chances of success teaching English abroad such as certifications that I wasn't aware of before.
Entrepreneurial And Freelancing Advice
As I've learned in my own experience, being a full-time entrepreneur and a freelancer takes a lot of hustle. And this guide talks extensively about running a business as well as working as a freelancer, which I really enjoyed reading about.
Plus, there are many logistics that you may not realize you could have to juggle working abroad. And I liked how the guide talks about the reality of unreliable and slow Internet speeds in certain countries and the challenges of coordinating and meeting deadlines across multiple time zones. We often take these things for granted working in the US! I enjoyed reading the contributors' stories about actual issues and hurdles they dealt with in various situations on the road, which are great things to keep in mind before taking a leap overseas.
Breakdowns Of Living Expenses Abroad
There's also a fantastic section in the guide that has annual breakdowns of living expenses from several different people living and traveling abroad. Being able to compare and analyze how different people spent their money is really insightful and quite fascinating. I was surprised at how little they all spent!
Pricing Options
Sticking with their tradition of multiple pricing options, Unconventional Guides offers three choices for Working The Road as seen below. My review is focused on the Working On The Road Field Guide. The extras that come with the Escape Plan and Road Warrior packages are quite intriguing especially the freelance and blogging bonuses.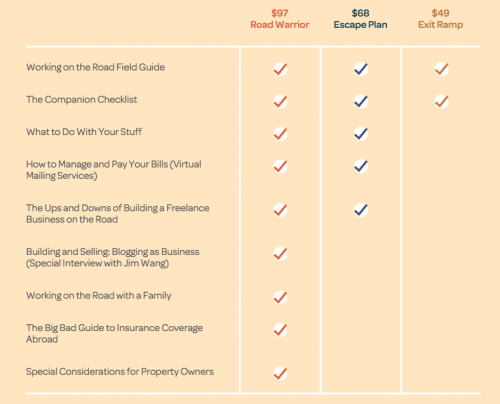 Working The Road didn't disappoint and I thoroughly enjoyed reading it as it's right up my alley and the stories and tips were fascinating. Although 2014 was a slower travel year for me, this year I'm ramping up my time on the road quite a lot, and now I feel readier than ever!
START YOUR PROFITABLE WEBSITE TODAY
Want to make more money and be more free? Work on building your brand by creating your own website the easy way with a WordPress site like mine through Bluehost for super cheap. You can register your domain for under $20/year and get hosting for only $3.49/month. Whatever your interests are, focus on building your skills and developing your own unique niche.
I've been blogging since 2010 and it has allowed me to break free from the corporate grind to travel, work from home, consult for companies that I like, and do so many more things I've always wanted to do but couldn't. The income is relatively passive as posts I've written years ago are still being found through Google and generating income. What's better than making passive income and creating a valuable asset you can one day sell for a multiple of annual income? There's not a week that goes by where I'm not thankful for starting this site!