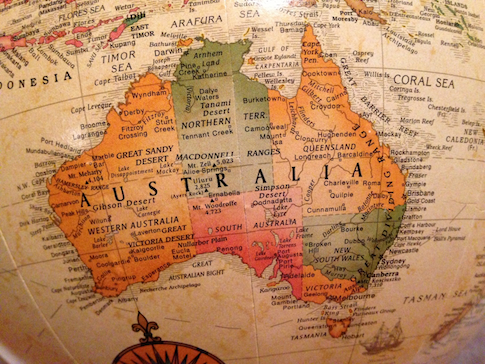 One of my 2013 goals is to travel abroad to a new country, or perhaps even two or three depending on my budget and itinerary. I enjoy exploring new places whenever I can, but the hardest part of traveling for me is deciding where to go! I've been to over 25 countries so far, yet there are so many more incredible places I still want to see. For my next trip, I have my radar on Southeast Asia, Australia, or New Zealand. I'm starting my research with the top sights in Australia that I will share with you today.
I'm very methodical when I plan vacations and like to do a lot of research beforehand on activities, costs, weather, flight options, food, day trips, and ground transportation. Sometimes trying to figure out so much in advance gets me all wound up, but I like planning. Since I will probably only get to visit these places once, I like making sure that I'm going to maximize my time in each area as much as possible.
Swimming and diving in the Great Barrier Reef is one of the items on my bucket list so that is one reason why I'm interested in going down unda'. Of course I'd like to see the iconic Sydney Opera House, go on a Sydney Harbour cruise, and explore Melbourne, but there are so many more fantastic places to see which is what I've focused on below.
Australia Overview
Before I get to the top sights in Australia, here's a quick overview of the land famous for kangaroos, koalas, and the outback. The Commonwealth of Australia includes the mainland, the southeast island of Tasmania, and roughly 8,221 other small islands. It is the sixth largest country in the world by land mass (almost 3 million square miles), has the fifth largest income per capita, and twelfth largest economy. The population is roughly 23 million, with the majority of people living in the eastern states along the coast.
Australia is made up of eight states (well two are technically "territories") and the landscape varies a lot. The large center of Australia is hot, dry desert. Much of the land is dry and flat, but there are some mountain ranges along the southwest, east, and  southeast. And in contrast to the expansive and scorched outback, there are some rainforests in the northeast.
It's a pretty diverse country with a 12% Asian population, and 43% of people have an immigrant parent. The most common countries where people immigrate from are the UK, New Zealand, China, India, Italy, Vietnam, and the Philippines.
Top Sights In Australia And Adventures
If I'm going to Australia, chances are high I'd fly to Sydney or Melbourne. Since I'm a big adventure traveler, I didn't focus my research on city sightseeing. What I've learned is that there is way more to see than can be covered in a 1-2 week visit. A lot of places are farther than a day trip away from Sydney and Melbourne so flying or taking a cruise seem like the best way to cover the most number of places. Australia is huge!
Here are some of the top sights and activities in Australia for travel adventure seekers:
Blue Mountains, New South Wales
An easy 31 miles west of Sydney are the Blue Mountains known for the famous Three Sisters sandstone rock formations. This UNESCO World Heritage site offers panoramic views, hiking, rock climbing, and mountain biking. There are also more than 400 species of animals found here including the adorable platypus.
Best time to go: December to February
Byron Bay, New South Wales
A 9.5 hour drive north of Sydney, or 2 hours south of Brisbane, gets you to the gorgeous Byron Bay. Long stretches of white sand beaches are perfect for relaxing and unwinding. Surfing, whale watching, snorkeling, and scuba diving are quite popular here. It's also becoming a happening spot for untemplate entrepreneurs, with an increasing number of writers, artists, filmmakers, and mobile lifestyle nomads loving the laid back atmosphere, warm and mild weather, and gorgeous beaches.
Best time to go: April through September
Wilsons Promontory, South Gippsland
This coastal national park is nicknamed The Prom and boats over 80 miles of hiking trails and campsites. It's the farthest south you can get on the mainland. The water along the coast here is clear and a great place for snorkeling and scuba diving due to the abundance of marine life. Wildlife cruises are a relaxing way to go whale watching in the area. The Prom is a 2.5 hour drive southeast of Melbourne and 11 hours southwest of Sydney. Some of the wildlife you can spot are wild birds, wallabies, kangaroos, emus, and koalas.
Best time to go: September to April
Wine Tasting, Hunter Valley
A two hour drive from Sydney gets you to Hunter Valley, one of the best-known wine regions in Australia. Some of the best shiraz and semillon are produced here. There are many nature reserves, parks, and botanical gardens to explore in the area as well. Day spas, horseback riding, and hot air balloon rides are some of the other activities to enjoy on a trip here.
Best time to go: September to May
Ballarat Wildlife Park, Victoria
About an hour and fifteen minutes west of Melbourne you'll find this privately owned park offering close-up encounters with native Australian wildlife. Feed kangaroos, pet koalas, go on guided tours and watch several different animal shows. They also have wombats, alligators, snakes, crocodiles, emus, echidnas, Tasmanian devils and more. I would be thrilled to pet a koala and see wombats!
Best time to go: Spring, Autumn
Overland Track, Tasmania
On the island of Tasmania you'll find Overland Track, one of Australia's most famous must-do bush walks. It takes about 6 days to complete the entire trek from Cradle Valley to Lake St Clair, north to south. The weather can be unpredictable and extreme, and rain is fairly common. But there are huts along the way for hikers to keep dry and sleep in overnight. The views and wildlife are gorgeous and diverse, including alpine meadows, rainforests, waterfalls, eucalyptus forests, valleys, swamps, and mountains.
Best time to go: November to April
Kangaroo Island
This island separated from the Australian mainland about 10,000 years ago and is the third largest island in Australia. There are a few small towns on the island with most people working in agriculture. Ligurian honey bees make Kangaroo Island well known for its delicious honey. Wineries have also been increasing here. Tourists can go on guided walks with koalas, sea lions, penguins, pelicans, and of course kangaroos. There are also beautiful rock formations, beaches, and caves to explore so staying a couple days is usually recommended.
Best time to go: Spring, Autumn
Wine Tasting, Yarra Valley & Barossa Valley
Yarra Valley is just an hour east of Melbourne and is known for delicious shiraz, riesling, and grenache. There are about 55 wineries here including Domain Chandon (which is also located in Napa Valley, California) and Chateau Yering. Barossa Valley is another popular place to go for wine tasting and has over 60 wineries. It is about an hour away from Adelaide in South Australia. You can stroll around the farmers markets and the German influenced town of Tanuda after tastings.
Best time to go: September to May
Scuba Dive, Live aboards
The Great Barrier Reef is ginormous, covering 132,973 square miles! With so much to see, the best way to explore underwater is from live aboard boats that are specifically tailored towards scuba diving. Typical trips range from 3-7 days at sea giving you plenty of time to explore. As I learned on my first scuba diving experience, it's so worth it to book tours with dive masters who know the reefs inside and out.
Osprey Reef and The Ribbon Reefs are a couple popular live aboard destinations. Some of the marine life includes loggerhead turtles, whale sharks, manta rays, soft corals, marlin, bottlenose dolphins, hammerhead sharks, giant potato cod. Most live aboards depart from Cairns in the north, which is 30 hours by car from Sydney (!).
Best time to go: August through November
Uluru-Kata Tjuta National Park, Red Centre
Near the center of Australia, over 17.5 hours northwest of Adelaide is Uluru-Kata Tjuta National Park. This UNESCO World Heritage site is best known for Ayers Rock, aka Uluru, and the Kata Tjuta rock domes. These red soil gives the Red Centre it's name and the giant red rocks are a true treat to see out in the bush. The land is considered sacred by Aboriginies so certain areas are off limits and respecting the land and culture is important when visiting this park. The weather can be extremely hot in summer which leads to closures for the safety of visitors. Some companies offer 4WD, motorcycle, helicopter, or even camel tours. I would totally go for the camel tour, how cool is that?!
Best time to go: April to September
Kakadu National Park, Northern Territory
All the way up north, about a 3 hour drive east of Darwin, Kakadu is a gem that most international tourists visiting Sydney and Melbourne don't get to see. This is the largest national park in Australia and is known for its aboriginal rock art, fishing, waterfalls, and abundant wildlife. It is so large that the terrain, flora, and fauna vary greatly depending on where you are on the ~43,000 square miles of wilderness. Roughly 1/5th of Australia's mammals and 1/3rd of its birds are found here! Camping grounds and loding are available in the park so you can take your time exploring.
Best time to go: June to September
Surfers Paradise, Gold Coast
A little over an hour south of Brisbane, or 10 hours north of Sydney, gets you to Surfers Paradise, aka Surfers. This popular beach destination is very commercialized with lots of high rises and is known for its party scene. If you love night life, beaches, and especially surfing then this is right up your alley. Surfers Paradise hopping both day and night so if you're looking for a quiet and relaxing getaway, skip this stop.
Best time to go: October through March
Untemplaters, have you been down unda'? Which places do you want to go see in this list of top sights in Australia?
Copyright 2013. Updated 2017. Original content and photography authorized only to appear on Untemplater.com. Thank you for reading!