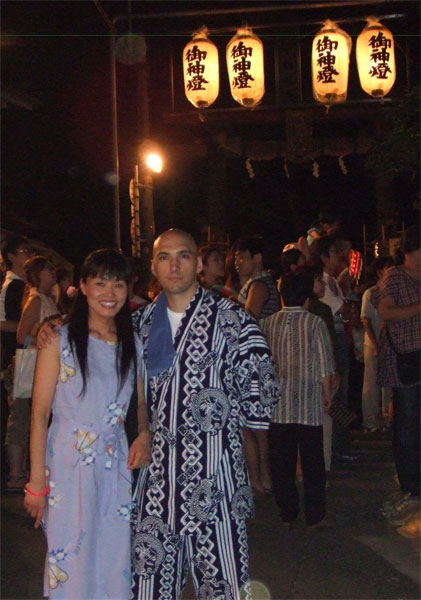 There are endless people online working four hour workweeks, traveling the world and living the life of their dreams. Designing your ideal lifestyle and living an untemplated life is damn easy so you must be stupid for haven't mastering it yet. Right?
If you are like most of the human race, you probably have obligations and responsibilities that are preventing you from quitting your job to join the "new rich" gallivanting the world. Yet, we keep reading about all these people living large by shunning the dreaded 9 to 5. What gives? How can it be so hard for you, when it is so easy for everyone else?
The big ugly secret is that it is not so easy for everyone else. Most of the authors of blogs selling the dream are doing exactly that, dreaming. I am no exception. I am still working in my business. I still haven't left Japan. I still have my comfortable house with all my comfortable things.

I am living the life, well not quite yet...
In March of 2009, I committed to selling my business and leaving my adopted home of Japan to live a more nomadic lifestyle. It is imminent, I have managed to sell my business and I am definitely planning to leave Japan soon, but I haven't done it yet. However, I have been talking about doing it for ten months.
That is exactly the stage that most people are at, the talking stage. Someday they plan to earn their income completely online. Someday they plan to live a nomadic lifestyle while working on their laptops from exotic beaches. Some will make it happen and some won't. But one thing I guarantee is that it won't be easy.
Unless you are rich, major life changes take work and sacrifice. Embrace that work. Cherish the sacrifices you need to make because those memories will stick with you for the rest of your life. I would even say that the harder you work and the more sacrifices you make now, the more you will enjoy the fruits of those efforts. Just don't expect it to be easy.

Mom, Can I Get the Keys to the Cottage?
There are many successful long term travelers and lifestyle designers out there, so it definitely is not all hype. However, some of those success stories leave out details about how they got where they are. It is easy to travel if your parents paid all your student loans for you. There is not much challenge in staying in Mom and Dad's villa in some exotic country. It isn't too hard to work on your start up when your spouse is working full-time to pay the bills. Many of your favorite bloggers that are making it look so easy often have some major assistance.
I don't mean to belittle anyone's accomplishments. It still takes work and courage to chart your own path in life. There are many great role models out there living alternative lifestyles. I just think it is important to remember that sometimes luck and favorable conditions can make things much, much easier.

I did it all alone, almost
When I first came to Japan I only had about $1000. I didn't have a work visa. I didn't have a job. I really had nothing. That is the story I like to tell people. In reality, I had everything. I had a friend teaching English in Japan. I showed up on his door unannounced and he let me stay with him for my first week in Japan. After that, he introduced me to someone else who let me stay in his apartment for free for about 6 weeks. Without that assistance, I would have never survived in Japan.
Most people hide those stories of essential assistance. It is important to acknowledge that we seldom do it alone. And if you try to do it alone, you will find that it is a hell of a lot more work.
Many new freelancers and entrepreneurs often have similar advantages when starting. I know of many small companies that had their first clients directly from their old job. Either their previous employer continued to hire them on a contract basis or they took clients with them. The biggest success stories rarely start from zero. Most of us are not starting from that advantageous position so our lofty goals are much more difficult to obtain. Not impossible, but I think it is important to have a healthy dose of reality and plan for the hard work ahead.

It is easy to give up everything when you have nothing.
Most long term travelers and lifestyle designers are in their twenties, single, have little work experience and assets so they are not giving up much to sell all their possessions and see the world.
If you are a little older, married, have children or other obligations it can be more difficult, sometimes even impossible to give up a secure job for flights of fantasy. That is completely okay. You can't measure the quality of a human by the stamps in their passport or how little hours they work each week.
Keep in mind that most of those travelers are only going to have that lifestyle for a few months or years at best. It is hard to be separated from family, living on hundreds of dollars a month and staying single because you can't manage relationships on the road.
Traveling the world is fantastic. It will improve you as a person and a global citizen. However, the biggest lesson that you will likely learn is that there is no place like home. Family and friends are all there is at the end of the day. Life is all about relationships.
Forget Everything I Said, Now is the Best Time
Now after I have tried to scare you a little. Living abroad, entrepreneurship and long-term travel really are easier then ever. There has never been a better time to untemplate your life. Costs to start businesses and travel are incredibly inexpensive compared to just a decade ago. The Internet has opened up so many opportunities to do absolutely anything you want, anywhere you want. The best part is that there are dozens of communities of people that have done the exact same things you are planning. You don't have to do it alone and you can learn from the mistakes of others.
There are unlimited opportunities to earn an income online from anywhere. It is likely that your ancestors relocated to a new country in a time with zero access to information or any modern conveniences. There really are no excuses for not pursuing your dreams. Some may have it easier than you, but overall you can do anything you want, anywhere you want. These are amazing times!