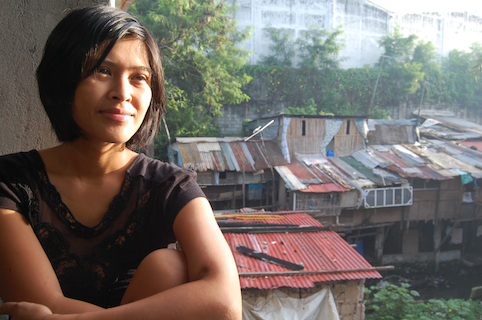 I'm excited to present a fun interview today with digital nomad Janet Brent who blogs at Purple Panda.  Currently living in the Philippines, Janet is a multidisciplinary designer interested in social responsibility and changing the world.  She's a talented  graphic designer, web designer, artist, photographer, and writer who believes you should March To Your Own Beat!
Sydney: Hi Janet.  So where did you grow up?
Janet: I grew up in the good old Pacific Northwest where "Keep Portland Weird" is normal to me.
Sydney: Did you go to college? What did you study and envision yourself doing afterwards?
Janet: I took my first term at a public university in a dry town about an hour 1/2 away from home. I was an art major with an emphasis in graphic design since that's what I wanted to do. I even got an arts scholarship but realized this "emphasis" wasn't really cutting it. I wanted to get to the good stuff so I decided to transfer to the Art Institute of Portland, which put me on design classes from day one where I got more of the art college experience. I was surprised that my parents let me since I didn't think we could afford it and it's a private school.
Sydney: When did you decide you wanted to live abroad?
Janet: I had this sort of Eat Pray Love epiphany after a long term relationship ended (initiated by me). This voice or my inner intuition told me I needed to go back to the Philippines, where I was born, and I had this strong connection and KNEW I needed to explore my roots. That was in October 2008 and it took me over a year to get to the point where I was actually boarding the plane. It was easier for me because I was single, no kids, and no real career (stuck in a dead end office job) that I definitely felt starting over was needed.
Sydney: How did you take the plunge?
Janet: Step by step, ooh baby! Seriously though.. I am the worst planner ever but I made a list of steps I needed to take to break down this scary overwhelming thing. I also had this crazy idea to visit India first on a voluntour group because I knew that once I submitted my application fee, there was no turning back and no refunds! It's definitely an expensive way to volunteer in a country, but it gave me the confidence I needed, in a group setting, to take the plunge and make the next step of flying to the Philippines on a one way ticket that much easier.
Sydney: What led you to live in a monastery as you mentioned in your previous Untemplater article "How Buddhism Taught Me Lifestyle Design"?
Janet: Again, not to sound completely Eat Pray Love-ish, but it was the same inner voice. Actually, I wrote my bucket list before I flew to India to set some intentions of the things I wanted to accomplish. I'm a huge believer in manifesting your dreams by writing them down, verbalizing them, creating vision boards or whatever it takes. One of my goals was to "Join a Zen Buddhist Monastery and practice meditation". I hadn't ever tried meditation before and thought it would be a nice thing to start. So I thought going straight to the source and living in a monastery would be the perfect foundation for the things I wanted to accomplish.
I completely forgot that I wrote this on my bucket list when the opportunity literally fell on my lap after getting bad feelings from a lucrative job I accepted and wanted to turn down. It just wasn't "me" or what my calling was but I was hesitant to say no, especially since I had no other options in front of me. That's when I asked for a sign that my gut really WAS telling me I should say no. That if there was anything out there better for me that I should say yes to, I'll take it. The next day, I found the retreat while stalking a friend on Facebook.
Sydney: How long after that did you end up in the Philippines?
Janet: It sounds really weird to be in the most Catholic Asian country ever in a Buddhist retreat, but I was. It was held in two different monasteries/temples in the Philippines in two different islands. After the retreat was over, some of us chose to do an extra retreat under the same Buddhist organization to attend an International Youth Buddhist conference in the biggest monastery in Taiwan (and also the headquarter monastery for this particular Buddhist retreat/organization). I was there for a month in August 2010 and came back to the Philippines and have been here ever since!
Sydney: Tell us how you found your current apartment?
Janet: My boyfriend, who is a local, has family in a poor community south of Manila. I was sort of running out of options, and money so we found a place that was newly built and moved into a studio last April. I wasn't really actively looking around and this was the cheapest that you could find within the city so I decided to take it since it was already getting stressful spending nights at different friend's houses and being on the go every day.
Sydney: Do you ever feel scared living in a slum area/community?
Janet: Not really! I admit the energy is not always the most positive thing. That poverty consciousness can really get you down if you're not careful, and living in an environment that's not aesthetically pleasing, for an artist, is tough creatively! But the community is very safe! Not much crime rate at all and everyone watches out for people like a neighborhood watch. People are generally happy, although it's been hard for me to adjust. The mentality is more simple and practical than "poor me" and they are extremely resilient people.
Sydney: How far does $10, $100, $1000 US Dollars go?
Janet: Great question! $10 can buy me 1 1/2 days worth of meals if you're going to a mall economy OR about 10 days worth of meals if you're within the poor village, who operate in their own economy. It's really amazing! $100 can also get you buy one month under the same poor economy although I live more comfortable with $300/mo. minimum. You can live like a king at $1,000/mo!
Sydney: If you struck it rich overnight would you stay in the Philippines?
Janet: This sounds bad, but I am a complete domestic fail and would rather have maids, which is a common thing for people to have here and socially acceptable. Between full-time live-in maids, and maybe even a cook, I would love rich life here… That being said, I wouldn't mind moving somewhere else for a few years either. I'm not committed to anywhere longterm and still don't know where I want to "settle". If I were that rich, I like the idea of having several homebases and owning lots of property.
Sydney: Are you learning to speak Tagalog? Do many people speak English in your area?
Janet: I'm slowly learning Tagalog but I'm shy to speak it which I know would only accelerate my learning. Most everyone speaks English, especially in the metro area. Go into the provinces and you'll find less English speakers. They can understand you, but they can't speak fluently and joke that they're getting a "nose bleed".
Sydney: What are a couple of your current goals?
Janet: Right now, just to launch my web design site on 11/11/11. I chose that because it's a special once in a lifetime date and seems really harmonious and auspicious to me. Business is already getting busier which I'm definitely happy about, but launching the new website would help that much more! I want to start taking more Western clients who will pay good money and not try to bargain me down just because I live in a third world country. But I also want to honor myself and my talents and realize that I am WORTH it, because the struggle is also overcoming my own money issues of not feeling good enough and undervaluing what I'm worth. The whole "starving artist" mentality. I think living where I do now must be my karma, and I'm making up for it! The next phase is abundance.
If you want to learn more about Janet, check out her print, web, and social media services at ByJanet.net
Untemplaters, have you ever considered a location independent lifestyle?  What are your thoughts on taking a voluntour trip or going on a Zen retreat like Janet did?