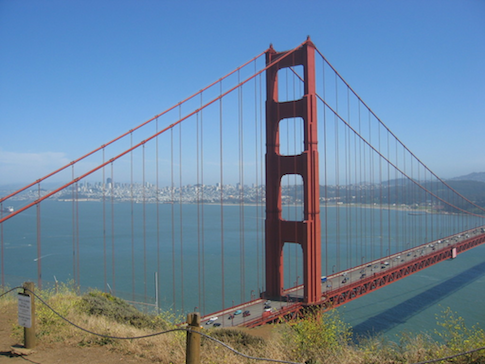 I loved Tony Bennett's song I Left My Heart In San Francisco before I moved here, but it means even more to me now that I'm an SF resident. I used to dream about living here after I first came to visit in my teens, so I feel very fortunate that my dream came true! If you've never taken a trip to San Francisco, I highly recommend it.
Here are my top  12 reasons I love living in San Francisco!
San Francisco Botanical Gardens
One of my favorite places to escape the hustle and bustle of the city is the San Francisco botanical gardens. They are a hidden oasis tucked away in Golden Gate Park. There are dozens of pathways and hidden trails to meander your way around while enjoying a huge variety of plants, trees, and flowers from all over the world. I like to come here on Sunday afternoons to sit and enjoy the peaceful gardens as I write and enjoy the views. Every time I come here I discover a new trail and a new quiet place to sit and relax.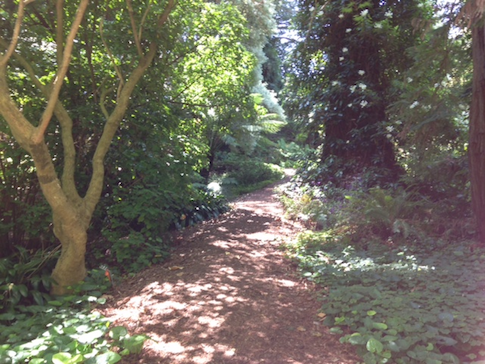 Art & Cultural Museums
San Francisco has a fantastic assortment of art and cultural museums for people of all ages to enjoy. Some of my favorites are the de Young Museum, the Asian Art Museum, and the Cartoon Museum. My favorite would have to be the Asian Art Museum because it houses such a wide variety of Asian art and has a stellar permanent collection that never ceases to impress me.
The Fooooood!
I've been to many countries and cities all over the world and I still think San Francisco has some of the best food out there. There is every type of cuisine that you can imagine here, and the ingredients are fresh, locally produced, and super delicious. It is hard to have a bad meal here and you can still find great cheap eats. A few of my favorite neighborhoods to eat are the Mission, Clement Street, the Marina, the Inner Sunset, Hayes Valley, and Japan Town. You can find amazing Mexican, Peruvian, Japanese, Korean, Chinese, Vietnamese, French, German, American, Indian, Persian, Afghani, etc just to name a few.
6 Figure Jobs Abound
Another great reason I love living in San Francisco is the job market here. There are so many job opportunities in a wide range of industries, especially appealing to those who want to work at tech companies, startups, finance, healthcare, and nonprofits. There is a high cost-of-living of course, but there are plenty of six figure paying jobs to make living here quite comfortable if you're good with your money and pay attention to personal finance.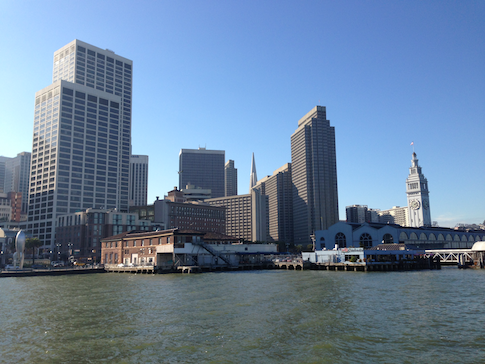 The Weather
The weather is mild here and I love it. You barely ever break into a sweat here unless you are out exercising. I never have to worry about cold winters or humid summers and I can pretty much wear the same clothes year round. It's all about layers. And for those folks who find San Francisco a bit chilly all they have to do is drive 15 to 20 minutes outside the city and the weather can be anywhere from 5° to 20° warmer.
Hikes And Nature
I love the outdoors and living in San Francisco is the perfect place to get a great blend of city life and nature. There are many places to take hikes within the city limits that make you feel like you're in another world such as Golden Gate Park, Lands End, Chrissy Field, and the Presidio. And if you are willing to drive outside of the city, the possibilities are endless. For example Muir Woods, Mt. Tamalpais, Stinson Beach, etc.
Sailing
I didn't discover sailing in the San Francisco bay until last year when some friends invited me out. Now I'm hooked! I feel so lucky to have friends who know how to sail, so we like to pitch in and rent 45′ catamarans or sailboats a few times a year to cruise the bay. We even sailed under the Golden Gate Bridge and saw the fireworks on the 4th of July on the water. It was unbelievable!
Diversity
I also love San Francisco because it is one of the most diverse cities I've ever been to. I grew up on the East Coast in a town that was roughly 50/50 whites and blacks, and it really saddened me that there was so much racial tension and hate for no reason. I couldn't live in a place like that anymore and I'm glad I left. San Francisco is a melting pot where people are very accepting of each other regardless of background, skin color, age, beliefs, or lifestyle. People are free to be themselves here and I have a lot of international friends from Europe, South America, and Asia. It's also an easy place to practice foreign languages because there are a lot of cultural groups and "transplants" from abroad.
The Architecture
What can I say, the Victorians give San Francisco so much character that is uniquely SF. I never get tired looking at the Painted Ladies in Alamo Square, the mansions of Pacific Heights, and the Victorian and Edwardian houses scattered around the city. The Financial District also boasts plenty of impressive modern skyscrapers and newly built condo towers that keep popping up everywhere. SF has a lot of charm.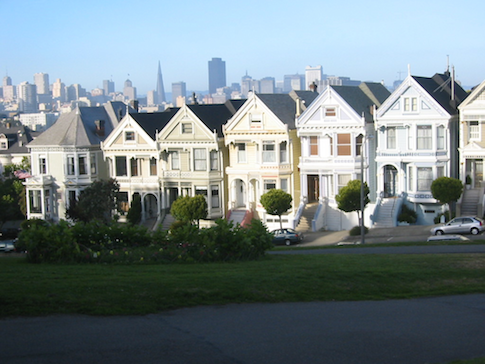 The Coast
One of my last but certainly not least favorite things about San Francisco is the coastline. I'm a water person and can't stand being landlocked. So living by the ocean gives me wings and makes for stunning hikes and photo opps. Walking along the beaches or on the cliffs above is hard to beat!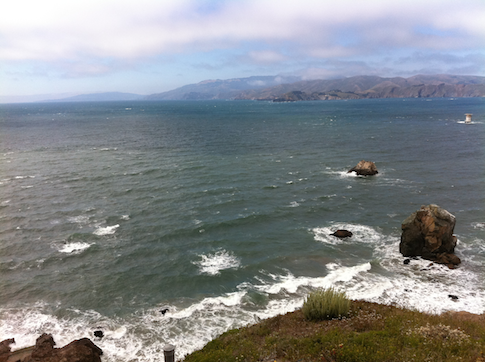 Farmers Markets, Fairs, & Free Stuff
The farmers markets in San Francisco rock. You can get full for free just walking around and sampling the produce. The vendors are generous here and never give you any grief for trying as many free samples as you want. You can get farm to table fruit, vegetables, honey, eggs, cheese, etc. There are also lots of festive street fairs throughout the year with dozens of vendors, live music, and plenty of food and drinks. And not only that, there are always companies giving out free samples of random stuff downtown. I can't count the number of times I've picked up free energy drinks, free coffee, free chips, free hair products, free pet food, etc.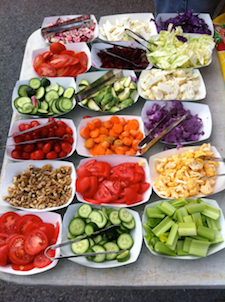 Property
The property market is hot, hot, hot in San Francisco. It's not affordable for everyone, but if you have the money it's a great place to buy. The lifestyle in SF is hard to beat. If you're a serious buyer, check out Sam's post on the best place to buy in San Francisco.
Bonus: Lake Tahoe
Another fabulous thing about SF is it's proximity to Lake Tahoe. Rent my friend's place in Lake Tahoe! He's got a fantastic five diamond rated two bedroom, two bathroom condominium at The Resort At Squaw Creek in Lake Tahoe. There's ski-in/ski-out, three outdoor hot tubs, three heated pools, a spa, a gym, several gourmet restaurants, fantastic children and family activities, a golf course on site, amazing hiking, kayaking, rafting, fishing, biking, and more! Lake Tahoe is one of the best places to vacation.
You can rent book a reservation as a studio (two queens), one bedroom (one king, a pullout queen, fireplace, two TVs, kitchenette, dining table, two rooms), or entire two bedroom unit (studio and one bedroom combined). Click the links for availability and check out his Lake Tahoe property to see pictures and information about it. Prices are ~15% lower than anywhere you'll find online!
Untemplaters, have you ever been to San Francisco? What did you like the most? Have you ever thought about moving to San Francisco?