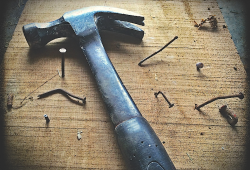 As those of you fellow bloggers know all too well, our biggest nightmares are when our sites break unexpectedly or get hacked. It's the most unsettling feeling ever, especially for those like me who aren't the most technically savvy with all that complicated back end stuff. Fortunately, Untemplater wasn't hacked last month, but I did run into several different technical glitches that definitely raised my blood pressure.
At the recommendation of my web host I decided to migrate Untemplater from http to https. Switching to https involves getting an SSL certificate, setting up redirects, and updating internal links amongst other things. What is https? Here's how one website describes it:
"Hyper Text Transfer Protocol Secure (HTTPS) is the secure version of HTTP, the protocol over which data is sent between your browser and the website that you are connected to. The 'S' at the end of HTTPS stands for 'Secure'. It means all communications between your browser and the website are encrypted."
Search engines like Google claim to favor secure sites, but it's hard to measure by how much. Most retail and banking sites are already https because they have to transmit a lot of sensitive payment information. Some other industry sites and blogs are also now available in https, but it's been a slower trend than I thought. Making the switch sounded simple to me at first, but it wound up being a lot more complicated than I thought. Long story short, I spent a lot of time trying to fix issues surrounding my migration and am still trying to figure several things out.
What almost made me lose my cool is that on top of all of that, my site got all screwed up when I upgraded WordPress and/or one or more plugins. A plugin I don't remember upgrading winded up getting completely deleted as if it was never there. And then I lost all the widgets in my sidebar, header and footer. It was the weirdest thing. Argh, why do things have to break?! At least I used the wipe outs to give my side bar a fresher look and change some settings.
Lessons learned:
Be extra diligent with backups.
Never perform more than one upgrade at a time.
Don't perform upgrades during peak hours or right before a holiday.
Review your site's layout and functionality immediately after every upgrade, including in between plugin upgrades.
Take screenshots of your active widgets and plugins for safekeeping. Keep an updated list/codes handy. If things ever go wonky, you have the data handy to make some quick manual updates un case you want to avoid a complete site restore.
Assume things will break unexpectedly so you can be prepared to act fast.
Don't rush into large scale technical upgrades if you're under prepared or tight on time.
Keep good notes when things break and how you fixed things for future reference.
New Here? Welcome! Be sure to check out my about page and read how I got paid to break free from a grueling desk job. My monthly income reports help me keep track of my active and passive income streams, check on my goals and push myself forward.
Goals Update
One of the best ways to achieve goals is to keep them at the forefront of our minds and regularly monitor our progress. Here's a look at my 2017 goals. I've got a lot of work to do.
Invest $10,000 a month. I successfully deployed about $17k of cash that was sitting in my retirement accounts. Tried to invest new capital in SDY, but my limit didn't hit and the price ran up.
Expand my personal finance writing portfolio. Not off to a good start. I'm behind schedule!
Setup contingency plans for my business and assets. I created a few new recurring annual reminders for vendor renewals and have been working on some address updates.
Connect with new friends in my neighborhood. Joined a couple of meetup.com lists.
Record clips for 1SE more often. Finished editing December and the first week of January.
Improve my cooking skills. Made two healthy soups using my slow cooker. Steamed a lot of veggies.
Income Report
Now onwards to the numbers. Experience has taught me that life is too short to only have one income stream. To avoid having all my eggs in one basket, I'm growing my wealth with multiple active and passive income streams. Here's a look at how much I made last month.
Total Revenue Streams = $13,749
FREELANCING: $8,745
Website & project management
Editorial, writing, marketing
Teaching music, misc.
INVESTMENTS: $3,142
Dividends & interest income
Rental income
ADVERTISING & AFFILIATE: $1,907
Partnerships, affiliates, advertising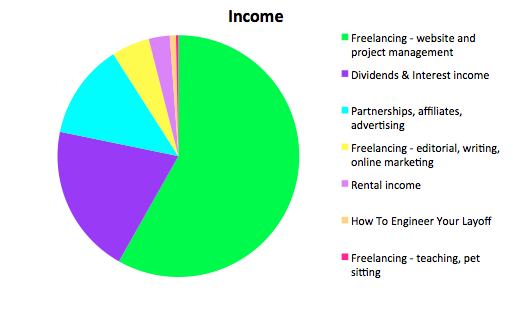 Expenses = $(6,628)
BUSINESS: $(1,493)
Aweber, Marketing, Subscriptions, Fees
Other work related
Meals & Entertainment – business
Travel – business
PERSONAL: $(5,135)
Living expenses
Meals & entertainment – personal
Travel – personal
Shopping & misc expenses – personal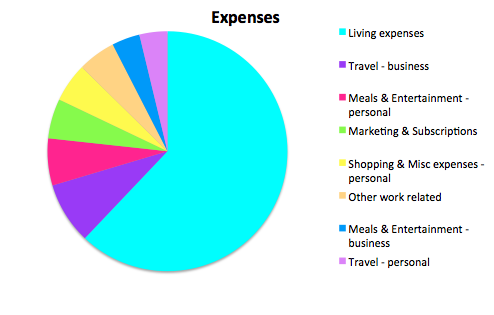 $13,749 – $6,628 = 

$7,122 PROFITS
Takeaways
December went by way too quickly. I traveled in the first part of the month and got some sun, which was great. Then the holidays snuck up on me and I got buried in technical difficulties and researching https. Never a dull moment!
Overall, the year came to a great close. I reached a net worth of $1.2 million, stayed healthy, achieved 3 of my seven 2016 goals, pushed two and failed at the last two that were lower priority.
Q1 is already off to a hectic start, but it feels so good to get things done! As I like to say, one thing done is one thing less to do!
Recommendations
Start Your Own Website – Become a branding rockstar and make more money by creating your own website the easy way with Bluehost. Get a free domain, reliable hosting for only $2.95/month and 24/7 support. Whatever your interests, focus on building your skills and develop your own unique niche! I've been blogging since 2010 and it has allowed me to break free from the corporate grind to travel, work from home and do so many more fulfilling things with my life. There's not a day that goes by when I'm not thankful for starting this site. Check out my step by step guide on how to start your own blog.
Break free! If you're burnt out of your day job, believe that you have options and can turn your career around for the better. I didn't believe I could escape the grind for the longest time, but fortunately I wised up before stress destroyed my life. I never would have thought I could negotiate a severance package and get paid to leave a job I grew to hate, but I did! Learn how you too could get paid to leave your job like I did and open your eyes to new opportunities.
Untemplaters, how did you end the year? Is your January off to a strong start? What do you think about http versus https sites and search ranking? Bloggers, have you migrated your site to https?
Copyright. Original content and photography authorized to appear solely on Untemplater.com. Thank you for reading!