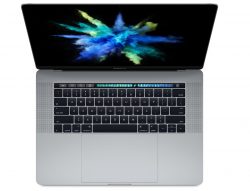 After almost seven years, I finally got a shiny new laptop! I've been wanting a new laptop for several years already but kept delaying the purchase because I wanted to max out my old computer as much as possible. I was also waiting for Apple to come out with a new 15″ MacBook Pro worthy of an upgrade. Apple products are not cheap, but I love them and to me, they are worth the premium. Having used Mac notebooks since 2002 I have no interest in Windows-based laptops even if they are significantly cheaper.
Things have been going great with my new laptop so far and I literally use it at least six hours a day if not more. The only challenge I've had so far has been typing with the ginormous track pad – I tend to rest my wrists on the laptop itself when I type (instead of using an ergonomic hover) so sometimes my palms accidentally brush the trackpad, jumping my cursor to a different place. With more practice, however, I should get used to adjusting to new hand position so I won't have so many accidental palm clicks.
I'm super pleased with the speed most of all. It's crazy how slow my old computer is in comparison! The thin profile, Touch ID and Touch bar are fantastic new features too. I get giddy with excitement every time I use my new laptop now and hope it will last me for many years to come. Not having to deal with crashes is already increasing my productivity!
New Here? Welcome! Be sure to check out my about page and read how I got paid to break free from a grueling desk job. My monthly income reports help me keep track of my active and passive income streams, check on my goals and push myself forward.
Goals Update
One of the best ways to achieve goals is to keep them at the forefront of our minds and regularly monitor our progress. Here's a peek at the status of my 2017 goals.
Invest $10,000 a month. Agh, I failed on this in February. I totally lost track of time and with the run up in the markets I had planned on paying off some mortgage principal but I missed the end of the month deadline. I need to make up for my forgetfulness in March.
Expand my personal finance writing portfolio. I haven't spent as much time on this as I should have, but I got two article drafts in place that I plan to polish off this month.
Set up contingency plans for my business and assets. I filed some paperwork with the state, set up some new calendar reminders and put some new procedures in the cloud.
Connect with new friends in my neighborhood. I connected with a couple new women over email but didn't get a chance to meet up in person due to scheduling conflicts.
Record clips for 1SE more often. I took a lot more videos in February but I got behind on selecting my clips yet for the second half of the month. I got them all up to date by March 2nd though.
Improve my cooking skills. I kept things pretty simple on the cooking front in February. I made several simple salads, some omelets, and more potstickers. I think I can say I've finally mastered the art of cooking potstickers that don't stick to the pan. lol
Income Report
Now onwards to the numbers. Experience has taught me that life is too short to only have one income stream. To avoid having all my eggs in one basket, I'm growing my wealth with multiple active and passive income streams. Here's a look at how much I made last month.
Total Revenue Streams = $10,709
FREELANCING: $6,500
Website & project management
Editorial, writing, marketing
Teaching music, misc.
INVESTMENTS: $734
Dividends & interest income
Rental income
ADVERTISING & AFFILIATE: $3,475
Partnerships, affiliates, advertising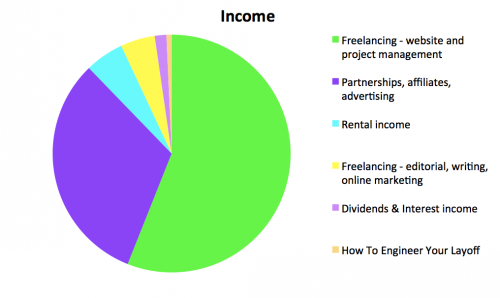 Expenses = $(8,663)
BUSINESS: $(3,933)
Aweber, Marketing, Subscriptions, Fees
Other work related
Meals & Entertainment – business
Travel – business
PERSONAL: $(4,730)
Living expenses
Meals & entertainment – personal
Travel – personal
Shopping & misc expenses – personal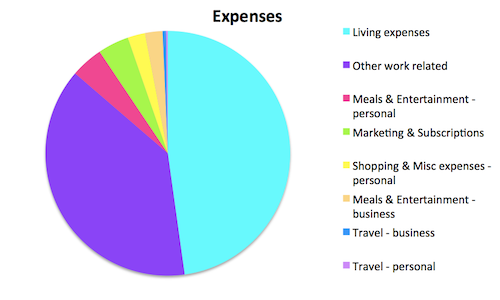 $10,709 – $8,663 = 

$2,047 PROFITS
Takeaways
It feels great to finally have a new laptop. And even though it was very expensive, it was worth it. I waited a long time to get it and I use it to do my job every single day! Having a faster machine makes such a difference and I no longer get frustrated every day with frozen programs. I also like the feel of the keys and the better battery life. My old laptop could only hold about 1-2 hours of charge, so getting 24 hours or more between charges feels like a huge luxury.
I'm sure there are other features I haven't use yet that I'll learn to love soon enough as well. I still need to figure out how to use the Photos app and decide if that will work for me or if I should purchase Lightroom. I'll probably keep things simple and stick with Photos.
If any of you have a recent MacBook Pro and have some favorite features, please let me know in the comments below!
Recommendations
Start Your Own Website – Become a branding rockstar and make more money by creating your own website the easy way with Bluehost. Get a free domain, reliable hosting for only $2.95/month and 24/7 support. Whatever your interests, focus on building your skills and develop your own unique niche! I've been blogging since 2010 and it has allowed me to break free from the corporate grind to travel, work from home and do so many more fulfilling things with my life. There's not a day that goes by when I'm not thankful for starting this site. Check out my step by step guide on how to start your own blog.
Break free! If you're burnt out of your day job, believe that you have options and can turn your career around for the better. I didn't believe I could escape the grind for the longest time, but fortunately I wised up before stress destroyed my life. I never would have thought I could negotiate a severance package and get paid to leave a job I grew to hate, but I did! Learn how you too could get paid to leave your job like I did and open your eyes to new opportunities.
Untemplaters, are you a laptop or desktop user? How old is your current computer? Are you a device junkie? What's on your electronics wish list?
Copyright. Original content and photography authorized to appear solely on Untemplater.com. Thank you for reading!