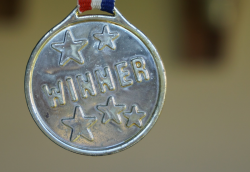 The end of the year is sneaking up fast. Looking back to November, I'm happy with how things turned out. I got a decent number of freelancing hours in, did a lot of gardening before the torrential downpours of rain hit in December, spent some quality time with my sister and helped her move, and visited with more family and friends at a wedding in San Jose.
Another notable event was I wound down my freelancing contract with my former employer. I lasted there on a part-time freelance basis for over a year, which is much longer than I expected to stick around when my former boss asked me (twice) to come back to work for him last year.
I was hesitant at first to return to a company I was so happy to flee, but it all worked out well in the end. It was a great way to utilize my years of experience to help out on random projects on my own time and fill in where they needed me. The best part was – unlike my full-time days – it was totally stress free! The only real pain was having to commute and not being able to work remotely.
Recognition and appreciation mean a lot
Since I have a lot of changes in the works for 2017, I felt it was the right time to bow out for the 2nd and (probably) final time. On my last day, the management team threw a little going away gathering for me. It was pretty funny to do it a second time. What made my day was hearing the MD and senior execs genuinely thank me again for all of my hard work over the years and for "saving their asses so many times." I had more than my share of stressful days there over 10+ years, but I also learned a ton about myself, the pros and cons of being a manager and got to enjoy one heck of a benefits package.
The funny thing is on way out of the goodbye gathering, my boss randomly brought up a recent client issue about a task they'd passed on to another office. The job involved a password protected that the new office needed to modify, but nobody could figure out how to unlock it. I immediately recognized the client/file he was referring to and said, "oh I know what it is. I used to work on that file all the time. I'll send the password to you when I get back to my desk." The MD overheard and laughed, "See, saving our asses yet again!"
New Here? Welcome! Be sure to check out my about page and read how I got paid to break free from a grueling desk job. I publish monthly income reports to track my progress and push myself forward.
2016 Goals Update
I have a couple main career goals for 2016 that I'm actively hustling to meet or beat this year. In each of my income reports, I provide a quick update on my progress:
1) Goal: Invest At Least $5,000 Every Month
I surpassed my goal of investing $5,000/month again in November and deployed over $20k in DVY and CMF. I was able to deploy some cash that I'd been sitting on in my retirement accounts and also put some new capital to work.
DVY: My timing turned out well on my DVY purchase. I got in during the November dip and the ETF has since been on the rebound.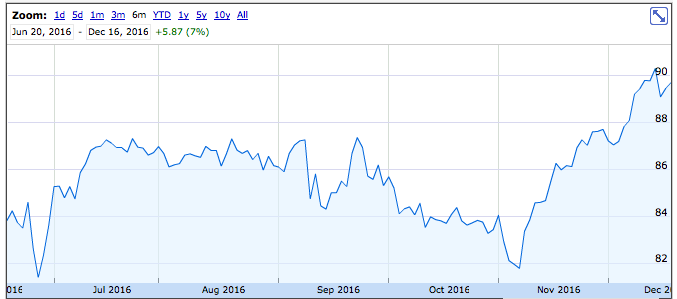 CMF: I legged in too early in November on my CMF trade and missed the drop off. I tried to get in more shares earlier this month, but was too slow and decided to hold off because my limit order didn't execute before the price jumped. I'm still considering buying some more if the price drops further.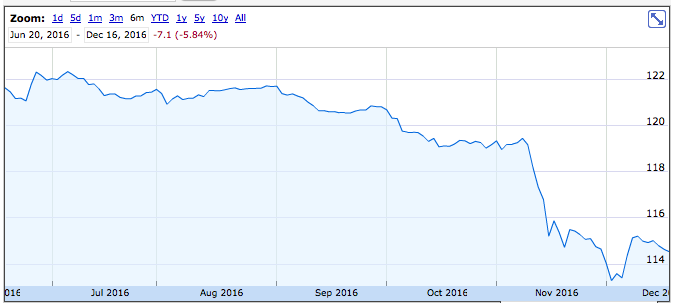 2) Goal: Grow My Net Worth By $75,000
I'm on a quest to become a multi-millionaire! It's a long journey, but an exciting and fulfilling one. When I ran my mid-year net worth figures, I was happily surprised that I hit my goal and passed the $1 million mark over the summer. I continue to keep up my monthly goals of saving and investing while staying focused on the long-game.
I'll be publishing my 2H 2016 net worth update next week so be on the lookout. I've been pretty darn disciplined with investing this year so I'm anticipating positive results. It can be really tempting to overspend this time of year with sales popping up all over the place and holiday gifts to buy, but I've been pretty good about sticking with my savings goals.
I love setting goals this time of year and hope to continue going strong on my quest to save, invest and become a multi-millionaire someday. Life accelerates as we get older, and I want to be able to take better care of my family now and well into the future.
Income Report November 2016
Onwards to my November Income report…
Total Revenue Streams = $14,330
FREELANCING: $11,120
Web & Project management $8,800
Editorial, writing, marketing $2,230
Teaching music, pet sitting, misc. $90
INVESTMENTS: $539
Dividends & interest income $497
Rental income $42
ADVERTISING & AFFILIATE: $2,671
Partnerships, affiliates: $2,350
Advertising: $144
Bluehost: $90
Amazon Associates: $12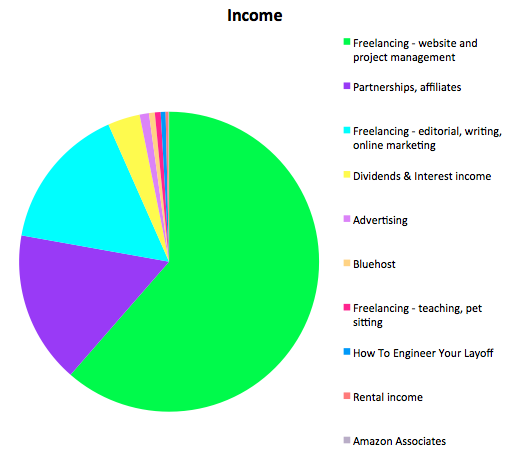 Expenses = $(5,753)
BUSINESS: $(953)
Aweber, Marketing, Subscriptions, Fees: $(355)
Other work related: $(338)
Meals & Entertainment – business: $(200)
Travel – business: $(60)
PERSONAL: $(4,800)
Living expenses: $(4,080)
Meals & entertainment – personal: $(380)
Travel – personal: $(90)
Shopping & misc expenses – personal $(250)
$14,330 (Income) – $5,753 (Expenses) = 

$8,577 PROFITS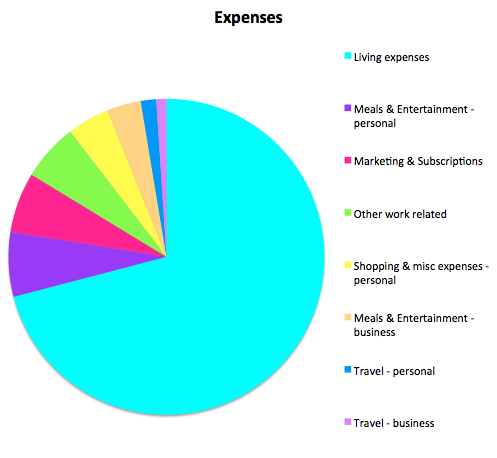 November Takeaways
November was a very productive and balanced month for me in terms of work and play. I really enjoyed the time I got to spend with my sister and her kids as well as other family and friends. And I felt quite a sense of accomplishment with some re-potting and gardening projects I worked on at home.
I also billed a lot more hours compared to October and I fortunately didn't get too tired in the process. It was nice getting in one last month of work at my former full-time employer and I have no regrets about going back as a freelancer. I'm glad I maximized my time there over the last year and was able to walk away for a second time feeling like I was winning.
Recommendations
Start Your Own Website – Want to brand yourself and make more money? Work on becoming a branding rockstar by creating your own website the easy way with Bluehost for super cheap. You can register your domain for under $20/year and get hosting for only $2.95/month.
Whatever your interests are, focus on building your skills and developing your own unique niche! I've been blogging since 2010 and it has allowed me to break free from the corporate grind to travel, work from home and do so many more fulfilling things with my life. There's not a week that goes by when I'm not thankful for starting this site. Be sure to check out my step by step guide on how to start your own blog.
Break free! If you're burnt out of your day job, believe that you too have options and can turn your career around for the better. I didn't believe I could escape the grind for the longest time, but fortunately I wised up before stress destroyed my relationships with family and my health. I never would have thought I could negotiate a severance package and get paid to leave a job I grew to hate, but I did! Learn how you too could get paid to leave your job like I did and open your eyes to new opportunities.
Happy Holidays Untemplaters! Have you been on a spending spree since Black Friday or are you sticking to your budget? Have you ever saved your bosses' asses before? Were you recognized and shown appreciation for your efforts? Share you experiences below!
Copyright. Original content and photography authorized to appear solely on Untemplater.com. Thank you for reading!