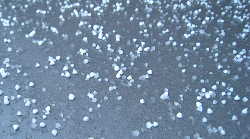 I haven't seen it rain in San Francisco like it did last month in a long, long time. We got so much rain that SF is now officially out of its drought (hooray!) and I didn't have spend any time watering the plants outside. We had a lot of high winds and at least four downpours of hail!
It's so bizarre to watch and listen to a hailstorm. They come on so suddenly and with such noise it's impossible to resist jumping up and running to look out the window. I saw peppercorn size hail pelt down onto the windowsills and the ground. The hail was large enough to be clearly visible on the ground and then it would just magically disappear a few minutes later as if nothing every happened.
These sudden onset hailstorms made me think of rainbows and opportunities. They can appear so unexpectedly and briefly that if you don't get up to see/seize them right in the moment, poof you'll lose your chance. Carpe diem folks!
New Here? Welcome! Be sure to check out my about page and read how I got paid to break free from a grueling desk job. My monthly income reports help me keep track of my active and passive income streams, check on my goals and push myself forward.
Goals Update
One of the best ways to achieve goals is to keep them at the forefront of our minds and regularly monitor our progress. Here's a peak at the status of my 2017 goals.
Invest $10,000 a month. I deployed the remainder of the cash reserves I had in my retirement accounts into DVY and HDV. I also injected $10,000 into SDY when it had a slight dip.
Expand my personal finance writing portfolio. I finally took some time to get started and completed the first post in my new publishing initiative and submitted it for review.
Setup contingency plans for my business and assets. I finished working on some address updates and agency paperwork. Next step is to find a trustworthy estate planner which could be tricky.
Connect with new friends in my neighborhood. I had lunch with two great women at a fun Mediterranean spot I hadn't tried before. I had a great time and hope to stay in touch with them.
Record clips for 1SE more often. I haven't been recording videos everyday, but I got my clips all caught up to date.
Improve my cooking skills. Made two more veggie soups using my slow cooker. Now I'm so sick of soup I can't stand to think about eating any more of it lol. I also made a couple successful batches of potstickers with just the right amount of crunch.
Income Report
Now onwards to the numbers. Experience has taught me that life is too short to only have one income stream. To avoid having all my eggs in one basket, I'm growing my wealth with multiple active and passive income streams. Here's a look at how much I made last month.
Total Revenue Streams = $10,768
FREELANCING: $6,700
Website & project management
Editorial, writing, marketing
Teaching music, misc.
INVESTMENTS: $706
Dividends & interest income
Rental income
ADVERTISING & AFFILIATE: $3,362
Partnerships, affiliates, advertising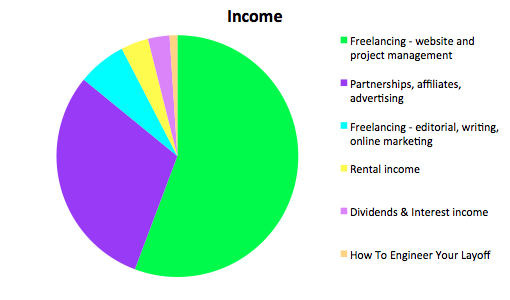 Expenses = $(5,788)
BUSINESS: $(923)
Aweber, Marketing, Subscriptions, Fees
Other work related
Meals & Entertainment – business
Travel – business
PERSONAL: $(4,865)
Living expenses
Meals & entertainment – personal
Travel – personal
Shopping & misc expenses – personal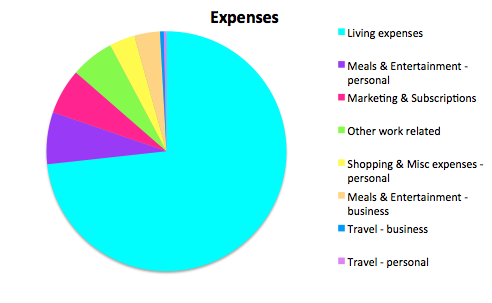 $10,768 – $5,788 = 

$4,981 PROFITS
Takeaways
With so much rain, I spent a lot of time indoors in January. Punxsutawney Phil saw his shadow recently, so if his prediction of six more weeks of winter is correct, the rest of February could be pretty rainy here too. I'm just glad I don't live up north. I'm definitely not a fan of cold weather or snow storms, but a random hailstorm here and there keeps things interesting.
With the arrival of February, I've slowly been getting ready for tax season since I have to complete my business tax return by March 15th. Taxes are a drag, but the positive is I learn something new every year. I will be really curious to see what tax code changes go into effect in the next couple years, especially those that affect small businesses.
Recommendations
Start Your Own Website – Become a branding rockstar and make more money by creating your own website the easy way with Bluehost. Get a free domain, reliable hosting for only $2.95/month and 24/7 support. Whatever your interests, focus on building your skills and develop your own unique niche! I've been blogging since 2010 and it has allowed me to break free from the corporate grind to travel, work from home and do so many more fulfilling things with my life. There's not a day that goes by when I'm not thankful for starting this site. Check out my step by step guide on how to start your own blog.
Break free! If you're burnt out of your day job, believe that you have options and can turn your career around for the better. I didn't believe I could escape the grind for the longest time, but fortunately I wised up before stress destroyed my life. I never would have thought I could negotiate a severance package and get paid to leave a job I grew to hate, but I did! Learn how you too could get paid to leave your job like I did and open your eyes to new opportunities.
Untemplaters, what type of weather did you have in January? Have you ever seen a hailstorm before? How cold is it where you live?
Copyright. Original content and photography authorized to appear solely on Untemplater.com. Thank you for reading!