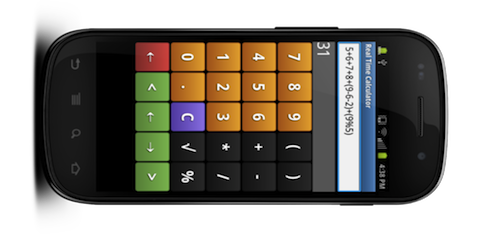 My name is Jeremy Noel Johnson. I'm a husband, father, technologist, and entrepreneur who believes in pursuing wealth to have a better life. Right now I'm doing this by entering the Android mobile phone market and developing a calculator app that does not require an equal sign. I have a great day job at an Internet company that allows me and my family to live comfortably which is fine, but I want to do more.
Let me start with why I try to do more than just work at my day job. Because I see there is a market of opportunities out there and if others are making a success out of it, why not me? Many members of the Yakezie have shown the ability to earn a reasonable income outside a day job. Seeing this motivates me and I have to at least try. Knowing that I'm trying and giving entrepreneurship my all is my definition of doing my best. If I do all this and somehow end up on the street with my wife and kids, I'll smile holding up a homeless sign and say, "Hey, I gave it my best shot…"
Here's what I've learned from building my new Android calculator app. Spend some time to check it out and leave some feedback here if you don't mind!
It Doesn't Happen Quickly
In the first few weeks since starting my Real Time Calculator app for Android phones, I've gotten just over 150 installs. This means about 150 people have downloaded my app and given it a try. The best selling apps have millions of installs. This tells me it's going to be a slow and steady race and not instant success. Wouldn't everyone be really successful if it just took a short while?
Wouldn't it be great to have a magic crystal ball that said how long it will take before what you're doing will be a success? I can only speak for myself and say that I've been at it for a few years now with different projects – off and on. And that off and on is a key point which I will address further down in the article.
It is Hard
I think the easy part is to create something. Anyone can write a blog post or make a mobile app. Even the mobile app coding can be self taught or fumbled through to create something for anyone who is willing to try. Just the initial creation of my app – the first version was hard, but it wasn't impossible and I did it. I could probably come up with 30 app ideas and make them all. And that would be hard, but I know I could do it.
The harder part is what I have yet to master. And that is actually making money from something I create. I've created many things. And so far, I've earned enough income to now have a few extra lunches each month. But it's nothing close to thousands of dollars a month, which I believe is what it will take for me to be a full-time entrepreneur. Since I've been trying things since about 2008 (with one other project in 2004), with no real financial success, I can only conclude that making a project a financial success is hard and takes time.
Don't get discouraged if you're trying to make money from something. If you quit even after the first few months, you will never know. I could quit my Android app right now because I'm just not seeing the volume I want. But that's also delusional, otherwise any person sitting in their basement wearing just their Optimus Prime briefs could go and create an app and make money. But the evidence is pretty strong against this. So I've come to terms and accepted fully that it is hard and takes time. I'll check that off the list of things I need to know now. 🙂
It Can Be Discouraging
It can be discouraging to work at something for many months and not see a dime for your work. When I look at my download statistics for my calculator app, I wonder if I'm really doing the right thing. Discouragement starts to creep in and I examine exactly why I'm doing it. Is it for the money? I think partly, yes! Of course I want to be wealthy. I believe wealth brings opportunity and ability to affect the world around me as well as partake in the marketplace with purchasing power either to travel or acquire something interesting (I like technology personally. My wife likes furniture. To each their own).
How do you handle discouragement? I think of the difference between a mercenary who fights for money alone and the soldier who fights because they believe in the cause and aren't in it for the money. I often look at my failures in the past and think that I had the mercenary mindset. I just wanted money. And when that money didn't come in after the first few months, I gave up. And I gave up because my reason was money… And I didn't get it, so I quit.
In order for that not to happen, it would seem to me that having a reason greater than money would help to stick with something for a long period of time. I've found my reason – it is for the challenge and because I can. And I'm doing a calculator app because I like math and numbers and believe I can create something just as good, if not better, than what is already out there. I can certainly try and test my mettle and see where I end up. If the money comes, great, but this isn't solely for the money anymore…
I Must Talk to Other Humans
I also know that talking with my fellow human beings is key. I recently got acquainted with Kevin, a fellow Yakezie member. He's also an Android app developer. He's been very helpful in tutoring and mentoring me. His information has saved me hours of learning on my own. His app is doing well on the Android store and he's been able to quit his job and do it full time. He made a voice recorder that I use regularly. He's someone doing much better than I and I look to him as a measuring stick of what might be possible if I stay committed and work hard. Which leads me to my next point.
I know that I'm going to have to talk to people and build credibility for my calculator app. Don't you trust someone much more who is your friend or someone you received as a recommendation from a friend? I'm a noob at networking and talking to others, but I know building friendships and relationships is another key step to having greater market penetration with my ideas. I know I must first be interested in people instead of simply asking them for help.
I Must Be Fully Committed
I mentioned working on projects off and on earlier. In the past, due to functioning like a mercenary, I was not fully committed. I was dependent on an outcome of earning a lot of money quickly. When that didn't happen, I dropped the project. This has happened with quite a few projects in the past… Now that my primary motivation is not money, I think the committed part is a lot more doable. This means I'm going to stick with it for more than a few weeks or months. I'm going to see it through until completion, or until such a time that I am physically unable to work on it.
Conclusion
It's hard when you start something new. Being a noobie and not seing financial reward in the beginning can be discouraging. From what I've learned, the solution to this is to adopt a different philosophy first before making money. Money can be a secondary goal, but the primary goal should be something you identify with – for me it is the challenge, because I can, and because I believe I can create something useful and that makes me feel good.
Have you ever felt like quitting something, but stuck with it and found success? What are some of the ways you keep yourself focused with the end in mind on your projects?
Sam's note: Jeremy is a friend who first gave me some technical advice about Financial Samurai over three years ago. Jeremy is also one of my Personal Finance Consulting clients. I'm bullish Jeremy is going to do great things!