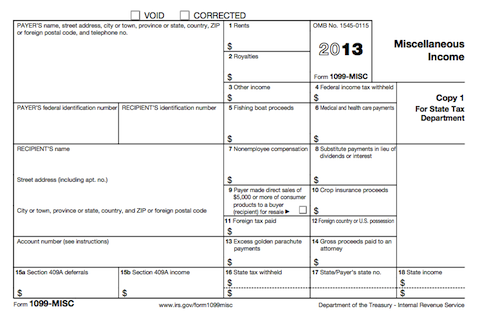 The more money you make, the more you want to reduce your tax liability. And when you become an entrepreneur, you realize how much money the government takes of your hard earned dollars. I had never even heard of estimated taxes before I started my own business, nor did I know what a Schedule C, 1099-MISC , or DE 542 form were for. California in particular is not a business friendly state. Since tax season is in full swing, let's continue last week's entrepreneur tax tips discussion and examine Tax Tips For Entrepreneurs: Part 2.
Estimate Your Stock Basis & Take Distributions
If you own or are invested in a S Corporation, you will be issued a K-1 statement from the company usually sometime after March 15th for the previous year. Stock basis can get a bit complicated, but it's basically tracking how much you've invested for tax purposes. Money you put in is referred to as a (shareholder) contribution, and money you take out is called a distribution.
One advantage of S Corps over other business entities are being able to take out distributions without having to pay tax on those withdrawals. If your business is doing well and you aren't planning on putting all of your cash to work, you'll want to take distributions each year. This also lowers your liability risk because if someone were to sue your business tomorrow, they can't go after money that you already took out of the company as a distribution.
Just make sure you don't withdraw more than you put in, or you will have to pay tax on the difference. This is a good topic to discuss with your accountant. An important suggestion is to take out an umbrella policy to protect your overall assets.
A simple explanation from the IRS on how to calculate stock basis is as follows: In computing stock basis, the shareholder starts with their initial capital contribution to the S corporation or the initial cost of the stock they purchased (the same as a C corporation). That amount is then increased and/or decreased based on the flow-through amounts from the S corporation. An income item will increase stock basis while a loss, deduction or distribution will decrease stock basis.
Stay On Top Of All Of Your Bookkeeping Entries
I do all of my bookkeeping on my own using QuickBooks Online. I originally thought about purchasing the software, but since it wasn't that reliable on Mac, I went with the cloud which my accountant also has access to (this comes in really handy!). Although bookkeeping can be a bit of a pain, it's actually a really good way to monitor the financial health of your business.
Quickbooks has a lot of easy to use reports that show breakdowns of expenses, year over year comparisons, and other helpful charts like earnings per month. You'll want to keep your records updated throughout the year which will make things easier for estimated taxes, setting budgets, and for your accountant.
They'll be able to give you much more meaningful advice throughout the year if they can see up to date snapshots of your financials. Aim to work on your bookkeeping monthly, or quarterly at a minimum. Otherwise you'll end up losing track of receipts and it'll be a lot harder to pay out reimbursements and reconcile your accounts.
Review And Save Your Final Profit & Loss Statement And Balance Sheet
After you've finished all of your bookkeeping entries for the tax year that just ended, it's time to run a final profit & loss statement and balance sheet. Save down copies for your records, and send a copy of each report to your accountant. You should password protect the files or send them through a secure electronic transfer system along with all of your other tax documents.
And take some time to actually review the numbers for accuracy and also for planning out the rest of the year. Perhaps you need to cut back on certain expenses like meals/entertainment and office supplies if your marketing and R&D costs have gone up.
Report And File 1099-MISC Forms For Your Contractors
If you hired any independent contractors, you need to collect a W-9 from them for your records. If you paid any of them $600 or more in 2012, you'll need to report those payments to the IRS and the contractor using a 1099-MISC tax form. While most often used to report non-employee payments, 1099-MISC forms are also used for royalties, fees, commissions, awards, prizes, and legal services. So if you paid legal fees, you'll need to submit one to your attorney as well. The W-9 form will give you their tax ID and address, and your bookkeeping system should have a record of the total amount paid that you'll need to fill out the 1099-MISC.
You could request paper 1099-MISC forms from the IRS for free, but I think it's easier and a whole lot faster to use a paid service like filetaxes.com who will take care of submitting the forms to the government for you and also to the contractors themselves if you choose (roughly $8-9 per form). Keep copies of all of the forms for your records and your accountant. Hopefully you did this already as 1099-MISC were due on January 31st.
Collect All Of Your Own 1099 Forms
There are many other types of 1099 forms besides the 1099-MISC and chances are you will receive one for yourself. 1099-INT is a common one that is used to report interest income that you could receive from earning $10 or more in a savings account, money market account, or CD. Similarly, 1099-DIV is for dividend and distribution income. 1099-G is another commonly received form typically for unemployment compensation and state tax refunds.
1099-Ks are fairly new and there is a fair amount of push back on the government to change or get rid of this form. It's for Payment Card and Third Party Network Transactions such as PayPal. So if you have a lot of transactions and money flowing back and forth online, the IRS wants to know about it.
Create An Annual Checklist
Since we only file tax returns once a year, it's really easy to forget all the things we need to do before we can actually submit our returns. The last thing you want is to click send on your return and then realize a week later that you forgot to input xyz and get stressed out trying to figure out how to process a correction. I made a checklist for myself this year of all the documents I had to collect and scan for my accountant that I plan to reuse next year and update as needed.
I jotted down the dates that I received all of my various forms as well as when filings are due such as the Jan. 31 deadline to submit 1099-MISCs. My bank is always late sending their 1099-INTs compared to my other banks, so I gave myself a reminder to follow up if I haven't received anything from them by Feb 10th.
Don't forget to pay your final estimated tax payment for the 4th quarter which is due on January 15th for the year that just ended. It's easy to overlook this because the start of the year is always hectic and we get so focused on collecting paperwork for the annual return filings.
Meet With Your Accountant And File Your Returns
The more complicated your tax situation becomes, the better off you are hiring an accountant. When I first started working out of college, my returns were super straight forward and easy to do on my own. Now that I have my own business and multiple income streams, I love having the peace of mind of having an accountant do all the hard work for me.
What's great is I get an hour long consultation as part of the return filing process, so I get to ask all the questions I want about my tax forms. I learn something new each year and I like getting more comfortable with what all the various forms are used for. Plus it's also a great time to sit down and get tax advice from my accountant on what I could do differently in the current year to save more money. I encourage you to get curious about your tax returns and to ask your accountant lots of questions. The more knowledge you have, the more money you can save!
Untemplaters, how long does it take you to get all of your tax documents in order. Do you get a lot of 1099 forms? Have you ever used an accountant to file your tax returns? What tax tips for entrepreneurs do you suggest?

Copyright 2013. Original content and photography authorized only to appear on Untemplater.com. Thank you for reading!