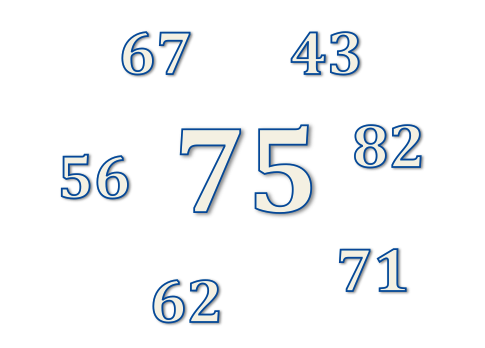 We've all seen the funny commercials on TV about why we should get a free credit report, and heard the warnings on the news about checking our credit scores often to prevent identify theft. So how come we never think about doing that for a business? (gasp!) Well, the main reason is because most people don't realize that businesses have credit scores and credit reports in the first place! As an entrepreneur, learning how to build business credit and get a high business credit score for your company can really help your business grow.
Business Credit Score Basics
Unlike personal credit scores, which range from 300 – 850, business credit scores are only on a scale of 1 to 100. I'm a fan because the numbers are much so easier to remember and understand since they're out of 100. A high business credit score is considered to be 75 or above. And to be clear, business credit is only for businesses, not individuals. So if you're a sole proprietor, you're not considered a business and can't get business credit or loans.
Some of the factors that go into determining how a business credit score is calculated are your industry classification, age of your business, size of your company, payment habits, number of unpaid balances and their amounts, trade credits history and types.
Another difference between business credit scores and personal credit scores are the agencies who monitor and determine the scores. You've probably heard of the 3 main credit bureaus for individuals: Experian, TransUnion, and Equifax. But I doubt you've heard of Dun & Bradstreet – one of the major credit bureaus for businesses. There's also Equifax Business, Experian Business, and Business Credit USA.
What Are Trade Credits or Trade Experiences?
One of the main drivers that determines if you'll get a high business credit score is the number of trade credits your business has had, and also their status. Trade credit, also referred to as a trade experience, is just a simple way of referring to scenarios when your company A receives products or services up front from company B on "credit" without paying any cash, agreeing to pay company B at a later date. This is most commonly done using credit cards and loans.
What's interesting is that businesses are not required to send in information about trade credit transactions to the major business credit bureaus. So years could actually go by with out any of your business's trade credit info getting on file with these the business credit agencies. Most of the larger businesses will report, but smaller vendors probably don't. Reach out to them if needed, and start building a reference sheet with their contact info and credit limits, which you can then submit to the business credit bureaus and see if they'll update your profile.
Don't Make It Personal
A lot of entrepreneurs start out as sole proprietors who charge pretty much all of their business related expenses to their personal credit cards. You have to stop doing this! While you may not have a choice in the beginning, it's very important to start to form a business entity and separate your personal transactions from your business ones. Highly consider establishing a corporation or LLC now, it's not that complicated. You need to protect yourself and your own assets from the risks of starting and running a business.
You also won't be building any business credit by using your own personal credit cards or getting loans in your own name. Talk to an accountant about which type of business entity will best suit your needs.
How To Build Business Credit And Get A High Business Credit Score
Business finance is a lot like personal finance. It may seem complicated and overwhelming, but it really isn't. A lot of businesses need to borrow money in order to grow and get the resources they need to build products, recruit, and fund research and development. And you need good business credit in order to get loans. Work on completing the below steps if you want to start building credit for your own company and work your way towards an excellent business credit score of 75 or higher.
Check your personal credit score first and closely review your credit report at all 3 agencies. You have to be a responsible individual before you can successfully run a business. Business credit agencies can look at your personal credit history and they don't want to see any big red flags.
Meet with an accountant and determine which legal business entity is best for you. Then get it established as soon as possible, don't dawdle.
Get a FEIN tax ID number, register with your state, and obtain a business license. Make sure to complete all the paperwork your state and local area require. Your business may require more than one license, so do your due diligence.
Open up a bank account for your business. This is not only important for building credit, it's required by law to separate your business banking from your personal banking. Some lenders require businesses to have accounts open for two years before they can be approved for loans. So don't delay! And don't keep the account empty either because that defeats the purpose of having one. The bureaus want to see good cash flow.
Get a business credit card. Your life will be so much easier when it comes to bookkeeping if you have a business credit card. Having to fill out expense reimbursement forms for business related spending you did on your personal credit card is a PITA and takes a lot of time you don't want to waste. Using your business credit card (conservatively of course) and paying your bills on time every month will help you build good credit.
Get a free DUNS number. The Dun & Bradstreet credit bureau uses a unique DUNS aka D&B number for every business, which is associated with that business's credit profile and score. Your business may already have one, and you can run a company search on their website.
Check across all the agencies. It's good practice to check if you're registered with all 4 of the credit bureaus. (D&B, Equifax Business, Experian Business, and Business Credit USA) Cross check reports and scores just like you do with your individual credit reports. Find out if your trade credits are showing up and if your business is in good standing.
Keep updated financial statements and a business plan on file. Sometimes lenders want to see more than just your DUNS score and proof that your business is paying bills on time. Keep good records, complete all your filings on time, and stay professional!
Recommendation
* Check Your Experian Credit Score Today For Just $1: With identity theft rates rising like crazy, protecting your credit score is more important than ever. For only $1 you can check your latest Experian credit score straight from their website. It's best practice to check your credit score and report every month to  monitor your information and make sure no one has opened new credit lines using your identity. It's also a good idea to see what your credit score is on a regular basis before applying for a loan. If it's below 720, you won't get the best rate, but at least you can spend time to improve your score. Furthermore, 1 out of 4 credit reports have errors, negatively affecting one's credit score. Check your credit score today.
Untemplaters, did you know any of the steps for how to build business credit and get a high business credit score before reading this post? Any entrepreneurs out there know what your business credit score is? When was the last time you checked your business or personal credit report?
Copyright 2013. Original content and photography authorized only to appear on Untemplater.com. Thank you for reading!

Updated 2017