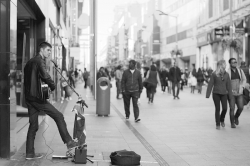 Who doesn't love finding new wacky ways to make more money? Technology has made it super convenient to use your skills, idle assets and everyday habits to make more money on your own time. If you set yourself up for success and are determined enough, you could make thousands of extra dollars each year. Whether you pick up one side gig or 20, there are all sorts of fun, weird and practical options to choose from!
Here's a list I put together to give you some ideas on some wacky ways to make more money fast. There's a range of choices to get your creative juices flowing. I've tried a few of them myself already. Share your own experiences with us in the comments below!
Use your talents and creativity to make more money
* Turn your teaching and tasking talents into cash – I started taking music lessons when I was seven years old. First violin, then piano. It was fun at times, but mostly really hard. I can't count how many times I wanted to quit because I hated to practice, but my parents insisted I continue. Fortunately, their demands enabled me to become rather advanced by my teens. Even though my skills aren't as polished now as they once were, I have plenty of experience to teach. I started teaching adult beginners several years ago and it's been a really fun way to earn extra cash at $45/hour while helping others. Enthusiasm is half the battle.
Other examples of how much you can earn include teaching private tennis lessons for $50/hour or earning $30-40/hour on TaskRabbit helping people run various errands around town. I even met a guy who catches gophers around the neighborhood for $5 (he should raise his prices!). It's a weird skill that has kept him active in his retirement.
Think of a talent or skill you have that could be used to earn extra cash – cooking, sports, speaking a foreign language, etc. Teaching is a great way to meet new people, sharpen your skills, and earn some spending money on the side. Being out of practice is an easy excuse you have to shake off.
* Create an online store even with no experience and zero inventory – Dreaming about leaving your desk job to start an online business? Steve Chou's Create A Profitable Online Store Course is exactly what you need if you want to sell products online. Steve and his wife made over $100k in the first year they launched their store with no prior experience. Now they are experts in the online store niche. The course tells you everything you need to know to be successful.
As an online store owner, you don't even have to create your own product or manage inventory if you don't want to. There are tons of possibilities to make money as a seller and Steve knows the ins and outs of every type of shopping cart. The course provides step-by-step instructions and videos on how to create your own profitable online store – no technical knowledge required! Sign up for his free mini-course here to learn more and get your creative juices flowing.
* Sell your own creations – Do you have dreams of becoming a professional artist, designing your own products, or selling something handmade? It can be tough to earn a comfortable living as a creative full-time, but there are a lot of opportunities to test your skills and earn supplemental income in your free time.
Unconventional Guides' product Designed To Sell is a fantastic resource that teaches you how to get started making money independently through crafting, design, art and other creative means. This guide features insights from 23 experienced entrepreneurs. Unconventional Guides also offers many other toolkits on how to make money in publishing, freelance writing, travel blogging, and working as a digital nomad. Explore the catalog here.
* Start a website and build your brand – Starting a website can open doors. My site, Untemplater.com, has certainly changed my life and provided me with a ton of opportunities I wouldn't have otherwise. Fortunately, creating a website isn't complicated anymore. See how you can set up a WordPress website in only 15 minutes with Bluehost. I strongly recommend everybody at least register their own name.com in order to build your own online resume and strengthen your brand. Learn more here on how to start your own website.
Use your love of shopping and sports to make more money
* Make money taking phone calls and answering questions – Do you like talking to people and giving advice? There's a company called Ether that empowers anyone to sell what they have to say over the phone and in email. We all have knowledge to share and Ether helps connect you with people who want to hear it. A few examples of topics people are getting paid to talk about include: computer troubleshooting, career development, tax help, math tutoring, GRE prep, nutrition, legal consulting and relationship advice. What's nice is your personal info stays private and you control your rates and availability. I haven't tried it myself (I personally dislike being on the phone) but it's intriguing.
* Get paid to complete surveys, watch videos, shop and search – Swagbucks is a legit rewards site that enables users to earn gift cards and cash back for using their portal to do your online shopping, complete paid surveys, and watch videos. You can also convert rewards points into charitable donations. I tried it out for several months, but didn't use it enough to make it worth my time. I made a lot more in less time teaching violin and focusing on my freelance work. In my experience, Swagbucks can get addictive and takes a lot of time to earn pretty small rewards. But if you have nothing better to do, it's an easy way to fill time and work your way towards rewards.
To give you an idea, 100 rewards points or "swagbucks" (SB) are worth $1. Some offers only earn 1 SB, which I think is a waste of time. Surveys, on the other hand, are usually between 10-20 minutes long and earn around 75 SB each. So roughly 4 hours of taking surveys can earn you about $10 in rewards. It's a slow way to earn money, so it's something to do while you watch TV or commute on the train. Video payouts are pretty low, so I recommend sticking to surveys. You can also earn points by using the optional Swagbucks search engine, completing in-app game purchases, and buying products through their retail partners.
Another site that offers cash back rewards for making purchases is BeFrugal. Just be careful you don't end up overspending on needless things just to earn more rewards.
* Get paid for visiting stores and making purchases – If you like shopping, a fun way to earn free gift cards and find great deals is using Shopkick. It is a rewards program that lets users earn "kicks" that can be redeemed for retail gift cards. Ways to earn points include walking into specific stores, scanning products, and making purchases. You aren't required to buy anything, but you'll want to have enough willpower to resist making impulse purchases when you're in a store.
I signed up but didn't like how many iPhone settings it wanted access to, so I put this on my back burner. But some people are totally hooked on this app. Users have redeemed close to $60 million in rewards combined thus far, but don't expect to get rich using it. Realistic monthly earnings in gift cards are probably around $10-20 a month if you're really active.
Some people use other apps simultaneously such as ReceiptPal, ReceiptHog, Ibotta, Mobee and NCP mobile. These similar apps typically offer rewards like cash payouts or gift cards for scanning purchases and receipts, and collecting feedback.
* Love sports? Make money by predicting winners – If you're a big sports fan, check out ESPN's Streak for the Cash app. This game challenges users to build the longest streak of correct picks from a daily list of matchups. Compete in both private and public groups and see who's the best at predicting winners. While it's unlikely to give you a steady stream of income, you do have the chance to win big prizes if you get long winning streaks going. Some of the winnings you can play towards include $25 monthly random drawings; $10,000 "most wins" monthly prizes; and monthly $30,000 giveaways for the longest winning streak entrants.
Make Extra Money With Your Car
* Become a ridesharing driver – Everyday drivers can earn extra money any time of day or night by partnering with Uber and Lyft. Sam from Financial Samurai has spent over 100 hours testing what it is like to earn money driving for Uber, averaging around $30.25/hour. Driving around 20 hours a week could earn you an extra $2,000 in spending money depending on where you live. Plus, Uber and Lyft are constantly offering generous bonus incentives for new drivers as well, usually ranging between $100-300 depending on your location. Read about Sam's experience here.
* Wrap your car for extra cash – If you're a car owner and want to make money driving without passengers, check out Wrapify. I don't own a car so I haven't tried this, but I'd totally consider it if I drove a lot. It's a unique way to earn extra cash by wrapping advertisements on your car – if you don't mind standing out that is. As long as you're 21 or older, have a clean driving record, and own/lease a car that's 2008 or newer you can qualify. Don't worry, the advertising laminates are completely removable and actually protect your car's paint while they're on. Once your car is wrapped, you simply turn on the app every time you drive to track your mileage.
The range of money you can make depends on where you live, how much you drive, the terms of each advertiser's campaign, and how much of your car is wrapped. To give you an idea of how much you can earn, an average driver in San Diego with a daily 25-mile round trip commute makes between $400-600 per month. If you drive 100 miles a day, you could earn somewhere between $400-700 per week.
* Rent out your parking space – If you live in a sleepy suburban neighborhood, trying to rent out your driveway probably isn't going to work that well. But if you live or work near a popular venue or in a densely populated area, consider renting out your parking space or driveway for easy money. The one catch is some areas have weird zoning laws that may not permit space-exchanging services. But if your location is restriction free, it's a simple way to earn extra cash for unused spaces. Check out Monkey Parking, Spot, and Just Park to learn more. Daily parking spots can bring in anywhere from a few bucks a day to $40 or more in parking challenged cities like San Francisco. You can also control how much to charge per hour and per day.
* Let people rent out your car when you don't need it – Own a car but don't use it very often? Lend it out and get paid for it. Set your own rates and post your car's availability online through companies like Turo or Getaround. You can even get paid $150-$425/month to park your car at select airports (SFO and LAX so far) for renters to access while you go on vacation or travel for work. Word of caution about Getaround – their customer service is terrible according to friends of mine who've tried them.
Be disciplined and put your extra money to good use
There are tons of different ways to earn extra money these days, especially with the help of mobile apps and the sharing economy. If you can think of a side hustle you want to pick up, chances are there's already an app for that to help you get started. As you build additional income streams, just be careful not to blow your extra cash on needless spending.
Instead of letting lifestyle inflation creep in, consider investing your extra cash right away or using it to pay down debt before you have a chance to spend it. The more you diversify your income streams, the more options you'll have and the faster you'll be able to grow your wealth.
Untemplaters, what do you think of these wacky and creative ways to earn money? Have you tried making supplemental income using any of these methods? What are some ways you are willing to try to make more money?