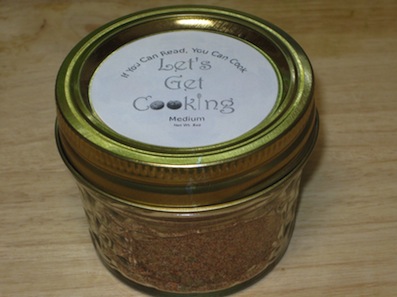 I'm happy to introduce Edward Antrobus, long time supporter of Untemplater, a current Yakezie Challenger, and founder of If You Can Read, You Can Cook.  I found out that Edward recently launched his own brand of taco seasoning and wanted to get the inside scoop to share with you.  Since I am a hit or miss (and rather clueless) cook, I'm always impressed by the recipes, dishes, and cooking tips that Edward churns out on his blog.
Sydney: How old were you when you first started cooking?
Edward: That's actually a tough question to answer. I can't say that I recall a time when I wasn't helping my mother out in the kitchen. A turning point was one weekend while on a scout camping trip; I was about 12 at the time. We cooked foiled wrapped steak, potatoes, and carrots on the coals. We used no seasoning what-so-ever. It had absolutely no flavor. I knew that I could do better.
Sydney: How long have you been blogging at If You Can Read, You Can Cook?
Edward: A little over a year and a half. My first post was October 28, 2010 about making breadcrumbs at home. People had been telling me for years that I should write a cookbook; Untemplater co-founder, Adam Baker, convinced me that blogging was one of the best ways to market a book. The rest is history.
Sydney: What inspired you to create your own taco seasoning?
Edward: Cost. I hated the idea of paying $1-$1.50 for something that cost a fraction to make. Besides, have you ever seen the list of ingredients in those packets? Some of the stuff isn't even edible!
Sydney: Do you have any tips for making great tasting tacos?
Edward: Besides using my seasoning? Haha. My number one tip would be to not over-stuff your shell. Many people stuff 2-3X as much filling into their shell as will fit. Then it falls out when they take a bite and juices run down their hands. Ruins the experience of eating a great taco in my mind.
Sydney: What were the biggest goals you had to complete before you launched your product?
Edward: Personally, there were two main obstacles to launching. The more pedestrian of the two was having the space to do it. I started talking about this project as far back as January, but I knew that there was going to be a lot of flux in my life mid year that had to pass. I didn't want to start things up and then be unable to fulfill orders for a month.
The other was a much more common problem: fear. I've launched a number of failures. Each time I have to convince myself that just because I failed in the past, I won't necessarily fail this time.
Sydney: What has been the hardest part about selling?  What steps will you take to improve that aspect?
Edward: Marketing. I'll admit that I tend to suffer from the "if you build it, they will come" mentality. But the world just doesn't work that way. If one person in 50 buys your product, but only 25 people know it exists, you're not going to make a sale.
I've been working on taking steps to get noticed. I hosted a giveaway which gave me some traffic. I'm doing an interview for Untemplater. 🙂 What I really need to step up my game on is commenting on other food blogs instead of just the finance and lifestyle blogs I spend most of my time reading.

Sydney: How long did it take you to finalize the ingredients in your taco seasonings?
Edward: A weekend, or a couple of years, depending on how you count. Before I decided to sell it, I already had the recipes for Medium and Sweet Cumin locked in.
Medium is what I tend to use at home. I had started with a random recipe from AllRecipes.com and tweaked it over a couple of years until I came up with a taste that was just right. Sweet Cumin was a happy accident when I forgot (oops!) to add a couple of ingredients.
Then I spent a weekend making miniature batches of different ratios of spices for mild and hot and preparing chunks of chicken breast. I think my brother and I ate two pounds of chicken that weekend.
Sydney: Where can people buy your product? Do you want your seasoning to be available in stores someday?
Edward: Right now, it's available exclusively at If You Can Read, You Can Cook. http://www.ifyoucanread.com/taco-seasoning-sales-page/ to be exact. Seeing my jars on supermarket shelves would be a dream come true. I'd like to sell on consignment at some of the local natural food stores, but there are some regulatory barriers.
Sydney: Are there any farmers markets or fairs in your area where you could set up a stand?
Edward: There are actually a number of farmer markets in my area. In Fort Collins alone, there are two that operate during the summer and one that operates inside during the winter. They tend to be a bit pricey however, so I'm not sure I would get a table.
Sydney: Was it difficult coming up with pricing?  How did you decide?
Edward: Since I started this journey because I was tired of paying too much for the packets in stores, I knew I had to stay significantly cheaper. That actually wasn't as easy as it sounded because I'm not using any fillers. Cumin is more expensive than starch. I created a spreadsheet with the sizes and prices of my seasonings and other supplies, and the amounts used per serving and per jar. I then added in a buffer for if I sell it through an affiliate or at wholesale. From there, I basically rounded up to the next whole dollar.
Sydney: Are you thinking about launching other products if your taco seasoning takes off?
Edward: The obvious choices for expansion are adobo and sazon seasoning, but I don't want to just be about Mexican food. Hopefully, customers will tell me what they want me to sell them.
Sydney: How difficult is it to start a business in your state?
Edward: At it's most basic, it's as simple as registering a trade name with the state for $20. Then bam! you're a business. Sales tax license costs $50 but is applied as a credit towards sales tax payments. Where it gets complicated is adding in county and city rules. Fortunately, I moved outside of the city limits before starting. Otherwise, I would have needed three different sales tax licenses, a home-based business license and two trade name registrations!
Starting a food-related business is usually a lot more expensive and involved, but earlier this year Colorado passed the Cottage Foods Act which allows small home-based producers of packaged, non-potentially hazardous foods sold directly to consumers to skip most of the food business licensing requirements.
Sydney: Where are you based now?  Do you foresee yourself there long term with your career and future plans?
Edward: I currently live (just outside) Fort Collins, Colorado. I've been out here for almost three years, but my heart will always be where I grew up in NJ. If I developed a successful location-independent business, I would probably move back there. But in terms of my professional field, there are more opportunities out here.
Sydney: Since you love to cook, do you have an interest in opening your own restaurant?  Why/why not?
Edward: No. I watch a lot of restaurant shows like Kitchen Nightmares or Restaurant: Impossible, plus my sister is a professional cook. Between those sources, I have enough information to know that I don't have the temperament to run a business like that.
Aside from that, Fort Collins is a very competitive area for that. There are actually more restaurant seats here than people.
Sydney: Do you have any advice for people who want to create a product?
Edward: The absolute first rule is before you spend a single dime developing your product, make sure there is a market for it. "If you build it, they will come" is an absolute myth. The odds of creating a market where none existed before are not in your favor. After that, marketing, marketing, marketing. Getting noticed will be the biggest hurdle to success.