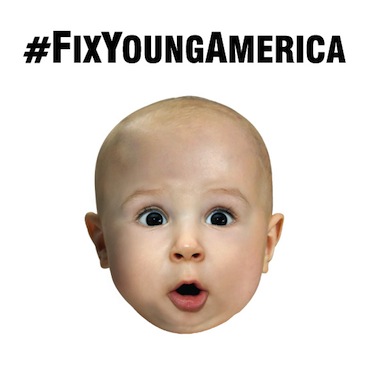 There is an exciting campaign launched earlier this month called #FixYoungAmerica (#FYA) that I'm raising awareness for and I think you're going to be pumped about it too.  #FixYoungAmerica is a movement focused on helping solve the growing problem of high youth unemployment and underemployment in America.  The Young Entrepreneur Council (YEC), founded by Scott Gerber, is leading the way along with over 40 partner organizations.
A large part of the campaign is centered around a fabulous book entitled #FixYoungAmerica which is being released in May and contains solution based essays on topics such as why we need more education and programs focused on entrepreneurship for current and future generations, and more importantly how this can be accomplished.  The book has 33 well known contributors such as Len Schlesinger, President of Babson College; Aaron Smith, CEO of the Young Invincibles; and Jack E. Kosakowski, President/CEO of Junior Achievement.  In addition to the book, there is a 10 city bus tour already underway.
Some of #FSA's goals are to
Put a copy of the book into the hands of every politician, college president and applicable leader in America
Testify in a Congressional hearing about issues facing young entrepreneurs, and the solutions that can help them
Set up a round-table meeting to discuss #FYA solutions with President Obama and other government leaders
Scott Gerber is spearheading #FixYoungAmerica's efforts and is perfectly suited in that role given his experience as a serial entrepreneur.   I had several questions about this groundbreaking movement that Scott generously took the time to answer in his hectic schedule that I'm thrilled to share with you now.
Sydney: First tell us a little bit about the YEC's #FixYoungAmerica campaign and how it got started.
Scott: Through our everyday work with young entrepreneurs around the globe, the Young Entrepreneur Council (YEC), and partners like Junior Achievement, Babson College, Codecademy, Venture for America, and College Hunks Hauling Junk, have identified a handful of tried-and-true approaches that are already successfully fostering business creation by young people all over America as part of our #FixYoungAmerica movement. We are also spearheading an IndieGoGo crowdfunding campaign to support ongoing events and outreach nationwide, as well as the debut of the official #FixYoungAmerica book. (The book can be purchased here.)
Sydney: How has the movement been received so far?  Are there any significant hurdles and milestones?
Scott: Forward-thinking companies like LegalZoom understand exactly what we're doing — and LegalZoom has already donated $20,000 to our crowdfunding campaign to prove it. The challenge we face is convincing the people who are in a position to execute on these solutions to hurry up and get started, which we'll do through a bus tour, national outreach, and of course, getting the book itself into the hands of those decision makers ASAP.
Sydney: What is crowdfunding and what are the benefits of the bill #FYA is trying to pass?
Scott: Crowdfunding is a way to raise small amounts of capital from a large pool of investors using platforms like Indigogo, rather than trying to raise capital through VCs, angel investors or bank loans. For young Americans whose ideas are truly new and who can't even finance initial product development, for example, raising money by a traditional route is nearly impossible — crowdfunding offers a common-sense alternative.
The JOBS (Jumpstart Our Business Startups) Act that just passed in the House contains an important bill, authored by Congressman McHenry (who contributed to the #FixYoungAmerica book), that would remove and modernize a lot of the regulatory barriers that currently make crowdfunding startup capital in exchange for equity illegal.
Sydney: How does #FYA hope to expand self-employment assistance?  Would this be at a federal and/or state level?
Scott: Self-employment assistance (SEA) uses the existing unemployment insurance (UI) system to allow unemployed Americans to use their UI benefits for the purpose of starting a business, rather than to simply support them during a job search. The UI system is run in partnership by both the federal and state governments; states administer the programs and set the eligibility requirements and benefit amounts, whereas the federal government sets broad guidelines. States can use federal authority to establish SEA programs, but most have not. What #FixYoungAmerica's partners want to do is incentivize the creation of state SEA programs, and extend additional UI benefits to the long-term unemployed, in the form of SEA in all 50 states.
The Startup Technical Assistance for Reemployment Training and Unemployment Prevention (STARTUP) Act, for example, would allow states to pay out additional UI benefits (up to 26 weeks' worth) authorized by the federal government in the form of SEA and give technical assistance, financial assistance and federal guidance to states establishing or improving new programs. In the few states where SEA programs are active, hundreds of businesses and new jobs have been created. In Oregon, nearly half of the successful SEA entrepreneurs each created an average of 2.63 new jobs.
Sydney: We all know a lot of college graduates struggle paying off school debt.  What is #FYA hoping to accomplish with student loan forgiveness problems?
Scott: The Youth Entrepreneurship Act (YEA) would defer or forgive student loan debt for young entrepreneurs who wish to start businesses using the precedent already set by the existing Income-Based Repayment (IBR) program. College loan debt is at an all-time high; the YEA would allow young founders to use the existing IBR system to direct their limited capital toward starting new businesses, instead of paying down loan interest, in the first critical years of starting a new company. (Learn more about YEA and IBR here: youthentrepreneurshipact.com and mashable.com/2011/10/25/gen-y-fund-ibr)
Sydney: How important do you think a college degree is for youth who want to become entrepreneurs?  And what about corporate experience?
Scott: College is a place to learn and grow, but it is not the only place — and that is an important distinction today, when there are so many resources — think open courseware, meetups, online mentorship, co-working spaces, online learning through Codecademy and Udemy (to name just two platforms), etc. It all depends on your goals, your means and why you're going to college. But the idea that a four-year college degree is itself an absolute requirement for a job OR a business is no longer accurate, and it's time we all acknowledged that. It's not practical for everyone, so why force young people to take on debt they don't need?
Sydney: Entrepreneurship isn't for everyone.  Does #FYA have any solutions for youth who aren't interested in starting their own business?
Scott: #FixYoungAmerica is about rebuilding America's entrepreneurial spirit — because even those of us who don't go on to found companies can benefit from the financial literacy, 21st-century skills like coding, and "soft" skills like leadership, innovation, and creativity that are all hallmarks of entrepreneurial thinking. These skills are in demand today, whether you want to be an employee, a freelancer, a contractor, an entrepreneur, an intrapreneur, an associate or C-level at a startup, a slash-jobber, etc. Work as we know it is changing; jobs as we know them are changing. Entrepreneurial thinking benefits us all.
As just one example, one of our solutions is to look at franchising as an alternative to a bachelor's degree or MBA — because it provides many of the benefits of entrepreneurship, but offers structure, training and support that going it alone may not. Intrapreneurship is another alternative that combines entrepreneurial thinking with the stability, support and resources of a larger company.
Sydney: Are there any significant demographics among the unemployed youth today #FYA is focusing on (age, gender, location, ethnicity, sector, income, etc)?
Scott: Our youngest Americans, veterans and minorities are hardest-hit by underemployment, but unfortunately underemployment and unemployment is a problem that extends to all young adults from all walks of life — up to and including those in their early thirties. #FYA is focusing on all members of Gen Y, because they are the future leaders of this country.
Sydney: Do you think the influence of technology is making younger generations lazy and contributing to the increases in youth underemployment (long hours playing video games, chatting online, surfing the web, etc.)?
Scott: To the contrary, it should and can support it. Like other myths — including the myth that you have to have a "real" job to succeed — it's false. While more Millennials use social media and the Internet than any other demographic, more Millennials — a record share, in fact — are enrolled in college than any other generation, nearly 40 percent, according to Pew research. This puts them on track to be the most educated generation in American history.
They're also the most entrepreneurial in history — according to a 2011 Youth Entrepreneurship Survey conducted by Buzz Marketing Group and the Young Entrepreneur Council, 23 percent of America's young people started a business as a result of being unemployed. Fifteen percent started their business in college.
Sydney: What are the biggest challenges Gen Y and Millennials face today in becoming entrepreneurs?
Scott: As we see it, there are two major obstacles Gen Yers face who want to start their own businesses:
Chronic un- and underemployment. Today, youth employment is at a 60-year low. If you cannot buy food, pay bills, afford to get married or start a family—or meet your loan obligations—you certainly cannot start a successful company. This is a vicious cycle, one young Americans are keenly aware of.
A lack of resources, from government support to entrepreneurship education to capital. Young people are ready and willing to start companies and create new jobs—according to a 2011 youth entrepreneurship survey conducted by YEC and Buzz Marketing Group, 23 percent of young people started a business as a result of being unemployed. Fifteen percent started their business in college—but 74 percent had no access to entrepreneurship education on campus, and 88 percent of young people believe the government does not support them. This is simply not acceptable.
Sydney: Tell us about the 10-city bus tour and the Youth Entrepreneurship Act.
Scott: This spring, the YEC will join Young Invincibles for a 10-city bus tour to raise awareness for #FixYoungAmerica as well as the Youth Entrepreneurship Act. The Youth Entrepreneurship Act, co-authored by YEC and Young Invincibles, is a set of policy initiatives including a common-sense loan deferral and forgiveness program for young entrepreneurs.
Sydney: The #FixYoungAmerica campaign started earlier this month.  Will it remain active after the book is released in May?
Scott: While our crowdfunding campaign will end in May, our mission to #FixYoungAmerica will not. Every dollar we raise goes toward putting those books into the hands of politicians, CEOs, nonprofit leaders, educators and other American leaders who can help us scale and execute the very real solutions we're proposing through our book, forum and media campaign.
We encourage all Americans to participate by:
Contributing to the Campaign: Your tax-deductible contributions to #FixYoungAmerica through IndieGoGo.com will help us put a copy of our book in the hands of every politician, thought leader and decision maker in America, and will fuel our efforts to transform innovative ideas into actionable solutions. YEC and #FixYoungAmerica is a 100 percent nonprofit effort, and part of your contribution will be donated to programs for young entrepreneurs.
Passing the Baby: Click on the Pass the Baby button, fixyoungamerica.com/share/, to share your own idea to reduce youth unemployment and underemployment. Then, share your idea (and our baby mascot) on Facebook, Pinterest, Twitter, or your website to show your support.
Visiting our website FixYoungAmerica.com for even more ways to help.
Untemplaters, do you support the #FixYoungAmerica campaign?  Do you wish you had more exposure to entrepreneurship programs when you were in school?  What ideas do you have to solve underemployment and unemployment among Millennials and Gen Ys?