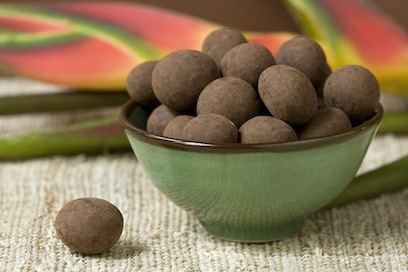 Mmm, chocolate.  Just thinking about chocolate makes me smile.  It's hard to believe that I wasn't always a fan of the cocoa bean's wonderful delights, but once I got into my 20's, something changed in my taste buds that turned chocolate from blah to addictive, irresistibly sweet goodness!
So you can imagine my delight when I stumbled upon the San Francisco International Chocolate Salon a few years ago.  What is that you ask?  Well it is a fun, mouth watering event where more than 50 top chocolatiers, wineries, confectioners, and other culinary artisans come together from all over the country to showcase their products for chocolate fans to delightfully sample and see.  All of the vendors are selected by invitation only and a great many of them have won awards for their products.
Two Favorites Together Equals Unexpected YUM!
Just a few weeks ago I eagerly attended the 2012 SF Chocolate Salon and knew to come hungry so I'd have enough room to taste samples at each table!  As I was making my way through the crowds from one booth to the next, I came across a table towards the end of my loop around the hall that left quite an impression in my mind and on my taste buds.  The chocolates had such unique flavors at just the right balance that I knew there was something special about this chocolatier.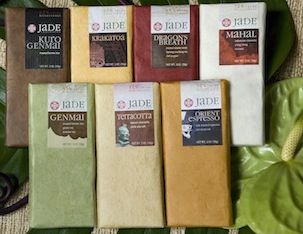 While I was standing around at this table, I looked down at the label of the bar I was munching on and noticed that it was blended with Japanese tea.  How cool!  This was a neat surprise for me because I love tea and I love chocolate, and they unexpectedly tasted really good together.  YUM!  The guru behind this line of magical blends of chocolate, teas, and spices is Mindy Fong, founder and owner of Jade Chocolates.  I'm thrilled to share with you an interview we had below.  I was so inspired when I heard Mindy's story that I got goose bumps!  Jade Chocolates is a wonderful untemplate success story of what entrepreneurial drive, dedication, passion, and a positive spirit can produce when you take a leap of faith and follow your heart.
Sydney: Hi Mindy!  Please tell us a little bit about Jade Chocolates.
Mindy: Jade Chocolates is a multi-award winning chocolatier based out of San Francisco specializing in blending teas and spices from Asia and the Pacific Islands. We're known for our line of chocolate bars, but we have expanded to also include chocolate covered nuts and fruits, edible mango orchids, truffles and other confections. I named my company Jade Chocolates because jade is an auspicious symbol to many Asians. It is a form of good luck.
Sydney: You have a degree in Environmental Design from UCDavis. At the time you graduated did you feel you were headed into the right industry?
Mindy: Yes, of course. I was eager and ready to help design beautiful spaces. But then I got offered a job for the San Francisco Housing Authority and I spent my days drawing up monotonous disabled bathrooms, ramps and kitchens. The pay was phenomenal, but the work got boring. I could see that I could easily spend my whole career here and get a guaranteed standard wage of living increase every year and lead a cushy lifestyle. But I wasn't happy.
So I did a drastic thing, quit my job and tried my hand in the private sector. I cut my pay in half, but I finally got to design those beautiful spaces and work with a highly creative architect. But I still wasn't happy with what I was doing and I knew that I would not stay in this field forever.
Sydney: How long did you work in the architectural field before you felt you were ready to make a change?
Mindy: I worked in the architectural field a little over 5 years.
Sydney: Was there one particular event or a chain of events that lead you to switch careers and start your own company?
Mindy: I had been trying to get pregnant for over two years, when it finally happened. My husband and I decided that I would quit my job and become a full time mom so I put in my two weeks notice as I wanted as little stress as possible during my pregnancy. The idea of becoming an entrepreneur began then. The plan was that when the baby was old enough, I'd start a small business as a hobby as something for me to do to basically kill time. During my second trimester, however, I found out that my husband was up to his old ways. I didn't get the courage to finally leave him until the baby was four months old.
So with a newborn and no job, I quickly had to get the wheels turning and figure out what to do. The initial idea of having a business as a hobby became my 80 hour a week journey to make money for my family.
Sydney: Did you ever imagine you would someday become an entrepreneur when you were growing up? Why/why not?
Mindy: Yes. I admired the fact that my grandfather had accomplished so much from his humble beginnings. By the time I was born, he was a retired businessman, owning several mom and pop stores and restaurants. He had come to America without anything. He had no money and he didn't even know how to speak English. He was a teenager in a foreign land, alone with many obstacles in front of him. Yet he managed to be an accomplished man. He was my inspiration for being a risk taker and for doing what needed to be done.
Sydney: What was your biggest fear and greatest joy about becoming an entrepreneur?
Mindy: My absolute greatest joy is seeing people reactions when they try my chocolates. I love the genuineness of their comments. My biggest fear is trying to stay afloat.
Sydney: How much did you know about running a business before you took the leap?
Mindy: Absolutely nothing! I spent many long hours surfing the internet learning about chocolate and chocolate companies. In the beginning, I used as many resources as possible. I took classes at my local SBA office and networked at business functions when I could.
Sydney: What about chocolates? Did you have any experience making sweets before you knew Jade Chocolates was your calling?
Mindy: Honestly, I didn't eat very much chocolate as a kid, but I explored food with a passion in cooking and eating. Most importantly, I used what I learned from my architectural background and transferred my knowledge of the color wheel and transformed it into a tasting wheel.
For instance, my first chocolate bar I created was the Genmai Bar. This bar has complimentary flavors, meaning that the flavors or colors are opposite on the wheel. The sweetness of the chocolate is contrasted, yet balanced by the nuttiness of the roasted brown rice. My second bar, Dragon's Breath, has analogous flavors, or flavors that are on the same side of the tasting wheel. The roasted nuttiness of the sesame seed, the smokiness of the tea and the spice of the red chili are the blues and purples of my tasting wheel.
Sydney: How do you manage being a business owner and a mom? Do you have any secrets to having the best of both worlds?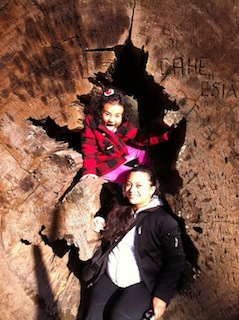 Mindy: I now have two children in my life. My eldest is six and my youngest is one. My boyfriend is also an entrepreneur. He owns his own record label and has several records out. We both do office work at the house, so we're basically both at home working and watching the baby simultaneously.
But it also helps that I have established a schedule. On certain days I do my cold calls and calls to current customers. On other days I'm out doing deliveries and I also have set days in the kitchen. At night when the kids are asleep, I do my research, paperwork, answering emails, accounting, updated the website and anything that can be done without having to converse with anyone over the phone.
Sydney: Tell us about the inspiration you drew from your grandfather. What are some of his words of wisdom about entrepreneurship?
Mindy: Unfortunately, I never had the chance to speak to him in depth about his businesses. As a child, I knew had owned businesses from the black and white photos I'd see of the restaurants and stores. But that's the extent of it. He passed away when I was in college. It wasn't until my adult years that I fully understood all of the obstacles he had faced.
Sydney: How did you come up with the idea to blend teas and spices into your chocolates?
Mindy: In the beginning of my chocolate career, I had another company name with no concept or uniqueness. I was struggling to have direction and focus until it finally hit me. Keep it simple and just use ingredients that are common to me. So I use ingredients that I grew up with-lots of teas, lots of spices and tropical fruits.
Sydney: What are your top 3 favorite products right now and why?
Mindy: My personal top 3 favorites are the Orient Espresso, Rice Paddies and Kuro Genmai. The Orient Espresso bar is a bar that I developed for my own personal taste. It has cardamom in it which is my absolute favorite spice. The Rice Paddies are a new product that I'm introducing at shows and events and it's a spinoff of one of my childhood snacks, Rice Krispies. Instead of marshmallows, I use chocolate and add mangoes and toasted almonds. I plan to expand and add more flavors. The Kuro Genmai bar is also a personal favorite because it has the longest aftertaste of all my bars. I love the lingering taste in my mouth.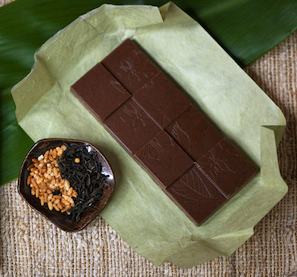 The general public, however, has a different opinion. Even though dark chocolate is all the rage, the Genmai Bar outsells all of my bars by a vast margin. Customers have often said that the Genmai bar is like and 'adult version of a Nestle Crunch'. The Dragon's Breath bar is quite intriguing to people. People love the sophisticated layers of flavors that the bar provides. And lastly the Mangoes & Chocolate have a cult following. It is not uncommon for customers to buy a 8 or so boxes at a time on the website.
Sydney: How many hours a week do you average working on your business? How has this changed since you first started?
Mindy: In the beginning, I must have worked about 10-12 hours a day. I would work so much I'd forget to eat. I knew I had to make a change when I'd lay down and the room would start to spin. I'm still trying to figure out the right balance of work and non-work. And with my 1 year old, I feel like I barely get any work done. Probably on average, I work 8 hours a day (excluding production days), mainly at night when I'm not disturbed.
Sydney: What advice do you have for people who are thinking about changing careers and becoming an entrepreneur?
Mindy: Do a lot of research. Study your competitors. Try to apprentice with someone in your field. Assemble your team as early as possible and try to go off of referrals from trusted friends. Get a knowledgable lawyer, CPA, bookkeeper, graphic designer and photographer. But most importantly, sell more and spend less.