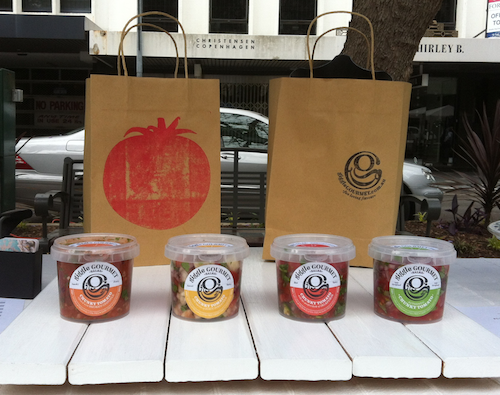 As you guys know, I have a lot of fitness and health goals in 2012 and am trying to eat more fresh foods on a daily basis.  I'm a big fan of farmers markets and buy local produce twice a week on average, sometimes three times a week in the summer.  I've noticed that in addition to selling fruits, veggies, and nuts, more farmers markets are starting to feature local vendors who specialize in other foods such as pastries, smoked fish, cheeses, and even homemade pastas.  Other market favorites of mine year round are freshly made, incredibly scrumptious salsas and dips.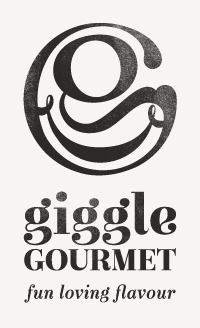 It takes planning and a lot of hard work, not to mention cooking (!!), before these tasty bites reach the markets and our hungry mouths.  I've never even attempted to make my own salsa because 1) I'm lazy and 2) the ones at the markets are so good!
One woman who is a master of making mouth watering salsa is Ariana Fletcher, founder of Giggle Gourmet.  First of all, what a cool name and clever logo!  I had the pleasure of interviewing Ariana recently and am exciting to spread the word about her zesty new food line.  She is an untemplate entrepreneur following her passion and shattering the template lifestyle.  Enjoy the interview!
Sydney: Please tell us about Giggle Gourmet and the story behind the name. 
Giggle Gourmet: I have always been known for my infectious trademark giggle.  Each city I move to it seems to follow me.  I continuously have been given the nickname "Giggles."  From best friends to strangers; anytime people hear me laugh they comment and say what a great laugh it is.  I started cooking at the age of 3 and after years of friends and family from across the globe calling and emailing for my recipes, I finally decided to follow my passion and created my own range of gourmet food.
I thought about starting my own food line in 2002 while living in San Francisco, but decided to stick with my job so I could pay off my undergraduate college debt.  I launched Giggle Gourmet in November 2011 in Sydney, Australia.  Giggle Gourmet's products are an expression of my food philosophy. I use only premium ingredients and never add any artificial ingredients. So every item that leaves the kitchen is inspired by my dedication to healthy food that bursts with zesty flavor – that's my Giggle seal of quality.
Sydney: You weren't always living in Australia – how long have you been there now and what prompted you to leave California?
Giggle Gourmet: I moved to Sydney in December of 2007.  My trip began in October 2007 when I bought an around the world plane ticket and my last stop was Sydney, Australia.  I fell in love with the city on my 2nd day and bought a suit and started interviewing for jobs. Six weeks later I had flown home to California to give my 4 weeks' notice on my apartment, sell my car and pack of my life.  Now it has been four years of living in Australia.
Sydney: Was it hard moving to a new country?  How much did you take with you?
Giggle Gourmet: Actually the move wasn't hard at all.  It all happened so quickly.  I had a job by end of December and started working the 2nd week of January 2008.  I took my entire house with me.  I shipped half of a container of goods with me to Sydney.  I also brought my two pet cats with me who went through quarantine.  So, after 3 months of living in an apartment with no furniture, my container finally arrived and I felt home.
There are many cultural differences between here and California, but I am enjoying the diverse lifestyle.  The hardest thing is being so far away from your family and friends.  But I am so lucky for today's technology and keep in touch with everyone.
Sydney: How long did you think about starting your own company before you decided to go for it?
Giggle Gourmet: Since I can remember, I always wanted to run my own company.  But, for many years, I just assumed it would be in Finance since that is what I had always worked in.  But ever since I moved to Sydney, I noticed there was an opportunity.  The past 4 years, I noticed I couldn't buy fresh pico de gallo salsa; I could only find salsa in jar.  And in the past 12 months I hired a graphic brand strategist and graphic brand artist to make Giggle Gourmet come to life.
Sydney: As a new business owner, what's been your biggest hurdle so far?
Giggle Gourmet: Time.  It currently is just me, so I have to do everything.  I can't wait to be able to hire some employees; hope to in 2012.  Australia has strict employee laws, so before I hire anyone I will have to do some in depth research on the laws.
Sydney: Did you find it difficult incorporating your business in Australia?
Giggle Gourmet: No, it actually was really easy.  I did a lot of reading and researching and then went and spoke to an accountant to make sure I set up the company correctly.  The hard part came when I had to learn a new industry, the food market in Australia.
Sydney: What do you think are some of the big differences between being a small business owner in the US versus Australia?
Giggle Gourmet: I am not sure; as I have never been a business owner in the US.   Just a guess, but having the bigger population of the US may make starting a business a bit easier.  Also, it seems that the US offers woman entrepreneurs special low interest rate loans where as I have yet to find this in Australia.
Sydney: How many hours do you put into your business per week on average now?  Is the majority of your time spent in the kitchen?
Giggle Gourmet: On average I spend about 60 hours per week on the business.  About half of that is in the kitchen and the rest is spent at the markets, running the business, shopping for the food, marketing, etc. A lot of time is also spent online doing research.
Sydney: What's the food like down under?  Is it as bland as I've heard?
Giggle Gourmet: I think Sydney has some of the best food if you like seafood, Asian influenced dishes and/or pub food.  Many Australian's are foodies and take their food and alcohol very seriously.  Australian's have many world renowned chefs.  Like any city, you just need to know where to go.
Sydney: What's your favorite product that you have on the market right now?
Giggle Gourmet: My favorite product is Giggle Gourmet's smoked chipotle salsa.  The flavors just burst in your mouth and it is very fresh and smokey.  It also goes great with so many different types of dishes.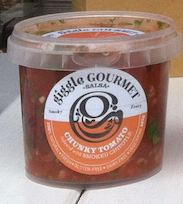 Sydney: What are a few of your goals for 2012?
Giggle Gourmet: A few of my goals for 2012 are 1) Have a few of our products stocked at a gourmet food shop.  2) Hire someone to make the food and package it.  3)  Hire someone to go the Sunday markets for me.  4)  Expand my food range to include soups, salad dressings and two new dips.  5)  Return a profit.
Sydney: Do you have any tips for people who are thinking about starting their own business?
Giggle Gourmet: Follow your passion.  Owning your own business takes more time and energy than going to a corporate job, so make sure you love what you do.  Make contacts, people know people and those people know more people.  And finally don't give up.
To learn more about gG, you can visit the Giggle Gourmet website.
Untemplaters, have you ever thought about a career in the food industry?  How often do you shop at local farmers markets?