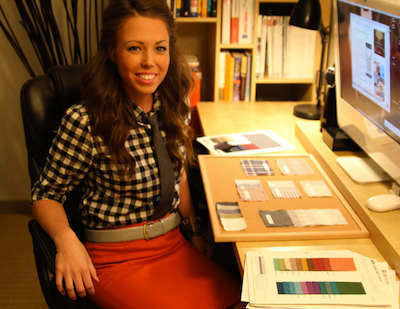 Today we have a special interview with fashion entrepreneur Kate Wintrode of Fifth&Brannan!  I had the pleasure of meeting her this past summer at the 5&B launch party and am super excited to share this interview with you guys!
Sydney: Tell us a little bit about your company Fifth&Brannan.
Kate: We started Fifth&Brannan to bring more texture, color and patterns into men's wardrobes. When it comes to men's clothing, our philosophy is that there's more to life than black and blue.
We strive to create collections of timeless style with modern tailoring, and we obsess over the quality, details, and personal touches of each of our pieces.
Sydney: When did you know you wanted to work in the fashion industry?
Kate: I knew I wanted to work in this industry since I was young. Growing up, I always had a strong opinion about my clothing and realized I wanted this to be a part of my life.
My dreams of designing were affirmed when I traveled to Europe with FIDM. I haven't turned back since.
Sydney: Did you always envision yourself becoming an entrepreneur? How did you get started?
Kate: I've always known that I wanted to start a company, I just didn't know it would happen at such a young age! I'm very grateful for the opportunities I've had.
Fifth&Brannan was an idea I had one day when noticing the lack of men's style in San Francisco. Particularly the men in the Financial District, working in bland corporate offices. I wanted to contribute to men's style here and give my point of view, and maybe show them it's okay to venture beyond the world of black slacks and blue shirts.
When starting the production process, I realized that others may be interested in learning what takes place behind the scenes, how a product is made and exactly what it takes to get from start to finish. I decided to document every step of the way on the blog, which I think readers have really appreciated.
Sydney: What was the biggest hurdle you had to overcome?
Kate: There are two hurdles that really made things difficult: raising funds and communicating with the factory.
Luckily for us, our supporters were so generous in donating to our Kickstarter campaign. We were planning to raise $7,000 for our first production run, but realized we had grossly underestimated the costs. We ended up raising over $13,000 and couldn't have been happier and more thankful for the help we received.
Our definition of quality is not the same as the factory's definition of quality. Factories tend to do things the fastest, most efficient way possible for them, which is great for cost reasons, but not for quality. When the production is rushed and corners are cut, there is so much room for error. We strongly believe in taking the extra time to make sure everything is perfect. No detail is too small or unimportant.
Sydney: Do you like working out of San Francisco, and think you'll be here long term?
Kate: I love working out of San Francisco. I'm constantly inspired by the people and the beautiful location. We definitely plan to keep the company here for the long term, temporary personal moves may be in order though. I've always wanted to live and work out of New York City.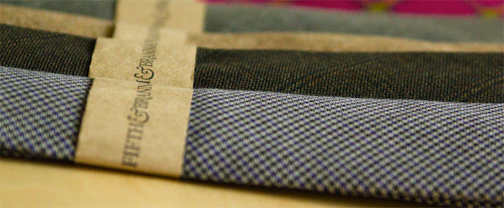 Sydney: Managing inventory is often a challenge for new businesses. Do you have any tips?
Kate: We don't have too much inventory at the moment so it's pretty easy to manage. We have an online program that keeps track of everything we sell and have on hand. Although, it is frustrating at times when your living space is completely taken over by your inventory.
Sydney: What advice do you have for people who want work in fashion?
Kate: It's not as easy as people think! You have to work extremely hard to get what you want. I laugh when I hear people casually say "I'm going to start my own clothing line." There is so much more to it than that. They often don't know what they're getting themselves into. But if you have thick skin and you're determined, then more power to you.
I strongly recommend going to design school to learn the basics, or at least having a mentor who you can look to for guidance. You'll learn a lot. However, if you do decide to jump into it, you'll learn a lot of firsthand experience through trial and error and making mistakes with your real money that I'm sure you'll never repeat!
Sydney: What are your thoughts on outsourcing, especially for newbie entrepreneurs?
Kate: In our industry, outsourcing to other countries for cheaper labor is pretty common, but it also comes with its own share of difficulties. We use contractors located in San Francisco for our production.
I recommend keeping all operations close to home for as long as possible, because when you outsource to overseas manufacturers, you lose control over your product, or you spend more (for plane tickets, trips, or hiring someone to oversee foreign production) to maintain that control.
Staying local allows you to keep an eye on production. That sense of control is worth more to me than paying a cheaper price overseas.
Sydney: What inspires you?
Kate: So many things. Well dressed men, poorly dressed men, climate, cities, time periods, patterns, textures, colors. The fun part is incorporating all of those elements into an ensemble.
Sydney: What's your favorite piece in your current collection? Did it take you longer/faster to design than others?
Kate: My favorite piece is the William, our club collar shirt. I like it because of it's simplicity. Although it has a rounded collar, which most men aren't comfortable with, I love the crisp look.
We had a lot of fun with plaids in our first collection, but for our next round, we plan on scaling back and offering more timeless pieces that will be easier to pair with whatever a man may already have in his closet, as well as be able to dress up or dress down.
Sydney: Any tips for the fashionably clueless and those on a budget?
Kate: Invest in quality basics: one great blazer; one pair of dark, inky denim with no distressing and a clean silhouette; one pair of shoes that can be worn dressed up or casually; and a few collared shirts. These pieces tend to cost more, but you can own them forever and they'll never go out of style. You can have fun with your wardrobe through accessories and more disposable pieces. These can often be found at more affordable stores like H&M or Zara.
Sydney: In your free time do you design and make your own clothes?
Kate: I wish I had free time! But no, I don't.
Sydney: Which colors are "in" for Fall? What's your favorite?
Kate: I'm not one to follow a certain standard or trend for what colors are in at the moment, but I am seeing a lot of flame red, rust, and emerald green, and I'm loving it.
Want to see Fifth&Brannan's current collection?  Check it out here.
Untemplaters, have you ever thought about a career in fashion?  How would you describe your current sense of style?