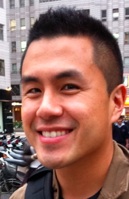 Today I'm excited to share an insightful and fun interview with Benny Hsu of Get Busy Living and Photo 365.  I've gotten to know Benny online over the last 8 or 9 months and am continually inspired by his energy and zest for life.  He's accomplished a ton this year and is a great example of how shattering the template lifestyle to follow your passions through dedication and a positive outlook will lead you to happiness and success.
Sydney: What prompted you to start blogging?
Benny: For the longest time I've wanted my own blog that had real value and people loved to read. I knew there were people making a living just from blogging. I thought that was the best job available!
From 2004-2007, I did run a sports blog that was I enjoyed so much. I got links for my stories from the biggest sports blog. I loved writing about my opinion on sports. I made enough money from ads to cover the hosting for the year. It was more of a hobby than something I could do forever.
Since then I've wanted to make something of lasting value that I was passionate about. I started a handful of blogs that I thought I'd be interested in, only to stop writing after a month or two.
I've actually had the domain Getbusylivingblog.com registered since 2009. I just didn't know the direction I wanted to take for my blog. Should I make a personal blog, or a personal development blog?
Then in October 2010, I had my breaking point in my life. I had another stressful night of work. I was tired of struggling in my life and waiting for my life to change.
First order was to get into shape. I did that by signing up for a half marathon. The distance was crazy enough that if I was able to do it, I knew I would have lost weight, but attainable. I changed my diet and trained six days ago. Three months later I ran my first half marathon, while being in the best shape of my life. That got me into a really productive phase.
In February 2011, I was ready to go live with Getbusylivingblog.com.
Sydney: How many hours a week do you spend working, blogging, creating now?
Benny: Right now I don't know how many hours I spend, but I feel like it's not enough. For the first six months of the blog, I had so much time! I was living alone because I was in a long distance relationship. So all my free time, when I wasn't working, it was spent on the blog, writing and social media. I enjoyed it so much, so I didn't mind the sacrifice.
Now that my wife is here, I'm still getting adjusted to a different schedule. I can't spend all my free time on the computer because someone won't be too happy. So I have to work out a balance.
Sydney: Tell us a little about your travels to Taiwan, Australia, etc.
Benny: In May 2007, I fulfilled a dream I had since graduating college seven years before that. I just got out of a long term relationship. I had so much stress from work. I needed a change! This was my chance to go to Taiwan and learn Chinese. My parents are from Taiwan. In our house growing up, we spoke mainly English with each other so our Chinese was very rusty. I felt it was important to learn the language for the future.
Still I hesitated on whether I should go. It was completely out of my comfort zone. In the end, I took a leap of faith and went.
I planned on spending just three months studying Chinese. I didn't know if I would like it. I had been back to Taiwan many times growing up but never lived there.
Three months quickly turned into eighteen months! I loved the city, the food, meeting new people, and learning the language.
In November 2008, I left school midway through the semester to go to Sydney, Australia. Why? Because in August, I met a girl named Eleanor at a club in August and we completely hit it off. The problem was she was leaving soon to go to Australia! Still before she left, we hung out often. I had never been this crazy about anyone before. Just something about her that was different.
We stayed in touch after she went to Australia and after a month, I knew I had to follow her. That seemed like a crazy decision. Go to a new country, while leaving a comfortable situation, for a girl I just met a couple months ago! But in my heart, it felt right.
Living in Sydney was amazing. Though we lived in a tiny studio apartment, we felt like we had known each other for years. We got along perfectly. After a month there, I felt like a local. I knew my way around. I saw the Opera house. I did the Sydney Bridge climb. I had always wanted to visit Sydney, but I never thought I would live there for two months. I'll never forget it.
My decision to leave school and go to Sydney turned out to be right. Eleanor and I just got married on October 10th.
Sydney: A big congrats again on getting married!  🙂  Are you happy living in Florida now or do you want to live abroad again someday?
Benny: I'm born and raised in Florida. I live in Jacksonville, which is a far cry from our neighbor, Orlando which is full of world class theme parks. Jacksonville is more of a quiet city. It's great if that's the environment you enjoy. It's a great place if you have a family.
I would love to live abroad again. I may move back to Taipei, Taiwan because that's where my wife is from. I'd love to go back and practice my Chinese even more. Plus Taipei is similar to New York City. It's a vibrant city, with easy public transportation, and amazing food everywhere. I feel more alive in places like that.
Sydney: You had huge success with your iTunes app Photo 365 that came out a few months ago. How did you go about starting that project?
Benny: I'm a huge fan of the iPhone and its apps. I've always wanted to have my own iPhone app. I tried to learn how to create my own but found the programming language way over my head.
I was using an app similar to Photo 365 for a couple months in the summer of 2010. I thought the app could be better. It was plain and didn't have any design to it. I thought about the features I would want to add.
That idea was put aside for months until I learned that I could outsource the work. This was after I had my breaking point and was looking for ways to start a side business. Outsourcing apps had been done by others and they found success doing it.
I took my idea and in January 2011 began the process of hiring a company to develop my app.
Sydney: What was your biggest challenge?
Benny: The biggest challenge was knowing my project was going to cost $1900! When I got quoted the price, it was more than I expected to pay. I got offers from $1000 to $4000, but decided on the company based on their portfolio and reviews.
I was hoping it'd cost under $1000.  I was putting so much money into something that I didn't know how it would turn out. I found a couple bloggers who had apps made and they weren't making anywhere near what they spent.
So I had to have the mindset that I was gambling. That's the only way I could get in the right mindset. I was betting only what I could afford to lose. If I didn't make a dime, I could still pay my bills and have food.
I just had to keep making sure the app was created the way I had envisioned it and not worry about costs or how sales would do.
Sydney: Did things go as you planned or were there a lot of unexpected surprises?
Benny: I had an ebook that helped me through the process of outsourcing app development. So it gave me a nice overview of what to expect. Still, going through the experience gave me some surprises.
At the beginning of the project, I was told the app would take 1.5 months. I learned to expect delays but it took about six month. However, they didn't rush the project. I didn't rush them either. I just wanted the app to be the best it could be.
Other than that, nothing gave me any unexpected surprises.
Sydney: How long did it take to go from the drawing board to store front?
Benny: From the drawing board to the day it was released in the App store, took eight months.
Sydney: Has Photo 365's success inspired you to create more apps?
Benny: Definitely! Just knowing more about apps and the market makes me want to continue making more. I have over 60,000 customers that I could market a new app to.
Sydney: How much do you think individuals spend creating an app?
Benny: It depends on the complexity of the app. I bought an ebook where the author had her simple app made for $700. She made that app a couple years ago I believe. I've read magazine articles where companies had their apps created for $10,000+. Right now the cost of getting started has gone up. My app was created for $1900, but was told by my company that if it was created today it would cost $5000+. I don't think I would have had it made for that price. I had a friend get a quote from the company I used for her app idea and they said about about $6000.
But I understand the company I used has more experience so their rates have gone up.
Again, depends on how many pages your app will have, the functions, the graphics, and how many hours it will take.
Different companies will quote you different prices. Don't just look for the cheapest. Do you homework and look at their past work and reviews. Make sure they're a good fit for the vision you have for your app.
Sydney: Tell us a little about your first ebook.
Benny: I'm proud of my little ebook because of the response I've gotten from it. I've never published anything so I'm happy to have something to call my own.
I wrote about the the biggest lesson I have learned. It really gave me a wake up call when I really needed it.
For so long, I kept waiting for a miracle to happen to me. I hoped the answer to "What should I do with my life?" would appear in a message delivered by a bird. I know that's an absurd example but so was my way of thinking.
I even read personal development books for years, but it didn't help because I didn't do what they suggested. That's my own fault.
Then late last year, I learned again about taking 100% responsibility for your life. This time I believed it. This time it stuck. I understand what it meant.
The power I used to make my life suck, could be used to make it the way I wanted it. It's no different. That's the theme of the ebook.
Sydney: How difficult was it to compile and how long did it take to complete?
Benny: I'd say the hardest part was the layout. I wanted it to look great. I knew no matter how good the content was, if the cover and the layout didn't look good, it wouldn't get downloaded or read.
I don't remember exactly how long it took from beginning to end. I would say it took a couple months of working on it. It may have been more though. If I would have focused on it solely, it would have been done quicker.
I went through many drafts before it was finally ready.
Sydney: What are some of your goals for the next 12-24 months?
Benny: My goals are to create my first product. Something that will really bring help to those stuck in their lives.
I'm working on adding updates to Photo 365. I'd love to create more apps, but want to make Photo 365, the best it can be for now.
I want to expand how people consume my content so a podcast is a possibility. I'd like to try interviewing influential people.
I have lots of things I'd love to accomplish. They're all just ideas in my head now. I think no matter where the next 12-24 months will take me, I'll continue to blog.
2011 has transformed my life so much. I finally feel like I have direction in my life and have more exciting things to come.
Benny writes at Get Busy Living, where he writes to unleash the best that's inside of you. No matter what stage you are in your life, it's never too late to live out your dreams. Be sure to get his free ebook, "Get a Life That Doesn't Suck" and learn the one sentence that changed his life.