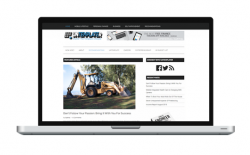 August wasn't a particularly good month for income across the blogosphere and September wasn't either. It's frustrating. As most of you know, I also spent a chunk of time in September on the road. Towards the end of my travels I was missing home and looking forward to some alone time again. It can be a challenge to work on the road for long stretches of time.
At the end of September, I started waking up about 1.5-2 hours earlier to try and get more done each day and to make up for some lost time. I really want to finish the year strong. I get tired earlier in the evening, as is expected, but I want this new schedule to sink in. I've been a night owl my whole life, but it really is much easier to focus on work in the early morning versus late at night. My head is less cluttered in the early morning versus at the end of the day. I am certainly not a morning person naturally, but I'm trying to mutate into one!
New Here? Welcome! Be sure to check out my about page and read how I got paid to break free from a grueling desk job earlier this year. I publish monthly income reports to track my progress and push myself forward.
2015 Goals Update
I have three main career goals for 2015. In each of my income reports, I provide a quick update on my progress:
1) Goal: Grow More Traffic
Untemplater's traffic had an ugly dive in September for reasons unknown. It's possible it was related to Google algorithm changes because a lot of bloggers reported traffic changes in September, but the specific dates didn't really line up based on my research. I also thought it could be due to Labor Day weekend, but after checking my calendar I realized those dates were off too. At least traffic seems to have mostly come back since the dip, but it's unsettling to get any type of hit like that. My fears of Google algorithm changes have definitely gone up. I took a peak at my October traffic and it is looking ok so far, but you just never know. Fingers crossed October will close above September.
September vs August:

Year over Year:

2) Goal: Land More Freelancing Gigs
Teaching music lessons as supplemental income is still going well. I didn't get in as many sessions in September as I would have liked, due to traveling, but some is always better than none. I had projected making $230/month in extra income from teaching, but that's gone out the window because my second student wants to cut down to bimonthly lessons versus weekly. As a result, I probably won't make more than $160 in October unless I can secure some more students. We'll see…
I also successfully signed an SOW (statement of work) with the prospective client I mentioned last month and am really excited! I am still waiting for my first assignment, which will hopefully come in the next week after they get the rest of my paperwork processed. I really hope they'll like my work and that we'll be able to develop a solid relationship. It's always nerve wracking starting something new and having a new boss to report to, but it's also quite invigorating. It's easy to be thrown on the chopping block as a freelancer but I'm going to give it my best shot.
3) Goal: Build More Affiliate Income 
I finally finished my affiliate plugin migration – it was a bit of a manual process but not too painful – and have kissed my ancient plugin goodbye. I've also gotten better at checking affiliate reporting more frequently, experimenting and learning as I go.
Ha and getting more than $1 from Amazon Associates was a nice surprise. I've never had much luck with Amazon, so anytime I get a sale it feels like Christmas even though their commission rates are horrible compared to other programs. Everything counts, even when a lead is only 40 cents. 🙂
As always, a big thank you to everyone who signed up for a service or made a purchase using one of my links.
Income Report September 2015
Onwards to the September Income report…
Total Revenue Streams = $8,127
FREELANCING: $4,150
Editorial, writing, online marketing $4,000
Teaching music $150
INVESTMENTS: $1,036
Dividends & Interest income $724
Rental income $300
Prosper P2P investment income $12
I had a nice inflow of dividends in September from several investments in my portfolio. But the volatility in the markets definitely hit my performance.
ADVERTISING & AFFILIATE: $2,941
Affiliate Partnerships: $2,478
Contextual Advertising (Adsense): $340
Bluehost: $90
Amazon Associates: $13
Genesis $0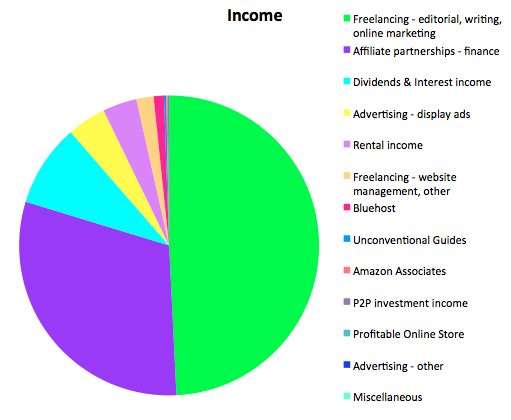 Expenses = $(5,117)
BUSINESS: $(1,207)
Aweber, Marketing, Subscriptions, Fees: $(295)
Meals & Entertainment – business: $(250)
Outsourcing: $(250)
Travel – business: $(150)
Quickbooks: $(50)
Hosting, web related: $(30)
Supplies & misc: $(82)
PERSONAL: $(3,910)
Living expenses: $(3,260)
Travel – personal: $(400)
Meals & Entertainment – personal: $(350)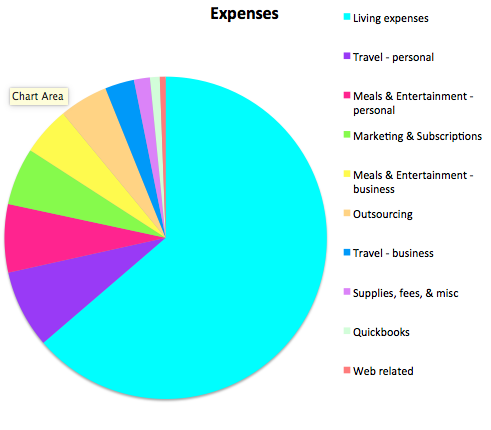 PROFITS: $8,127 (Income) – $5,117 (Expenses) =

$3,010
September Takeaways
September took quite a hit overall in advertising and affiliate. Even though I'm not alone – many other bloggers also had a rough month – it's still disappointing. However, getting over $700 in dividend income was a nice bump over last month. I was also happily surprised to see more Amazon sales, even though it wasn't a lot of money. Any growth is worth smiling about though even if it's small.
Untemplater's drop in traffic freaked me out, but at least it wasn't a permanent dive. October seems to be okay so far and hopefully I won't see any more sudden decreases anytime soon. Anytime Google starts making algorithm changes, it's hard not to feel nervous.
I haven't done any long-distance traveling in October yet, which has been wonderful. As of now I don't have plans to go anywhere by plane, so I should be able to improve some on expenses.
I bought a new 1 TB external drive for $70 when I was in NYC last month because my laptop was acting really strange and I needed to backup all my files and do a wipe and reinstall. (what a time sink!) Anyway, thank goodness for the Genius bar to run diagnostics, answer questions and help with reinstalls. The downside is the wait times are ridiculously awful. They need to improve on scheduling. What's the point of making appointments if you have to wait over a hour to be seen? I was literally the last customer to leave the Apple Store on Broadway around 9:3o pm so I had to go out the employee exit.
Anyway, I hope the worst of this year is behind us with September gone. I'm trying to limit my distractions these days and get more done each day. I've also increased my search for extra work including full-time opportunities. Even though there are constantly new job openings popping up in the Bay Area, it's much harder than I thought to get hired these days. Things are competitive and there's a lot of talent out here.
Recommendations
Take a free mini course on how to create your own online store – If you've been thinking about starting an online business, you should consider starting an online store. Check out this free mini course on how to get started creating a profitable online store. You can also sign up for the full course and get access to over 70 hours of step-by-step videos instruction that guide you through the entire process. Steve is an incredible instructor and I've met him in person too.
Try your hand at freelancing – Motivated to become a freelancer full-time or just want to make some extra cash on the side? The possibilities are endless! If you're a creative person, it can be quite profitable to learn how to sell your products. Like to write as much as I do? Find out how to get published, earn money as a writer, and have flexibility and fun working on the road. You can also work on building your brand by creating your own website the easy way with Bluehost for super cheap. Whatever your interests are, focus on building your skills and developing your own unique niche.
Get help managing your money – Wealthfront is an excellent choice for those who want the lowest fees and can't be bothered with actively managing their money themselves. Don't let your cash sit around doing nothing. Unsure how to invest in the markets? Not a problem – Wealthfront will invest it for you! Opening an account is free and only takes a couple minutes. Wealthfront charges $0 in fees for the first $10,000 and only 0.25% for any money over $10,000. Get started with as little as $500. Put your cash to work so it doesn't lose purchasing power due to inflation. Learn more.
Break free! If you're burnt out of your day job, believe that you have options and can turn your career around. I didn't believe I could escape for the longest time, but fortunately I wised up before I destroyed my relationships with family and my health. I never would have thought I could negotiate a severance package and get paid to leave a job I grew to hate, but I did! Learn how you too can get paid to leave your job like I did and open your eyes to new opportunities.
Untemplaters, for those of you bloggers out there – did you get pummeled in September? What were you up to in September? Do you have any new income or career goals you're working on?