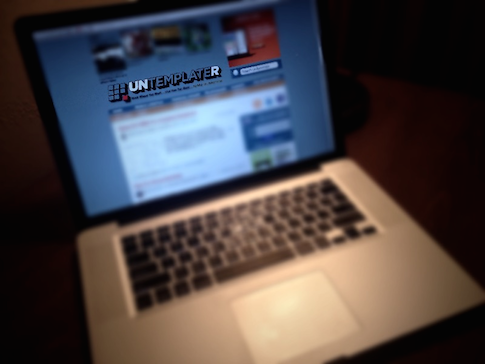 Ah the endless days of summer. Fortunately, we didn't have too much "June gloom" in San Francisco. For those of you who aren't familiar with the Bay Area, we have an odd micro climate here that tends to bring a lot of fog, "white outs," and chilly 60 degree days in June. Even wearing a winter coat for the 4th of July is pretty common. Some people hate that type of weather, but I think it's kinda neat to look out the window and only see a blanket of white fog everywhere – as long as it's not every day for four weeks straight.
As far as business stuff goes, things for June were slower as the seasonal summer malaise continues. July has been sleepy as well. I've seen a lot of declines in traffic across the blogosphere though as tons of people are on vacation and checked out, which tends to happen every year.
For anyone who's new to my income reports or the site, welcome! Be sure to check out my about page and read how I got paid to break free from a grueling desk job earlier this year. My life has changed immensely for the better this year and I started these monthly income reports to keep me on my toes and track my progress.
If you're looking for an easy way to manage your own income and expenses for free, check out Personal Capital. You can securely link your credit cards, checking accounts, mortgage, student loan debt, savings accounts, investment accounts, etc. all in one place. Their free tools actually make it fun to monitor your financial progress too and you can reach your goals faster. I've had an account with them for several years and love how easy and intuitive the platform is. Bloggers – want to become an affiliate? – sign up for the Personal Capital affiliate program here.
2015 Goals Update
I have three main goals that I set for 2015. In each of my income reports, I provide an update on my progress:
1) Goal: Grow More Traffic
Untemplater's traffic was down in June with pageviews about 2% lower compared to May overall. But if I adjust for the difference in the number of days, June actually came out higher by 1.3%. That was an upside surprise because I expected June to be a lot slower for traffic.
The month over month chart below reminds me of a DNA helix with the alternating peaks and troughs, which is just due to when the start of the weekdays (peaks) and weekends (troughs) fell on the calendar.
I'm liking how the year over year chart is looking, but I still have a ways to go to get Untemplater up to 40 thousand pageviews a month.
June vs May:

Year over Year:

2) Goal: Land More Freelancing Gigs
I wasn't active with a couple of my freelancing gigs in June. I was traveling a lot, got distracted with some home improvement projects, and the companies also didn't have any pressing assignments for me to take on. I probably could have gotten assignments if I was more proactive though, so that's my bad. This is a good reminder for me to reconnect and strive to get some more work in before the end of July. It's hard to believe the month is already more than half over!
Fortunately, things are still going well with one of my main freelancing gigs that I've been anxious about this year. I had a great meeting with them a few weeks ago and got some really helpful and positive feedback. The work is challenging and I'm learning a lot of new things with each assignment. So I feel really lucky and hope things continue.
It will be interesting to see how things go over the next month though. The group I work for went through a restructuring, which is a bit nerve-wracking, but it's going really well so far. Change takes getting used to, being patient and staying flexible. I do have a feeling the type of research and writing assignments I'll be doing is going to shift in the near future. So I'll have to do my best to be adaptable and be ready for tighter deadlines.
3) Goal: Build More Affiliate Income 
A big thank you to everyone who made a purchase or signed up for a service using one of my links. I'm continuing to try new products and sign up for new programs. It can be time-consuming to replace deactivated programs and update and add new copy, but it's a good reminder that nothing is permanent. It just takes discipline and I love it way better than the type of work I had to do at my last day job of ten years!
Income Report June 2015
Onwards to the June Income report…
Total Revenue Streams = $10,443
FREELANCING: $4,800
Editorial, writing, online marketing $4,350
Website management, other $450
Freelancing income was down for June because I wasn't active with a couple clients. I've had a fantastic work-life balance lately, so I can't complain, but I don't want to get too comfortable either. It's easy to get lazy if I don't maintain a sense of urgency to hustle when opportunities are available, so I need to make better use of the early morning hours and stay proactive. I haven't had much stress lately, which is such a blessing. And I've been doing better at getting out of the house more regularly (instead of being on the computer all day) so overall I'm feeling fantastic.
INVESTMENTS: $1,222
Dividends & Interest income $990
Rental income $216
Prosper P2P investment income $16
I had a wonderful surprise inflow of dividend income in June of over $700 that I wasn't expecting. I probably should have known it was coming if I was a more active investor, but I'm happy about it nonetheless. This makes me really want to continue investing and building my passive income streams. I recommend checking out Motif Investing, which lets you invest the easy way in ideas and themes like wearable tech, sports, biotech, travel and modern warfare to grow your wealth. You can open an account for free and browse around their user-friendly catalog.
I also recently rolled over my 401k from my previous employer that I held with Mass Mutual to an IRA with Fidelity. Fidelity's platform is so much more user-friendly and now I can access my new IRA and my existing SEP-IRA within the same platform. It feels great to consolidate. Since I had a lot of cash come over in my rollover, I've been slowly legging that cash back into the markets. Meanwhile, I continue to bring in some rental income and stay active in my P2P Prosper account.
ADVERTISING & AFFILIATE: $4,421
Affiliate Advertising: $3,699
Contextual Advertising (Adsense): $179
Profitable Online Store: $264
Bluehost: $90
Thesis Theme: $29
Direct Advertising: $140
Amazon Associates: $0
Miscellaneous: $0
June hung in there on the advertising and affiliate front considering things typically slow down during the summer months.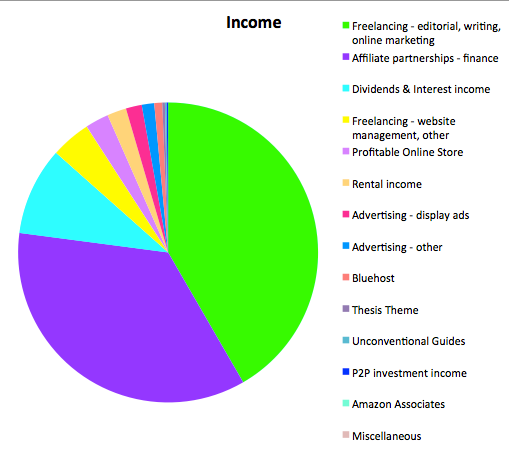 Expenses = $(5,299)
BUSINESS: $(1,087)
Travel – business: $(392)
Meals & Entertainment – business: $(270)
Supplies & misc: $(50)
Aweber, Marketing, Subscriptions, Fees: $(295)
Quickbooks: $(50)
Hosting, web related: $(30)
Outsourcing: $(0)
Business expenses were lower than last month with less traveling around. I've also been making good use of the Chromebook I purchased in April when I'm on the road and also when I have family visiting. It's nice to have a spare laptop around. My primary laptop, a 2010 Mac Book Pro is still chugging along, but I think I will have to retire it within a year. Hopefully, it will last at least that long because I do love the screen size and storage space (I upgraded my hard drive two years ago when my original one croaked). But it is getting more and more sluggish, especially compared to the newest flash models. And my gosh it can literally burn you to death it gets so hot! Thank goodness I found this cheap lap desk.
PERSONAL: $(4,057)
Living expenses: $(3,410)
Travel – personal: $(257)
Meals & Entertainment – personal: $(390)
Nothing much going on here. With unusually "hot" days in San Francisco in the upper 70s, it's been great spending more time outside though. We are so spoiled in SF compared to a lot of places in the east coast that are sticky humid in the upper 90s. I'll be heading to the east coast at least once in the coming months so I'll get a taste of it soon enough though.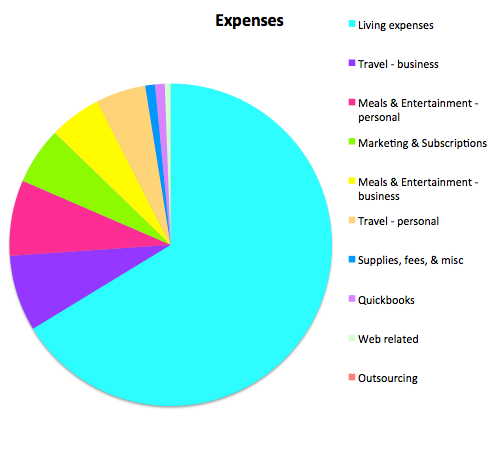 PROFITS: $10,443 (Income) – $5,144 (Expenses) =

$5,299
June Takeaways
June income was down from the seasonal decline of the summer months and my drop in freelancing income, but I'm still feeling ok. Getting through the rest of Q3 can be a bit nerve-wracking though but hopefully I won't suffer any major hits.
The beautiful summer days have been wonderful. And they're also a reminder for me not to forget the pain I went through at my old job last summer so I won't take anything for granted. With the amount of flexibility I have now, I want to make sure my productivity doesn't slow down either. When I had limited time to side hustle when I was working an office job full time, I had no choice but to work fast and constantly push myself to the limits. But lately I've been noticing that with less stress I can easily spend double the amount of time doing something at a relaxed, leisurely pace that I realistically could have done much faster. And while that's fine for some things from time to time, I don't want to turn into a turtle. So my productivity and ability to focus are still a work in progress.
Recommendations
Take a free mini course on how to create your own online store – If you've been thinking about starting an online business, you should consider starting an online store. Check out Steve Chou's free mini course on how to get started creating a profitable online store. If you sign up for the full course later you'll get access to over 70 hours of step-by-step videos instruction that guide you through the entire process.
Try your hand at freelancing – Motivated to become a freelancer full-time or just want to make some extra cash on the side? The possibilities are endless! If you're a creative person, it can be quite profitable to learn how to sell your products. Like to write as much as I do? Find out how to get published, earn money as a writer, and have flexibility and fun working on the road. You can also work on building your brand by creating your own website the easy way with Bluehost for super cheap. Whatever your interests are, focus on building your skills and developing your own unique niche.
Break free! If you're burnt out of your day job, believe that you have options and can turn your career around. I didn't believe I could escape for the longest time, but fortunately I wised up before I destroyed my relationships with family and my health. I never would have thought I could negotiate a severance package and get paid to leave a job I grew to hate, but I did! Learn how you too can get paid to leave your job like I did and open your eyes to new opportunities.
Untemplaters, how did you perform in May? Take any fun trips or accomplish any exciting goals? Where are you headed this summer?