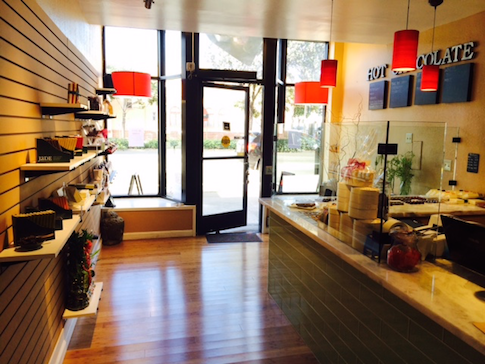 Living in San Francisco, there are so many startups it's impossible to keep track. New and inspiring small businesses seem to pop up all the time. It's an exciting place to live! Not everyone succeeds, but those with exceptional hustle, talent and creativity often do quite well. Today I have one such success story to share from a woman who knows how to succeed on Kickstarter and as an entrepreneur.
This inspirational woman is San Francisco chocolatier, Mindy Fong, of Jade Chocolates. I first interviewed her in 2012 when I came across her delicious and unique chocolates at a local festival. To my delight, I got an email from her at the end of last year regarding a Kickstarter campaign she started to open up her first retail shop. I was so impressed I didn't hesitate to make a pledge. Her campaign was a success on Kickstarter and her shop has been open for about eight months now. Without further ado, here's my latest interview with Mindy on her entrepreneurial journey.
Small Business Milestones
Sydney: How long have you been in business now? What are some of the milestones you've achieved in the last 2.5 years since we last touched base?
Mindy: We've been in business for almost nine years. One major milestone we've achieved is we opened up a shop. It's a small store in a family neighborhood and since we have a brick and mortar we're able to expand into new products that are only available in-shop. We now have a line of made-to-order hot chocolates, which include Cardamom, Thai Red Curry (14 different spices), Jasmine Green Tea, and China Red Pepper (cinnamon, red chili, and New Mexico chili).
We also sell loose-leaf teas, a few pastries, and bittersweet tasting tiles. Full descriptions of all of our in-store only products are available on our website. We have also expanded into a line of truffles, which are now even more popular than our chocolate bars! We are also very excited that we will soon launch frozen products such as ice cream sandwiches and ice cream mochi.
Tips On Selling Products
Sydney: What advice do you have for other entrepreneurs who want to sell their products at farmers markets and find retail partners?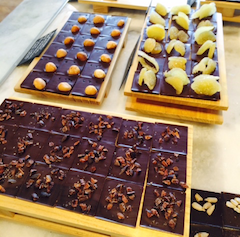 Mindy: For retail partners, in my experience it's easier to sell chocolate the first time around than it is to secure continued reordering. You have to really be on top of your existing accounts. Some accounts will take off on their own, while others require more attention like in-store demos and sampling. You'll find that some accounts will take off right away, while others just won't work at all. You need to decide which could be time-wasters and wouldn't be worth pursuing further.
For the farmers markets, pick a market that you know will have the customers that are your target market. The farmers market that we belong to is located in the same neighborhood as our retail shop; because of this, it was a good indicator of how the shop would be. The first six months at the market were hard, but now that I've been there for almost two years it is clear that it has been worth it in the long run.
Also, different farmers markets are run by different organizations (you pay the organization as well as the city) so if you sell at markets run by the same organization you can save on the overall cost. The difference between selling with retail partners and farmers markets is that farmers markets have seasons. You have to find out when the application process is for each market and each season. It's also good to introduce yourself to the market manager of the market you want to get into.
Finding A Business Location
Sydney: What was the process like landing a lease in a location you wanted for your store?
Mindy: I wanted to find a lease in the neighborhood I live in that was also close to our kitchen facility, so I did not use a broker. I had seen the for-lease sign up for a month or two prior to inquiring because I didn't know if it would be a good location.
The location is one street over from the retail shopping district so I was hesitant but took a chance on it because the price was right and it's at a busy intersection. I searched for three months before deciding on this location. Nothing was coming up on Clement Street (retail shopping district), and with the few that did either the location was too big, too small, or the lease was unaffordable.
As far as connections, I used my prior skills as a designer to design my own space, which saved me ten to fifteen thousand dollars in architectural fees. Plus I knew exactly what I wanted the interior to look like. I visualized the space in my head, put it to paper, and brought it to life.
Advice On How To Succeed At Kickstarter
Sydney: What are some things you've learned from the Kickstarter process? What advice do you have for other entrepreneurs who want to start a Kickstarter campaign?
Mindy: Research other companies' Kickstarter web pages that were successful and that are similar to your business. Read the Kickstarter statistics, for example: what is the best length for your video, what is the best amount of money to ask for in order to maximize donations, and types of rewards you can supply.
Secondly, treat your Kickstarter campaign as if your life depended on it. This is no time to be shy about asking everyone you know for help, especially if you have great incentives. The statistics say that only 50% of Kickstarter campaigns are successful. Make a detailed plan for your campaign. Have a list of various contacts or businesses who can help promote your campaign.
Make sure that you have a couple of connectors in your contacts who are able to assist you in spreading the word so hopefully they would tweet and facebook your Kickstarter process throughout the duration.
Another option is to have a Kickstarter party, which we did in our space prior to construction. You can offer extra incentives to people who Kickstart your campaign during your party. And lastly, if you can, get someone as a final backup who is willing to put in the last bit of money towards the end of the campaign.
Also, if kickstarter seems too daunting, there are other fundraising websites that you can utilize. I had a successful campaign with KivaZip. Rather than giving away products and services, KivaZip is a 0% community loan. Lenders have the opportunity to keep their money in KivaZip and lend to other businesses or take the money out when you finish paying them. A good amount of our KivaZip lenders were kind enough to also lend money through our kickstarter campaign.
Work-Life Balance
Sydney: How many hours do you work a week on average now and how has that changed over the years?
Mindy: I would guess that I work 75% less hours than I did back when I first started. I work about 50-60 hours a week now. I have two small kids and I make a conscious effort to make more time to be with my family.
People have personal bucket lists of things to do, but we have a family bucket list. We do frequent family get-aways as well as day trips that we take a few times a year. It's a great way to recharge yourself. Spending time off from work lets you reset, although spending that many hours with kids can be a different kind of headache.
Hiring Employees
Sydney: Any advice for small business owners and startups on hiring employees?
Mindy: I've had employees for almost seven years now. Because we are such a small operation I hire strictly by personality, not by skills.
The one piece of advice I heard from Mark Zuckerberg that I found interesting is that he only hires people he would want to work for himself. I'd have to agree. Hire people who want to help your business succeed as if they had a stake in it as well.
Advice On Marketing And Advertising
Sydney: What methods of advertising and marketing have you used? What has worked the best, the least and why?
Mindy: We use all areas of social media including facebook, twitter, pinterest, and instagram, as well as publishing our own blog (www.jadechocolates.wordpress.com). In the beginning, using paid-posts through facebook was great.
Recently, the same marketing has not worked as well as in previous years, largely due to the higher cost of ads and the fact that people are now so bombarded by ads on facebook. We also just put out a three-month ad in the local neighborhood newspaper so we are still analyzing its value.
We've found that the best form of advertising for us is participating in fairs throughout the city and selling our products to promote our shop. We also donate gift baskets and cater at events to a select group of non-profit organizations that we feel would give us the best exposure to our target market.
Tips On Entrepreneurship
Sydney: With the knowledge that you have now, what are some things you'd do differently in the first couple years of your business if you could do it all over again?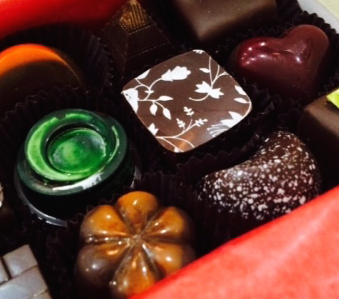 Mindy: If I had the time, I would work at least six months as an intern in another chocolate shop before I started my own business. In terms of running the business, I would seek help on the business side of things to ensure better management of money such as setting allotments of money for packaging, the website, photography, etc. rather than spending somewhat haphazardly as I needed these things.
Sydney: What are some of the best decisions you've made running your business that have contributed the most to your growth?
Mindy: At one point I hired a business coach, which helped me gain more insight as to the direction I wanted to go towards. Before hiring a coach, I just sold wholesale but then I began to diversify and started to sell in other avenues.
I started participating in farmers markets, festivals and events, started to do classes and small chocolate tastings, and co-promoting with other businesses with a similar customer base.
Sydney: How do you stay inspired and motivated?
Mindy: I love what I do. Being able to make chocolate that literally puts smiles on peoples' faces is the best motivation for me. I am able to watch how someone can transform their mood just by eating chocolate. It's a wonderful feeling.
Readers who visit the Jade Chocolate's shop in San Francisco on 4207 Geary Blvd before September 30th can get 15% off their purchase by mentioning this article. 
START YOUR PROFITABLE WEBSITE TODAY
Want to make more money and be more free? Work on building your brand by creating your own website the easy way with a WordPress site like mine through Bluehost for super cheap. You can register your domain for under $20/year and get hosting for only $3.49/month. Whatever your interests are, focus on building your skills and developing your own unique niche.
I've been blogging since 2010 and it has allowed me to break free from the corporate grind to travel, work from home, consult for companies that I like, and do so many more things I've always wanted to do but couldn't. The income is relatively passive as posts I've written years ago are still being found through Google and generating income. What's better than making passive income and creating a valuable asset you can one day sell for a multiple of annual income? There's not a week that goes by where I'm not thankful for starting this site!