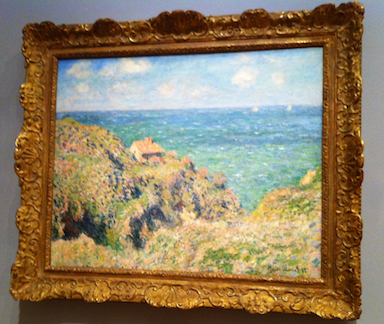 I LOVE art. Always have, always will! I wanted to learn how to make money as an artist so I used to sell my own drawings when I was a kid. I didn't make that much, and my family were my only regular customers, but I loved being able to use my imagination and create something of my own.
I entered all sorts of art contests and felt so proud on the couple occasions when I had some of my work on display for others to see. I also volunteered at a local art museum when I was a student and dreamed of getting paid to work at a famous gallery some day.
Want To Learn How To Make Money As An Artist? First It Takes Guts

But since I came from a lower middle-class family with parents who constantly fought about money, I had many doses of reality that slowly stripped away my lofty dreams of being hired by the Metropolitan or the Smithsonian museums. I decided I simply couldn't afford a career in the arts because statistics told me that I would most likely end up poor and struggling for the rest of my life.
I desperately wanted to be financially independent after college and didn't want to have to rely on anyone else to support myself. So I dropped my art history classes and switched to studying more practical subjects like statistics, accounting and business. Although I don't have any regrets in my career, I do sometimes wonder how my life would have been like if I'd had enough guts to take a shot at a career in the arts.
You May Not Get Rich, But You CAN Earn Money As An Artist
The good news is I think there are a lot more opportunities these days for students who want to pursue a career in the arts than when I was in college. Yes it is still extremely competitive and always will be, however there are a lot of advantages to the technology we have now to lead a successful part-time or full-time career as an artist.
There are even several people amongst my friends and family who are professional artists, and although I admit I had my doubts they would be able to survive earning a living through art alone, they have all managed to make it work. Granted none of them would consider themselves rich, and they have to cope with lulls between projects, but being able to earn even a modest living doing what they love has totally been worth it for them.
Forget Old School Marketing And Go With The New
Did you know that each year there are about 30,000 art students graduating each year in the U.S.? Unfortunately many of them do struggle to earn a living, but that's not because of  a lack of technical skills. Art schools are great about teaching students how to perfect their technical abilities. But what a lot of art students lack upon graduation are the sales, marketing, and business skills needed to start their own companies, sell their work, and get hired.
The old way of marketing as an artist was very externally focused and involved relying on patronage, sponsorship, galleries, and other gate keepers that determined who would be successful and who would be invisible. Times have changed however, and many artists now attest to taking a new approach to marketing that is much more self-driven and independent.
How To Make Money As An Artist The Unconventional Way
Chris Guillebeau of Unconventional Guides has a fantastic guide that I want to share with those of you who are interested in pursuing a career as an artist because it dives right into this new marketing approach. And it is helping many artists successfully pursue a real career as an artist without going permanently broke.
There are several featured artists in the guide that talk about first hand why it's beneficial to take your art into you own hands and pursue an inward focused marketing strategy. They've learned there are many ways to build connections and relationships yourself, and that it's possible to sell your art directly.
Thrive As A Working Artist: The Unconventional Guide To Art + Money

In the Unconventional Guide To Art And Money you'll learn how to:
Set prices that respect the value of your work and still cater to a wide range of buyers
Earn extra income by creating work that can be sold again and again
Draw new and repeat customers by connecting with cool people and telling stories
Expand your online presence without overwhelming yourself
Figure out your priorities and map out a personalized long-term action plan
What you'll get:
A 55-page PDF guide (15,000 words)
MP3 audio interviews with artists from around the world who actually make money
PDF transcripts of each audio interview
Continuing Email Updates for 6 months
Real life advice from painters, illustrators, photographers, and crafters
Money back guarantee
How much does it cost?
Starving Artist Version $39
Picasso Version $58 which includes 3 additional interviews
To learn more or make a purchase please click the banner below:

Now Take The Time To Soak In Some Art
Even if you're not an artist yourself, I hope you will still take the time to soak in some art at a local gallery or on your next vacation. I'm fortunate to live in San Francisco where there is a huge artist community and many incredible museums like the SF MOMA, The Asian Art Museum, The Cartoon Museum, Yerba Buena Center For The Arts, the de Young Museum, and the California Palace Of The Legion Of Honor.
If you're near Philadelphia I highly recommend visiting The Barnes Foundation. And a trip to New York isn't complete without spending a day at The Metropolitan Museum of Art, the Guggenheim Museum, Museum Of Modern Art, Whitney Museum Of Art, Museum at the Fashion Institute Of Technology, and The New Museum Of Contemporary Art.
Untemplaters, have you ever thought about a career as an artist? Do you know anyone who is a professional artist? How are the art programs at the schools in your area? Do you have a favorite art museum?
Copyright 2013. Original content authorized only to appear on Untemplater.com. Thank you for reading!