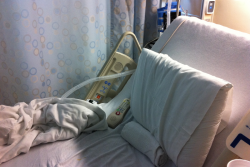 Today's post comes from a British reader and entrepreneur, Dan Ray, who is living an untemplate lifestyle after getting fired from his day job. Life can throw us unexpected punches, but people like Dan have learned how to fight back and make lemonade out of lemons.
Since the age of 8 years old, I have had kidney disease as well as diabetes. These are technically disabilities but I hadn't really been held back by them, just a yearly hospital trip to make sure things weren't progressing too badly.
In February 2008, aged 22, I was working for a large telecoms firm. As the only digital marketer on the team, I basically spent my days staring at a screen, optimising adwords accounts and running conversion rate optimisation split tests.
I was paid £17,000 per year (about $26,500 USD) and worked from 8:30 am to 5:45 pm; this is barely above minimum wage if you work it out hourly.
I was just a normal guy, I didn't hate my job, I actually quite enjoyed it. I had been working there for just over a year after graduating university.
And Then It Happened…
I woke up one day, and my face was ridiculously swollen, like seriously, I'm a skinny dude, and my face looked like a super fat guy, the same went for my ankles and toes.
I called in sick and went to the doctor. I already knew what he would say – my kidneys were not processing protein correctly and this was causing my body to retain liquid and all of the harmful stuff that usually comes out (albumin and potassium). The only way to get rid of these things is dialysis.
It wasn't too bad. I felt okay in general, but they put me on steroids and the side effects of these things are HORRIBLE. If you're interested, search for "prednisolone side effects."
Anyways, they made me feel terrible. I was tired, grumpy, putting on weight, losing my hair, along with about a bajillion other crappy things.
Needless to say, I started taking days off work, was late a lot, and was generally less productive. Basically I was a terrible employee and was eventually fired.
Skip Forward 7 Years
In 2014, aged 29, I made £191,000 (about $309,000 USD), doing the exact same things that I did in that job, just for lots of different companies.
I am still the same guy. I feel terrible a lot of the time, but the lifestyle I have created now allows me to take as much time off as I need and work on my own chosen hours, which are mainly between midnight and around 6am. Don't ask why; I just work better then.
Oh and did I mention I only work about 4-5 hours per day? And most of that is by choice. It was almost like I was Fat FIRE, or at least Lean FIRE, being able to do what I wanted.
So How Did I Do This?
Feeling terrible and without income after I got fired, I knew I had to be proactive and force myself to do something.
I realised that when I worked, I basically did the same exact things every time:
Run the same checks in Google Adwords every day
Split test the same elements on new pages
Use the same techniques to come up with content ideas
Follow the same steps to create contact lists for sites I wanted links on
And contact them in the same way etc., etc.
So I started by writing down exactly what I did for each of these things. I had 8 of these documents and created templates for the end result so that I could easily just go through my steps and change small things in the template as I went through them.
I knew that I could literally follow these steps and get the same results almost every time. And if I could, somebody else could do it on my behalf.
So the next day, 15th February 2008, I walked around my local city (Leeds in England) and took pictures of every single business sign that I saw with a phone number on it.
Then I went home, made a spreadsheet of all of the business – 36 in total – and started calling them. I simply told them what I could do and asked if they were interested. After this first day, I had spoken to about 20 business owners and generated over £5,000 (about $8,000 USD) per month in income.
One of these clients is still with me today and pays me much more than he started on.
For doing what? The same stuff I'd been doing in my old day job for years for a pittance in comparison. But I didn't really want to do it myself, and I knew that if I found the right people I wouldn't have to.
So I posted some job ads and hired some enthusiastic university students who wanted to make some side money.
I met them in person and tried to get a handle on whether or not they could follow instructions and if they seemed like they were reliable and motivated enough to implement my strategies consistently and without cutting any corners.
It took some time to find the right people, and a lot of me stepping in to make sure things were done right, but once I did, it was a finely oiled machine that is constantly being improved, evolving and just generally getting better.
This is of course a simplified overview of the process I went through, but you get the gist:
I got fired.
Started doing the same job for small business owners.
Automated the fulfilment process as much as possible.
Then hired the right people to do it for me.
Now I pretty much live the definition of an untemplater lifestyle. I don't live abroad or travel to super cool countries every other week. I don't eat caviar off of a black rhinos horn, but I do have the freedom that I need due to my disabilities.
I am pretty much out of the rat race and I can pretty much do what I want (once the restrictions of my illnesses are taken into consideration) and probably the most attractive part of my life is the fact that I don't have a boss.
All because I have essentially turned the job I used to do into scaleable products that can be followed by pretty much anybody.
Recommendations
If you're interested in entrepreneurship and becoming your own boss, check out the below resources to get started.
Take a free mini course on how to create your own online store – If you've been thinking about starting an online business, you should consider starting an online store. Check out Steve Chou's free mini course on how to get started creating a profitable online store. If you sign up for the full course later you'll get access to over 70 hours of step-by-step videos instruction that guide you through the entire process.
Try your hand at freelancing – Motivated to become a freelancer full-time or just want to make some extra cash on the side? The possibilities are endless! If you're a creative person, it can be quite profitable to learn how to sell your products. Like to write as much as I do? Find out how to get published, earn money as a writer, and have flexibility and fun working on the road. You can also work on building your brand by creating your own website the easy way with Bluehost for super cheap. Whatever your interests are, focus on building your skills and developing your own unique niche.
Break free! If you're burnt out of your day job, believe that you have options and can turn your career around. I didn't believe I could escape for the longest time, but fortunately I wised up before I destroyed my relationships with family and my health. I never would have thought I could negotiate a severance package and get paid to leave a job I grew to hate, but I did! Learn how you too can get paid to leave your job like I did and open your eyes to new opportunities.
Untemplaters, have you or a loved one ever lost a job due to a disability or a health issue? What actions did you take to cope and push through?