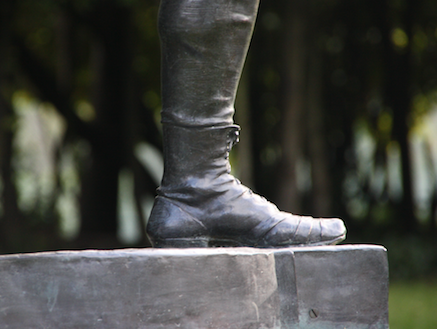 A few weeks ago I went out for drinks after work to meetup with some local bloggers and entrepreneurs.  I had been debating back and forth whether or not to go out or not since I've been on the road so much lately and am usually completely zonked after being at the office all day.  In the end I downed a cup of coffee, grabbed my wallet, and headed out, which I'm super happy I ended up doing because I had a blast and met some very cool people.
One guy I had the pleasure of meeting is Ryan Ferrier of Bootstrap My Life, an entrepreneur who knows first hand that "radical professional (and personal) transformation is possible."  Ferrier found ways to change his life completely around for the better and is a perfect example of how rewarding and fun it can be to have an untemplate lifestyle.  He went from being unemployed to becoming an internet executive in only four years without an MBA or an IT background!
Ryan Ferrier has hired hundreds of people in his experience as a startup operator and executive and did you know that he was a cofounder or early team member at 3 successful startup companies, AND that his companies were acquired by Microsoft and Zynga?  How sweet is that?!  Ryan is a wonderful inspiration and I'm happy I get to share some insights into his story with you this week.
Sydney: Did you always imagine you would become an entrepreneur growing up?  Why/why not?
Ryan: Not at all. I thought I was going to be a school teacher or a pastor. I never really thought of myself as the business type. I've always really liked connecting with people and communicating – whether it be through public speaking, writing, or leading groups.
Turns out, though, that all of those skills are *really* helpful in business – particularly connecting with people and being able to navigate complex interpersonal situations.
Sydney: What was the first thing you did after college? Did you jump into cofounding startups right away?
Ryan: Nope. I did an internship with a program called Mission Year.
As a part of the program, I moved into a low-income neighborhood in Oakland where I worked with a couple of non-profits. The purpose was to connect my new neighbors to existing services that they could benefit from.
I spent my time connecting with with teens and twenty somethings, most of whom were dealing drugs. I mainly just made friends with them and tried to help them find jobs off of the streets.
The two years I spent doing this work changed my worldview dramatically. I can't say that I was the world's best social worker, but I made a bunch of new friends who taught me a ton about life.
Sydney: What are some of the funniest stories or responses you've had in your recruiting experience?
Ryan: Some of my funniest, oddest conversations have been trying to convince an engineer's spouse (not the engineer) why my startup was a good fit for their family.
Often an engineer will get excited about joining the company, but their spouse will wonder why the engineer doesn't choose a bigger, more secure company.
I've had to read a spouse our company's bank balance to prove that yes we had money in the bank for paychecks.
Sydney: What type of work experience is in the most demand at startups right now in Silicon Valley?  Entry level, 3-5 years experience, 5-10 years, MBAs, what type of undergrad degrees?
Ryan: Without question, engineers. There are new startups everyday, and they all fight for the best engineering talent.
As well, startups are beginning to do more email automation for their sales and marketing. So talented, metrics-oriented marketing people are also in demand.
Finally, I think there is a sort of "backdoor" into a Silicon Valley tech company for those that are on the non-technical side and don't have an MBA.
Every startup needs someone to keep the company running and do all of the dirty work, from filing to setting up payroll and benefits, to coordinating between groups.
The position might be called Office Manager or Operations Manager or even Executive Assistant.
It's a good way for a non-technical person to sneak into a startup and work their way up the business side of the company. In fact, that is the route that I took.
As far as years of experience, a lot of start ups skew towards those with less experience. People who are earlier in their career can usually afford more risk and are generally more willing to take a lower salary in exchange for equity in a company.
Sydney: When do you think a small business should hire contractors vs employees?
Ryan: My approach is to start with less commitment on the company's part and increase that commitment both as the company develops and as you get to know someone better.
Given the option of filling a role with a consultant or an employee, I would start with a consultant if possible. If after a few months it is clear that this is a full time need then you could hire an employee – perhaps, even hire the person that has been consulting for you.
That said, be very careful of how you classify people. If someone is acting like an employee, but you are paying them as a consultant you can get in trouble with the IRS and the state because you are essentially avoiding paying taxes for that person.
Signs that someone might be classified as an employee:
– they work out of your office using your equipment
– they work only for your company
– they have little autonomy over the work they do and their schedule
– Here's what the IRS has to say about it: www.irs.gov/pub/irs-pdf/p1779.pdf
Sydney: What are the most common fears people have in switching careers? How often do you think those fears actually happen?
Ryan: That they'll never be able to find a job in their new career. Or if they are starting their own business, that they won't be able to get their business off of the ground.
Honestly, I think both happen frequently. It is often difficult to get that first job in a new career, and it is certainly difficult to get a small business off of the ground.
Making a switch will be difficult. That is why people fear it.
That said, I think people over-dramatize the a worst case scenario. If you can't find a job in a new career or can't get your business off the ground, it is not the end of the world.
Normally, if people have to, they can jump back into their previous career in some form or another.
As well, people are far more resourceful than they give themselves credit for. I have noticed that the people who just continue to show up eventually break through and land a job or get their business to work.
And once people have a breakthrough, it's off to the races. Often the outcome looks different than what was originally envisioned, but that's part of the fun.
Sydney: Do you have any interest in working full time at a corporate job later on?  Why/why not?
Ryan: Timely question. I've actually recently entertained offers at a couple of companies, including a cool opportunity at Facebook.
In the end, though, I decided to keep going with my startup and small business coaching practice. I'm just too passionate about it, and I'm having too much fun building it.
The question that I asked myself that sealed the deal on my decision was actually one that I got from Marie Forleo:"In ten years will I regret not taking this opportunity?"
The answer was "Yes" when I thought about building a coaching practice, and "No" when I thought about joining another tech company.
It's still a bit scary because I've given up greater security for an uncertain future. But in the end, it's a win because no matter the outcome I've minimized my chance of regret.
Sydney: What was the hardest thing about becoming an entrepreneur?
Ryan: I never really thought about becoming an entrepreneur. It just happened, so for me it wasn't a quest.
Whether it be moving to a low-income neighborhood on purpose or starting a gaming company or becoming a small business coach, I just seem to always follow my gut.
Still, oddly enough, other people's approval is really important to me – especially family and friends. So for me, it's hard when friends and family question why I insist on doing such non-traditional things for work.
For the most part, my closest family and friends have resigned themselves to the fact that I am professional oddball. It's crazy though that to this day when folks question the path that I am taking, I get struck with a deep sense of insecurity.
I'm getting better at not giving such priority to other people's approval, but it's still a struggle.
Sydney: And what has been the most unexpected thing about becoming an entrepreneur?
Ryan: That I would have ended up working in technology. In high school, I used to hand write my papers to avoid using a computer. After my freshman year in college, I got rid of my personal computer and just used the computer lab.
I've gotten better with technology but it's certainly wasn't in my DNA.
** Check back later this week for more on Ryan's entrepreneurial journey!  He'll be talking about his experiences when his companies were acquired by Microsoft and Zynga.  Plus for all of you current and future small business owners out there, Ryan will also cover 5 key tips for a successful buyout which you don't want to miss!
Untemplaters, what types of transformations are you hoping for in your life?  What fears do you have about switching careers?  Got a question for Ryan – leave a comment below!