In early 2015, I purchased How To Engineer Your Layoff: Make A Small Fortune By Saying Goodbye written by Financial Samurai, and it changed my life for the better, forever. It was the best purchase I've ever made, and has returned at least 1,500 times more than the cost. Here is my story of how I negotiated a severance after reading Sam's book.
When it was time for me to get promoted in early 2014 I was passed over for two male colleagues. One guy was a slacker 80-90% of the time and the other guy always talked about how unsatisfied he was at the firm. Both of them were slightly older than me, but I had the same amount of experience. I had been at the firm for eight years and was finally pissed off enough to do something about my situation.
I wasn't willing to stay late and deal with PITA clients any more. Reading How To Engineer Your Layoff gave me the motivation and confidence to take matters into my own hands.
How To Engineer Your Layoff Severance Plan
Here are the key steps from the book that helped me negotiate a great severance.
Step #1: The book taught me what my true worth was at the job. I calculated how much money my employer believed I was worth. Then I calculated roughly how much productivity and revenue my employer would lose if I left.
Step #2: After reading the book and knowing my worth, I had a meeting with my bosses to express my shock and disappointment and getting turned down for the promotion. I implied that if they did not promote me mid-year, I was gone. My bosses were surprised, which was a bad thing because I hadn't properly managed their expectations. But I got my feelings out in the open.
I played chicken with the firm, knowing they would swerve in the final seconds because I was the point person for several major clients. Nobody else had the relationships I had built or my expertise and skillset. If I left and pulled the rug out from under them, they would be screwed by more than 10X my salary in lost revenue.
Six months later they agreed to promote me and give me a 20% raise. Better late than never. Management realized their mistake in passing me over earlier and were quite apologetic.
Step #3: I felt great finally getting the promotion I deserved, but I had no desire to go to the next level. I saw the stress and unhappiness my bosses went through every day and I didn't want that. With this decision, I had nothing to lose in my severance negotiation.
Step #4: Work continued to stay stressful, a lot of people kept quitting, and the same old $h1t kept weighing on me. After hitting a wall after a really bad slog of days, I decided it was time to make my move. Five months after my promotion (11 months after I was first passed over), I sat down with my bosses and asked for a severance equal to what some recent employees had gotten when their department shut down. My managers balked, as expected, given I had recently gotten promoted and was an excellent performer. But I'd had enough.
About a couple weeks went by before they realized I was dead serious about leaving. My heart was no longer into the job and they recognized something had to be done. They knew they had messed up by not promoting me earlier in the year. At the same time, they needed to keep me. Millions of dollars in revenue and months of lost productivity was at stake if they lost me. It would take months for them just to find and train my replacement.
We had another meeting about what they could do to make me happy. They implied I would get another 20% raise in the new year. I told them there was nothing they could do. Even a 50% raise wasn't going to keep me motivated because I no longer enjoyed the work and didn't fully trust management to promote people based on a meritocracy. I reiterated I wanted a severance, and they told me they'd get back to me in a week.
My Initial Severance Offer
A week passed, and we had another meeting. All this while, I continued to come in on time, but left right when the clock struck 5pm. I was always courteous to my colleagues, but I no longer put in more effort than expected. After years of going above and beyond, just doing the normal felt strange but also wonderful. Good behavior during the severance negotiation process is important so I remained professional and courteous.
Management decided it was best to pay me a severance and arrange some type of long-term transition so that everybody would win. Having someone in a seat who doesn't want to be there would bring morale down after all.
Here's what they initially came back with:
* Three months base salary (the actual severance lump sum payment)
* All my vacation days paid (required by law).
* Six months of free health insurance.
* Stay for six more months full-time
After 9.5 years of working at the firm and after reading How To Engineer Your Layoff, I knew their initial offer was weak. I should have gotten at least two weeks of pay per year worked.
I tried our best to negotiate a higher severance lump sum, but I was working at a private company that was on the decline. They refused. They said they were handcuffed by headquarters based in Europe.
Step #5: The only logical next step was to get creative. This step is where many severance negotiators fail, but where readers of Sam's book tend to succeed.
Given my firm wouldn't budge on the lump sum severance payment, I proposed a compromise for the remaining six months of full-time work requested.
Instead of coming in five days a week, I went back and said I'd be willing to come in two days a week and work from home one day a week. Further, I would no longer have to interact directly with clients, which was the main stressor of my job. During my remaining time, I proposed to train other people to fully take over all aspects of my job and get paid my FULL salary.
After another week of deliberation, they said yes! They were afraid I'd quit and leave them high and dry. They needed me to manage my large clients until they found capable replacements.
By working 40% fewer hours and getting paid the same, I got a 67% raise for six months. In other words, the value of my severance package increased by over $85,000. Not only was I getting another six months of full company 401k matching (worth $9,000), I got to accumulate 15 more days of paid vacation (worth $7,800), and continued to receive health care insurance.
What's even better is that I LOVED my last six months at the firm! With the stress of dealing with clients gone, every day I went to work felt like a casual get together. The responsibility was on my managers and trainees. I came home with a big smile every day for six months.
When I finally left, I felt like I had won. Not only had I gotten a raise and promotion, I had been able to get a severance and also feel vindicated. They threw me a good-bye party at the end, I left on happy terms, and I still remain in touch with my bosses.
Total value of my severance package: ~$140,000, up from the initial $40,000. Cost of the book, $75 after the $10 discount code. This is the best investment I have ever made.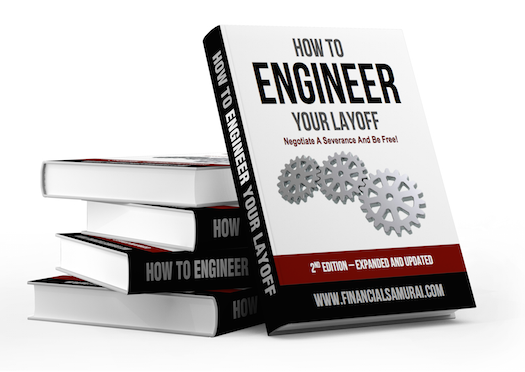 Life After A Severance Package
After leaving my job, I traveled to 20 new countries with my husband for two years. Then I became a mom in 2017, which was the best gift of all. I cannot believe my good fortune to have stumbled across Sam's book. There is literally no other book like it in the world.
I thank my lucky stars every day I get to be a stay at home mom. Not having to commute to and from work makes me so incredibly happy. And to spend every day with my son and experience every single milestone with him is priceless. It would have broken my heart if I had to part with him after just three months of maternity leave.
If you are miserable at your job and are ready to leave, there is no downside in trying to negotiate a severance package. I highly recommend you buy: How To Engineer Your Layoff: Make A Small Fortune By Saying Goodbye. It changed my life!
The following two tabs change content below.
Hi there, I'm Sydney! After ten crazy years, I left a grueling six-figure job in 2015 for a better life. Now I spend my days writing, freelancing in various capacities and finding new ways to stretch my brain. I'm crazy about photography, gadgets, traveling the world and stopping to smell the roses. Untemplater is where I share my insights and adventures with the world. I'm continually motivated to write and evolve in hopes that I can help others improve their lifestyles, careers, wealth and happiness. Every day is a gift! Be sure to check out my
how to start a blog
and
Untemplater recommendations
pages. Thanks for reading!