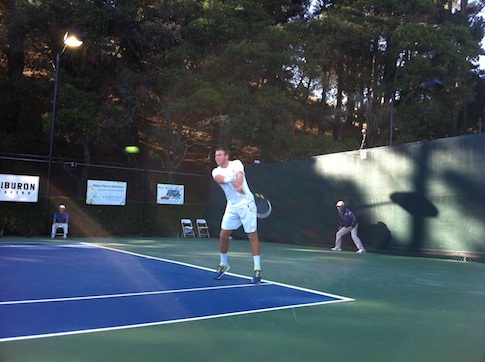 Ever since grade school, we've been encouraged to play sports or musical instruments as part of our learning process. When all we wanted to do was hang out with friends before doing our homework, some of us had to spend another two plus hours practicing after school. The idea is to be as well-rounded as possible so we can go to the best colleges and therefore get the best jobs.
I disliked practice because my tennis coach made us run twelve laps around the track after we spent two hours hitting. By the time I got home at 6pm, I was exhausted. Homework would easily take another three hours to complete, leaving no time for BBSing and goofing off with friends.
Despite all the hard work, captaining the team to the district playoffs was one of the most rewarding experiences ever. As an adult, I have a natural affinity for those who still play sports now. We know what it feels like to practice so much only to lose a critical match. At the same time, we know the addictive feeling of winning.
After spending the past 12 years interviewing candidates for six figure salary positions, I've come to the conclusion that those who play a sport or a musical instrument are much more likely to get hired and thrive.
WHY PLAYING A SPORT GETS YOU HIRED AND PAID
1) You are likely an optimist. No manager wants to hire a pessimist. Pessimism spreads like a virus, easily bringing down moral. Pessimists complain all the time at the water cooler spreading gossip and talking behind peoples back. When you compete in sports, you are an optimist because you must believe you will win. A large part of competition is in your mind. Those with the strongest minds have the highest chance of pulling things through.
2) You are a team player. You can be as talented as Lebron James, but if you don't get your teammates involved, you will never win. One man against five is a losing proposition. You understand your teammates strengths and work to figure out optimal solutions.
3) You know what defeat feels like. No matter how hard you try, losing is inevitable. But, because you love to play the game, you always come back for more. The more you lose, the harder you try. You never take your victories for granted because you never know when you will win again.
4) You are a fierce competitor. Business is competitive. The ones that succeed have the best ideas, persevere the longest, and consistently execute. Every manager wants to have someone who is going to keep fighting until the end. As a competitor, you are ready to take on any challenge, no matter how large.
5) You display good sportsmanship. In order to love the game, you must respect the game. Good sportsmanship is as important as winning. You understand your opponents try just as hard. When you win a tight battle, you have even more respect for your adversary. Look at boxers hug after trying to beat the crap out of each other as an example.
BONUS: If you are really good, you'll have easier access. If you so happen to be a varsity athlete in college or an ex professional, your doors will swing wide open. Being really good at a sport allows you direct access to people way more senior than you.
ADDITIONAL BENEFITS OF PLAYING SPORTS
1) Boosts your self-esteem. When you see hard work pay off, your self-esteem gets a boost. You start believing that good things happen if you put your mind to it. Overcoming adversity makes you a believer.
2) Better fitness. It might be a default assumption that we all get fat and grey as we age. However, that's not necessarily the case if you play sports. Because you know what it's like to be fit growing up, you do marginally more than your sedentary friend who has never competed athletically.
3) Better love life. With higher self-esteem and better fitness comes a selection of more attractive and positive partners. Let's not deny that we'd all rather be intimate with an attractive, in-shape person than the contrary. Whether the relationship lasts is another matter.
4) More friends. Sports is a social activity. At the very least, you have one person you're playing against. At the very most, you may have dozens of teammates on your softball, soccer, or flag football team. The more you play, the more friends you'll make.
5) Higher chance of succeeding at other things. People who play sports are able to leverage their skills to excel at other things, not just work. The formula for success is almost always the same: hard work, practice, failure, perseverance, luck, and more hard work.
DOING ANYTHING COMPETITIVE THAT TAKES PRACTICE
You don't only have to play sports to stand out in the hiring process. You can play a musical instrument, act, or sing. Anything that takes putting yourself out there is what companies love to see. Nobody expects you to become a professional. What employers do want to see are candidates who have a passion for something that leads them to put in countless hours of practice in order to succeed.
Whatever you do, don't do nothing! You don't want to be the person who comes out of school with mediocre grades, who doesn't excel in any extracurricular activity. At least speak another language fluently. Even those who have straight A's aren't very attractive candidates if they don't do other things.
If you have kids, teach them how to compete through sports. If you're an adult, pick up a sport as a hobby and train to get decently good. There is a huge community of players and sports fans out there who will immediately connect to your talent. Some of them just might be in a position to determine your future!
Untemplaters, do any of you play sports? Have you noticed that those who play sports or have other talents tend to excel in the workplace? Do you think it is a coincidence that so many CEOs, Presidents, and political leaders played varsity sports or musical instruments?
Photo: Jack Sock hitting a one-handed backhand at the Tiburon Challenger, 2012. SD.
Regards,
Sam
Copyright 2012. Original content authorized only to appear on Untemplater.com. Thank you for reading!