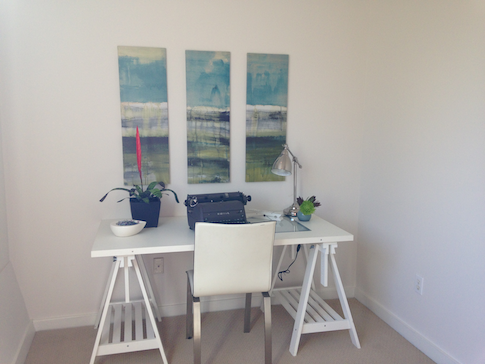 I recently started setting up a new home office and am loving my space. I do a lot of writing as you can imagine, and I've come to realize that I'm a lot more productive in my new home office space. Before I had a desk that was too big and often ended up writing in bed or on the couch. Even if you don't work from home much or at all, it's still really nice to be able to have your own home office space to pay bills, write emails, update your budget, easily keep track of your finances, and work on side gigs (check out these 90 fun and practical side hustle ideas).
What Products Do You Need In A Home Office?
The Bare Essentials Products For A Home Office
Start with the bare bone essentials, which are a desk, ergonomic chair, a computer (or tablet), and adequate lighting. It makes a big difference what type of furniture you pick, because if your desk or chair aren't sized well for your frame and working needs, you're going to get frustrated quickly. Just because a piece of furniture looks cool doesn't mean it will function well for you, and you don't want to waste your money.
Here are some examples of home office furniture to get the basics crossed off your list.
Simple Desk: I have a desk just like this. It doesn't take up a lot of space, has a nice wide drawer, is affordable, and has clean lines.

Ergonomic Chair: There is a huge range of chairs out there, but you don't have to spend a fortune to get a comfortable chair. Most importantly is to find a chair that is the right size for your frame. A cheaper chair that is sized right will do you way better than a super expensive chair that is too big or small. A kneeling chair is a unique ergonomic shape that is a lot more comfortable than it looks.

Computer Or Tablet: I'm an Apple fan for life, and have separation anxiety with my Macbook Pro. One day I may splurge on an iPad, but my MBP is holding up just fine. Apple products are expensive, but their computers are worth every penny in my experience.

Practical Home Office Accessories That Won't Break Your Budget
Once you get the basics down, it's time to add some key accessories. These practical accessories generally aren't very expensive and can increase your productivity, comfort, and ability to stay organized. Depending on the type of work that you're planning on doing, you can pick and choose which products will give you the most bang for your buck. It's better to start off with less than to overspend and get stuck with a bunch of stuff you don't use that takes up valuable space.
Here are some of the best products for a home office that I've used to accessorize my space.
Surge Protector With USB Chargers: You can never have too many outlets these days. Protect all your devices with a surge protector. This model comes in a cool shape that also includes 2 USB ports and a handy six foot cord.

All In One Wireless Color Printer/Copier/Scanner/Fax: I have a junky HP printer/copier/scanner that it on its last legs. The wifi on it doesn't work and it makes the most awful noise when it's scanning. I have my eyes set on a fancy new all in one machine like the below, which has strong ratings and isn't too expensive.

Theracane: I had no idea what the heck this thing was when I first saw it, but I can't go without one now. The Theracane is a super handy way to apply pressure and massage any knots, tense muscles, and aches in your neck, back, and shoulders. You can also use it on your legs, but I find it the best on the back. Working can get stressful, and back pain often results as a side effect, so having a Theracane handy can be a lifesaver.

More Home Office Accessories:
High Speed Wireless Router
External Hard Drive Storage
Bookcase
Filing Cabinet
Footrest
Post-it Holder
Pen Organizer
Peel And Stick Envelopes
Desk Lamp
Label Maker
Luxury Products For A Home Office Splurge
After you've purchased your core products for a home office, test things out for several weeks. Make a list of things you'd like to add and give yourself time to decide if you really need them or not. We all end up battling clutter in our lives, so try to avoid it before it accumulates and think before you spend on that next product.
If you're doing well at your job and you've recently got a raise or reached a milestone in your own business, then you could consider getting a luxury product for a home office splurge. You'll just want to ask yourself if that luxury item is really worth the money, and won't distract you from your laser focus or tempt you to start slacking off.
Here are some luxury home office products you may consider buying when you hit it out of the park.
UComfy Leg, Foot, and Ankle Massager: I splurged on one of these earlier this year and am totally in love with this thing! My chair and desk are sized just right that I can fit this underneath my desk and get a massage while I work. It is super addictive and a nice motivator for me to sit down and get some work done.

Shiatsu Zero Gravity Massage Chair: This bad boy might be a bit ugly looking, but it is unbelievably the most amazing chair you'll ever sit in. I demoed one of these at a store once and didn't want to leave the store.

Falling Water Wall Feature: Imagine enjoying the relaxing sound of flowing water as you type away on your projects. There's something soothing about the sound of water that helps me focus and let go of stress.

Tax Tips For A Home Office Deduction
After you get settled into your home office, don't forget to check if you can benefit from a tax break. As you may know, claiming a home office tax deduction on your tax return is one of the most common triggers for an audit. But you shouldn't avoid claiming a deduction entirely just to avoid the risk of audit if you're actually legitimately using a home office. To qualify, keep in mind these tips and guidelines for a home office deduction:
The space must be regularly and exclusively used for business and not for other activities.
If your home office space is used to store samples or inventory, the exclusive use rule doesn't apply.
And if you're running a daycare business, the exclusive use rule also doesn't apply.
The type of space and its purpose for your business also have an impact on how the IRS determines if your home office is qualified or not.
Standalone structures like a garage, studio, or shed qualify the easiest.
Whatever space you claim, it must be used as your primary place of conducting business.
Take a picture of the space so you have a record of it in case you move and get audited later on.
Ask yourself if you use the space to meet clients and customers, conduct managerial tasks, and perform administrative work. If that's typically done elsewhere, you likely will not qualify.
The space must be used not for your own convenience, but for the convenience of the business unless the business is renting the space from you as a homeowner.
Identify direct versus indirect expenses to your home office. Expenses that are direct only affect the home office space, ex. buying a chair for your clients to sit in. Indirect expenses are shared across other areas of your home like utilities.
Use the square footage of your home office vs the entire property to calculate the percentage portion of indirect expenses you can claim on your home office.
The IRS started a simplified optional deduction in 2013, which is capped at $1,500/year (based on $5/square foot for up to 300 square feet).
START YOUR PROFITABLE WEBSITE TODAY
Want to make more money and be more free? Work on building your brand by creating your own website the easy way with a WordPress site like mine through Bluehost for super cheap. You can register your domain for under $20/year and get hosting for only $3.49/month. Whatever your interests are, focus on building your skills and developing your own unique niche.
I've been blogging since 2010 and it has allowed me to break free from the corporate grind to travel, work from home, consult for companies that I like, and do so many more things I've always wanted to do but couldn't. The income is relatively passive as posts I've written years ago are still being found through Google and generating income. What's better than making passive income and creating a valuable asset you can one day sell for a multiple of annual income? There's not a week that goes by where I'm not thankful for starting this site!