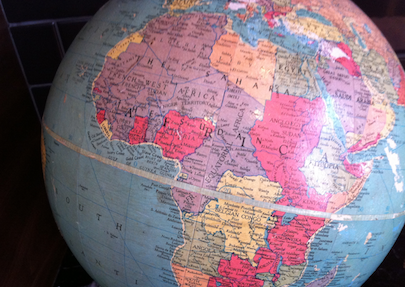 In the public school system where I grew up, we were required to learn a foreign language starting in the 7th grade. I remember looking forward to middle school for this very reason because I've always found linguistics fascinating! Perhaps it was also my nerdy nature and fascination with travel and trying to understand how people communicate abroad.
While my friends were complaining about having to learn a foreign language and trying to pick the easiest "A," I was secretly wishing I could sign up for all of them! Now let's explore the best foreign languages to learn for an untemplate lifestyle.
Can You Name All Of The Official Languages Of The UN?
We all know that English is widely spoken and used in many international events and corporations. But we easily forget and overlook how many millions of people don't speak English at all or learned it as a second language.
So, can you name all of the official languages of the UN? I'll give you a hint, there are six total. The first four are not too hard to guess: English, Spanish, French, and Chinese. The other two may surprise you: Arabic and Russian.
The Best Foreign Languages To Learn For An Untemplate Lifestyle
The number of bilingual people continues to grow. In the last US census, over 20% of people at the age of 5 or older reported speaking a language other than English at home, Spanish being the highest. Here are the best foreign languages I think you should consider learning based on the number of native speakers, career opportunities, and cultural awareness. I also took into consideration the amount of people who speak English as a second Language (ex. I excluded Hindi since many Indians speak fluent English and Hindi is only native in India).
Spanish:
There are approximately 405 million native Spanish speakers, roughly 6% of the world population. It's the most common foreign language studied in the US and is growing in popularity. Reasons include the attractiveness of affordable retirement in Spanish speaking countries and the economic growth of Mexico, Chile, Columbia, and Peru.
Countries where Spanish is widely spoken: Mexico, El Salvador, Dominican Republic, Argentina, Cuba, Chile, Columbia, Costa Rica, Honduras, Uraguay, Spain, Venezuela, Puerto Rico, Ecuador, Nicaragua, Panama, Bolivia, Peru, Guatemala, Aruba, Paraguay, Andorra.
Mandarin Chinese:
Approximately 1.6 billion people are native Chinese speakers, roughly 1 billion specifically in Mandarin. That's about one-fifth of the world population! There are many different Chinese dialects, and if you're going to study Chinese you're best off learning Mandarin. China continues to develop and almost every large corporation does business with China.
Countries where Mandarin is widely spoken: China, Taiwan, Malaysia, and Singapore.
Arabic:
About 300 million people speak Arabic as their native tongue, ~4.5% of the world. Arabic also has many dialects and is written from right to left. The word order is also "backwards" compared to English with verbs coming at the beginning of sentences, and adjectives coming after nouns.
Countries where Arabic is widely spoken: Lebanon, Qatar, Jordan, Bahrain, United Arab Emirates, Kuwait, Libya, Oman, Saudi Arabia, Syria, Tunisia, Iraq, Comoros, Algeria, Morocco, Sudan, Egypt, Yemen, Somalia, Djibouti, Mauritania, Turkey, Iran, Israel, Niger, Chad, Mali, Eritrea, Palestinian National Authority.
Learning Languages Of The World Breaks Barriers

So far, I've studied five foreign languages: German, French, Spanish, Chinese (Mandarin), and Japanese. And I hope to continue learning more. While I can't label myself as fluent in any foreign language, I've found it really rewarding knowing the fundamentals of multiple languages. I love being able to recognize what languages people are speaking even if I don't understanding what they're saying.
Currently I'm able to identify all of these foreign languages when spoken: Arabic, Cantonese Chinese, Dutch, French, German, Hindi, Italian, Japanese, Korean, Mandarin Chinese, Mongolian, Portuguese, Russian, Spanish, Tagalog, Turkish, and Vietnamese. One of the main reasons I can identify so many languages is because I've had many international colleagues and friends over the years, plus I've been fortunate to have traveled to a lot of places. Being interested in foreign languages and other cultures has really enriched my life and broken a lot of barriers.
The Rewards Of Connecting With Locals When You Travel
A lot of people are scared to try and speak a foreign language when they travel because they're scared of forgetting what to say, or pronouncing something totally wrong. Trust me, I've been there! But with practice and a little courage, I was able to speak some French in Paris and Belgium, German in Northern Germany, Japanese in Tokyo, and Spanish on my tour of the Yucatan in Mexico. Even just a few words like "hello" and "thank you" can go a long way, and the locals really do appreciate you trying.
You can even use foreign language skills right in your backyard. I live in San Francisco, which is a diverse city and on several occasions I've been able to use my knowledge of French, German, and Chinese to communicate and help people. I've given directions to foreign tourists when they're lost, and even helped a Chinese woman with her English homework at a train station once.
You're Never Too Old Or Too Far Away
I think the best time to learn a foreign language is as a young child. Our memories are super sharp, our voice box is still developing, and we're like tiny little sponges. But we can still pick up new languages as adults. We just have to be patient and persistent. There are plenty of free apps, podcasts, word of the day emails, and learning programs that make it easy to pick up new phrases and words.
Public libraries are great resources too. I can't even count how many times I've checked out foreign language CDs, videos, and books. And even if you don't have the means to travel overseas right now, it's easy to communicate and practice foreign languages over the internet. You can also install software that lets you type in other alphabets and characters. It's pretty cool how technology gives us so many ways to learn and communicate.
Untemplaters, were you required to learn a foreign language in school? Which did you pick and why? Did any of you learn English as a second language? Have you used what you learned in your travels or career? What do you think are the best foreign languages to learn for an untemplate lifestyle?
Copyright 2013. Original content authorized only to appear on Untemplater.com. Thank you for reading!