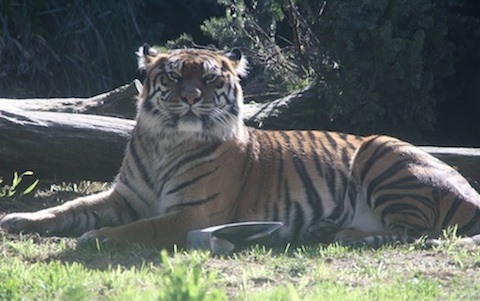 I love hearing stories about people who undergo radical career and lifestyle changes to follow their dreams and desires for a change of pace, or simply just to survive and put food on the table. Some go from desk jobs to become rescue workers, others leave legal jobs to teach children, and a few go from working behind a computer to helping save animals. Whatever the case, it takes guts and a lot of sacrifice to make any type of major change. Would you risk everything to start a new lifestyle? Not everyone is comfortable that type of pressure. But Benjamin Mee is one of those people who took huge risks to start a new lifestyle and today I want to share his story with you.
A Diamond In the Rough
Earlier this winter I was on a transcontinental flight and wanted to pass some of the time watching a movie. Since the flicks were all free, I wanted to pick something that I normally wouldn't pay to see. Maybe that sounds like backward logic to you, but I've always done that on flights.
To me there's no downside because if I don't like how the movie is progressing, I can simply shut it off and start a new one with a few quick clicks. And it seems more often than not, I end up loving these movies that I otherwise never would have spent the time to watch.
The movie that I chose on my last flight was We Bought A Zoo starring Matt Damon and Scarlett Johansson. The first thing that came to my mind when I was the film in the catalog was "Wow what a boring name for a movie!" But having a soft spot for animals, I quickly read the description and was intrigued to learn that the movie is based on a non-fictional book with the same title, a true story written by Benjamin Mee. I clicked play and I was instantly hooked.
The Pain And Inspiration Of True Stories
The basic plot of the movie We Bought A Zoo is about a life changing period in Benjamin Mee's life as a single father raising 2 kids after his wife passes away from cancer. He relocates his grieving family to the sticks and buys an abandoned zoo. Not knowing a thing about animals, but desperate to save them from being euthanized and finding a better place to raise his kids, it's there the adventure begins.
While there are some elements in the movie that are different from Benjamin's actual true story, (ex. the movie takes place in California instead of England) the underlying themes are the same: family troubles and triumphs, financial struggles, chasing dreams, and love. And I found myself rooting for the Mee family and the Zoo throughout the entire movie.
Risking Everything And Coming Up Short
As you can imagine, buying a neglected zoo is a huge undertaking, and not a simple transaction that can be completed overnight. In real life, Benjamin and his siblings were trying to find a large house for their mother and extended family to relocate to after their father passed away. The Mee family's initial bid to buy a dilapidated 12 bedroom, 30 acre property (with 200+ animal residents) in Devon, England was denied because they lacked sufficient financing and had zero experience running an animal park. Hard to blame the sellers and the bank on that.
However, a year later the property was still without new owners and when Benjamin found out it was back on the market his heart started racing. This time, if a buyer wasn't found within a few weeks all the animals would have to be put down and he couldn't bear the thought of that happening.
Benjamin writes, "I dropped everything and focused on overcoming every obstacle between us and the park. It was a long haul, dealing with bankers, lawyers and mortgage brokers. Bridging loans were arranged and withdrawn, but the owner held on as we were the only bidders who would keep it as a zoo." In all of this commotion, Benjamin also had to face a lawsuit by one of his brothers, Henry, who was trying to prevent the sale from taking place. I can't imagine how hard that must have been.
Embracing The Highs And The Lows
Eventually, Benjamin secured the property using his mother's name instead of the limited company he had hoped, which meant they lost out on a redevelopment mortgage. Refusing to give up with only £4,000 left, Benjamin, his ailing wife, 2 young kids, brother Duncan, and their 76 year old mother moved into the property on October 20, 2006.
There was never a dull moment and Benjamin had his hands full with animal escapes, repairs, and many sleepless nights. Now many years later, the park is known as the Dartmoor Zoo and is open to the public. The Mee's have made significant renovations and progress over the years, but even now in 2013 they still face many hurdles and financial struggles. I felt a pull on my heartstrings when I read on their website that visitors have been declining now that the buzz from the movie has faded and there have been a lot of heavy rains causing damage this winter.
But I have high hopes for the Dartmoor Zoo. And Benjamin Mee isn't the type of man who gives up when things get tough. The Mee family and Zookeepers truly love their animals and are utilizing new ways to bring in visitors like hosting weddings, close up encounters, wildlife photography tours (I am totally doing this if I'm ever in that area of England!), giving discounts to single parents, and staying active in educational outreach.
Would You Risk Everything To Start A New Lifestyle?
There are some great lessons that we can learn from Benjamin Mee and how he risked everything to start a new lifestyle for his family. Here are a few that came to mind:
Just because things don't work out the first time, doesn't mean you should give up.
Every family has its feuds. And unfortunately there will be loved ones who disappoint and go against us, but we can't let that prevent us from helping those we care about the most.
Nothing ever goes exactly according to plan.
Running any type of successful business takes a lot of planning, organization, outreach, creativity, research, financing, dedication, and perseverance.
It's possible to make a drastic career change if you're willing to make sacrifices and work hard.
Even crazy ideas and dreams can come true.
Meet Benjamin Mee
Here's a great interview with Benjamin Mee filmed a few years after he moved his family to Devon, England to live at Dartmoor Zoo.

Untemplaters, are you familiar with Benjamin Mee's story and We Bought A Zoo? Would you risk everything to start a new lifestyle like the Mee family did? If you could start over, what would you differently?
Copyright 2013. Original content authorized only to appear on Untemplater.com. Thank you for reading!