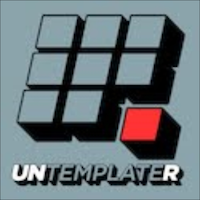 I've got a confession to make: I like the idea of a template.  Like most people, I've recently been bombarded with the idea of being location independent and traveling the world while working freelance jobs.  And sure, some of it sounds appealing.  I've listened to the Four Hour Workweek, and thought smugly, "Well, that will never be me.  I am way too into stability for that!"  In fact, I've spent a lot of my adult life desperately trying to fit into the standard "template" of what life is supposed to look like.  As a kid, I thought I had it all figured out, and at 21, it looked like I did.  I was married to my high school sweetheart, graduated with a BA in English in 3 1/2 years, worked for a non-profit, attended church weekly.  Living the dream, or so it seemed.
And then it crumbled.
Within one year, I'd broken free of the religion I'd grown up in, gotten divorced, lost my job and found myself living alone, working for myself as a massage therapist, and completely unsure of where I was headed next.  Instead of me shattering the template, the template shattered me.
Over the next few years, I worked myself back towards a standard life — the life I thought I wanted. I became an English teacher, dated guys I thought I would marry right away — searched for a way to make myself fit like a puzzle piece into this model the world had laid before me.  I've worked for relationship stability, job stability, life stability — grasping at it desperately. And while it's come for fleeting moments, it never seems to really be there.  Fitting my life into the model I thought it should fit is like that old adage — a square peg in a round hole.
Now I'm nearly 27 and once again, being forced outside the template.  I'm in a relationship, sure, but am completely unsure as to when marriage might happen for us — or if I want that at all.  I've taught for the past three years, only to be laid off due to budget concerns.  I love where I live and my proximity to my family, but for the first time ever, I really have no ties to being here.
It's simultaneously frightening and awesome.
Still, I'm realizing more and more, day by day, that there's something to this freedom thing.  That maybe the world is forcing me into a different sort of life for a reason.  Sometimes, I'm all, "Okay!  NO TEMPLATE!  WHEEEE!" and imagine what life could be like: travel, writing, no more alarm clock or lesson plans or waiting for summer break to have fun.  And then I wake up in a cold sweat going, "OHMYGOD, NO WAY!" and holding my retirement account balance statements.
At the end of the day, I'm a big fan of listening to the lessons life tries to teach you repeatedly, and OKAY, FINE, I guess I'm not supposed to have a template life after all.
Or else I'm supposed to learn to like eating ramen noodles and living in a box.
I GUESS WE'LL FIND OUT.
I can't wait to find out the reason why I keep having my template shattered, over and over again.  This time, I'm determined to put the pieces back together in a brand new, un-templated way.  Hopefully, along the way, I'll find my own best life.