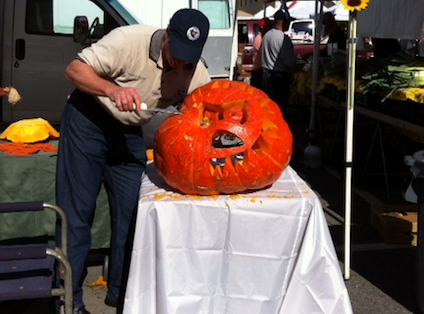 Happy Halloween Untemplaters!  I took this pic at the farmers market and yes, that's a real pumpkin!  Halloween is such a fun holiday so I've put together a few neat facts.  I've also included some great reads on the web below that I think you'll enjoy.
Americans spend close to 2 billion buying Halloween candy each year.  Now that's a lot of money to spend on sugar!
Jolly Ranchers and Blow Pops have 0 grams of fat vs 3 grams in a fun size Snickers bar.  So if your coworkers have tempting bowls of candy out this week, go for the hard candy and skip the chocolate!
George Renninger created Candy corn in the 1880s.  About 20 million pounds of these addictive treats are sold now each year.
Trick or treating is believed to have started in the US around the 1930s but didn't become common until the late 50s.
The heaviest pumpkin in the world made the Guinness Book of World Records in 2010 by Chris Stevens at 1,810 lb 8 oz.  The circumference of the giant pumpkin was over 15 feet!  Check out how big it is in the video:
With just two months left of the year, are you geared up to end the year strong or soft?  Don't wait until December 31st to start thinking about your goals and resolutions!  Take just 5 minutes today and decide on at least one goal you want to reach by the end of the year.  There's no reason to wait until your calendar says 2012 to start changing your life!
Untemplaters, did you or your family and pets dress up as anything fun for Halloween?  What goals do you have for the rest of the year?