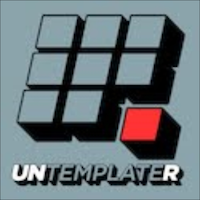 The other day I tagged along with my boyfriend for a day-long business trip. I found myself in an unfamiliar city with a whole day to explore and/or get some work done.  I wound up starting my day at a coffee shop at one end of a large shopping center and ended my day at a bookstore on the opposite end.
Normally when I go to a bookstore my heart just fills with excitement of all the possibilities to discover wondrous ideas hidden inside the pages of the various books. For some reason on this day with hours and hours to spend immersed in books of my choice, I couldn't decide on what to read. I couldn't figure out what topic or genre would be worth my time in that bookstore. So I wondered to myself:
"What would an untemplater do?"
Now I didn't mean 'what someone would do in that moment', but rather 'what would an untemplater read?' What kind of books would seasoned untemplaters recommend to the younglings who are just dipping their toes in the pool for the first time?
The Untemplater motto is: "Work where you want. Live how you want. Be who you want to be." Is there a book that you've read that has inspired you to do these things? Is there a book that has given you clarity or direction?
As of this writing, Untemplater has posts about five different topics:
Business
Mobile Lifestyle
Personal Finance
Relationships
Self Improvement
Have you come across any books that are "must reads" for any of the given categories? What books should be included in an Untemplater "Suggested Reading List" or even a "Required Reading List?"
Or… would you be so untemplated that you'd respond to this question with, "Forget it! I'll do and read what I want!!"?