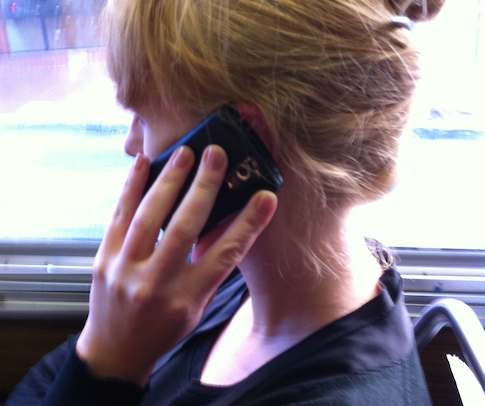 The older I get, the more and more I appreciate effective communication. Things have a way of getting miscommunicated, left out, lost in translation, or poorly relayed way too often. Poor communication makes our work and personal lives so much harder than they need to be. Fortunately there are easy ways to improve communication and increase happiness for all of us if we try a little harder.
1. Learn Not To Blame Others By Default
Things go wrong all the time at the office, among families, and between customers and businesses. We love to put the blame on someone else when things don't happen as we expected by default.
Rarely do we openly admit that the cause of failures were due to our own ineffective communication. Why? Because we all tend to think we communicate better than we actually do. Plus, blaming someone or something else is a lot easier than looking at the flaws in how we relayed information to one another.
So the next time things don't go the way you anticipated, pause before jumping to conclusions. Ask yourself what you could have done better in terms of communication, review what worked, and figure out how to fill in the gaps. Once you can work together on filling in the holes of communication and come to a resolution, you can often get the results you want on the second try.
2. Understand The Differences Between Ineffectiveness And Nervousness
The National Communications Associate performed a study on How Americans Communicate which had some fascinating results.
62% of Americans felt they were very comfortable communicating with people (talking with relative ease)
However, only 42% said they were effective when communicating
It's important to understand the difference between nervousness and ineffectiveness. They aren't the same thing. When communication breaks down, it's stemming from problems with effectiveness most of the time, not feelings of anxiety or the jitters.
So put your focus on improving how you formulate your sentences, capture and resolve all questions, receive feedback, and stay organize. Don't worry so much about having stage fright or nerves.
3. Study How You And Your Role models Communicate
Communication is vital to everything we do. And the ways we communicate are always changing. Think how reliant we are on text messages for example. We didn't always have that luxury. I still remember my first cellphone, which didn't have a keyboard, only a number dialer. So it took forever to write one sentence.
Anyway, take some time to think about how you and your role models communicate. Look at ways to:
Continually adapt to changing methods of communication
Build stronger relationships with those around you
Find ways to influence others
Stay aware of what's going on
Never stop listening
Break any habit of interrupting people
Improve your soft skills
Strengthen your written communication skills
4. Work On Your Weaknesses
It's important to be multidimensional to be effective communicators. In order to improve your communication skills you have to identify your weaknesses. We all have them.
For example, I have a bad habit of making random comments during conversations that others have trouble following, and not being able to speak quickly if put on the spot.
Perhaps your weaknesses are a lack of eye contact, low confidence causing shortfalls in assertiveness, being out of the loop, interrupting others, or not sharing your opinions enough.
5. Don't Underestimate The Importance Of Face To Face Communication
We all communicate over emails, texts, and phone calls now that we're in a world that can't function without technology. And while it's essential to know how to communicate effectively when we can't actually see the people we're relaying information to, we can not discount the significance of face to face communication.
Even if we don't exchange words, we are communicating when we are face to face. It's inevitable! Our body language and facial expressions communicate how we're feeling. So when improving communication, we have to pay attention to body language too not just verbal language.
Face to face communication is made up of mutual exchanges and adjustments because we are always reacting to one another. Think about the last argument or disagreement you had and try to remember the beginning and how the communication started. What triggered the reactions that each of you had? How did your physicality and words affect those around you? What parts of your communication were symmetrical or complimentary? Did either of you use power to influence each other?
6. Never Stop Improving How You Communicate
We've all been in situations when we've said things we later regret. The valuable takeaway is that we learn from those experiences and remind ourselves regularly that we can't take words back once they've been said. Even if we apologize, that doesn't erase what came out of our mouths.
We're also complex beings, and we often need to adjust our communication style based on who we're interacting with. Keep an open mind about your weaknesses and never stop improving how you communicate. We can't be happy if we aren't able to communicate effectively!
START YOUR PROFITABLE WEBSITE TODAY
Want to make more money and be more free? Work on building your brand by creating your own website the easy way with a WordPress site like mine through Bluehost for super cheap. You can register your domain for under $20/year and get hosting for only $3.49/month. Whatever your interests are, focus on building your skills and developing your own unique niche.
I've been blogging since 2010 and it has allowed me to break free from the corporate grind to travel, work from home, consult for companies that I like, and do so many more things I've always wanted to do but couldn't. The income is relatively passive as posts I've written years ago are still being found through Google and generating income. What's better than making passive income and creating a valuable asset you can one day sell for a multiple of annual income?
I've conquered my biggest fears by going off on my own thanks to this website and it feels wonderful. Not a week goes by where I'm not thankful for starting this website to live the life I want to live!
Updated for 2016 and beyond