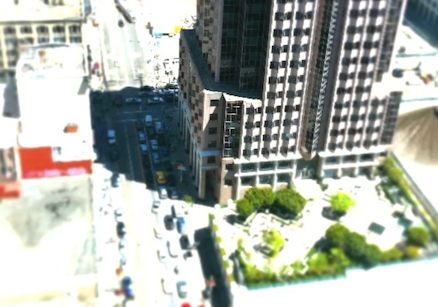 I'm obsessed with tilt-shift photography.  If you've never heard of it before, it's a way of manipulating an image either through special lenses or by applying filters that make the objects in the image appear miniature like in the image I shot above.  There's just something magical about all things mini that always makes me smile.
Perhaps it's the birds eye feel of the style that gets me giddy and makes the world seem more extraordinary. Or maybe it's the memories I recall from my travel adventures when I'm staring out the window of an airplane right before touching down to a new destination.
But mostly it's seems to be the reminder that the world is such a vast, amazing place, and our troubles are so microscopic in comparison.  There's a calming effect about that realization and I encourage you to think about that.  We get so caught up in paralyzing thoughts like "I'm so busy…I'm so stressed…I'm so troubled…I'm so miserable…me me me me" that we forget about all the glorious things around us.
If you get too focused on yourself and your own anxieties, you'll lose sight of life.  Miniaturize yourself in your surroundings once in a while and you'll realize that all of your worries are really insignificant and there's no need to let them keep holding you back anymore.  The world is always in motion.  Life is always in motion.  If you try to stand still too long, you're going to get knocked over.
Shrink your fears and concerns until they disappear.  Free your mind and keep moving forward.
Here are some brilliant tilt-shift videos by a talented Greek photographer, Emmanouil Papadopoulos, that will help you miniaturize and keep moving forward.

Untemplaters, are your troubles currently keeping you in a stand still?  Have you ever tried to miniaturize your stress and anxieties?  What keeps you moving forward?
The following two tabs change content below.
Hi there, I'm Sydney! After ten crazy years, I left a grueling six-figure job in 2015 for a better life. Now I spend my days with my family, writing, freelancing in various capacities, and finding new ways to stretch my brain. I'm crazy about my husband and two kids, gardening, photography, gadgets, and stopping to smell the roses. Untemplater is where I share my insights and adventures with the world. I'm continually motivated to write and evolve in hopes that I can help others improve their lifestyles, careers, wealth and happiness. Every day is a gift! Be sure to check out my
how to start a blog
and
Untemplater recommendations
pages. Thanks for reading!