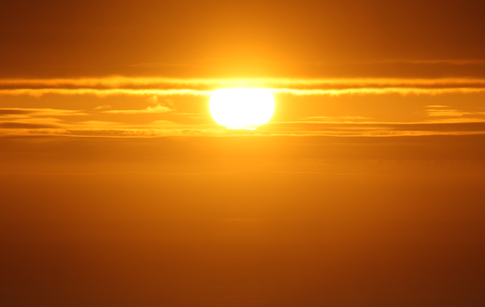 I watch a lot of movies. Most of them are just for fun and entertainment so I tend to quickly forget the details of the plot a few days later. But every so often I stumble upon a hidden gem that touches my heart, fills me with hope and humility, inspires, and sticks with me.
A few weeks ago I was talking to my mom who lives several thousands of miles away, and she mentioned she had recently watched a good movie called The Good Lie. I'd never heard of it before, but my curiosity was peaked when she mentioned Reese Witherspoon was in it. Turns out it's produced by Ron Howard as well. The ratings looked pretty good so I put in in my queue and totally forgot about it until it arrived this past weekend.
Surprised On The Upside
I had low expectations of the movie since I hadn't heard anything about it other than my mom mentioning it. Turns out it only made $3.2 million in the box office, so chances are you probably haven't heard of it either. But wow, I am so glad I watched it.
Without giving too much away, the movie is based on the true story of the Second Sudanese Civil War and the refugee children who fled southern Sudan. Many of the "Lost Boys of Sudan" were orphaned and walked over a thousand miles across three countries to find safety. Some of the actors in the movie are real-life refugees who survived the war, and that really added an extra layer to this movie that I didn't expect.
Most of the movie isn't focused on the war itself, but the journey that four orphans make to the US and the struggles and triumphs they make adjusting to a new life.
Life Lessons From The Good Lie
Even if you don't end up watching the film, you can take away some life lessons that I've put together below.
Spread Awareness
History was my worst subject in school, which is silly because I find history so fascinating now as an adult. Anyway, I feel rather embarrassed that I didn't know about the devastations of the civil war in Sedan until I watched The Good Lie. Maybe I was too young to know what was happening during the height of the war, but in any case I'm glad I know about it now.
Neither did I fully grasp until watching this movie that the events of 9/11 didn't just affect us here and in other developed countries, many people in third world countries were also affected due to political tensions halting many aid programs.
To see people, especially children, who have escaped the devastation of war is incredibly humbling. And the movie shows that rescue missions and spreading awareness can truly save lives. We must give thanks every day that we live in a safe country that protects us from dangers and physical harm.
Remember Your Heritage And Culture
I have never been to Africa before. I did go on a mini safari once, which gave me a taste of what it's like, but one day I hope to see the wide-open plains, wildlife, and sunrises in Africa in person.
I loved how The Good Lie incorporated bits and pieces of Sudanese culture into the movie such as the games they played as children, the way they ate, and the many beautiful songs they sang. And some of the expressions the character Mamere used were funny yet so innocent too.
I just can't imagine what it must have been like for the refugees. I've experience culture shock before, but nothing anywhere close to what they experienced going from remote villages in the wild to refugee camps and then to modern America.
They'd never seen electricity before, running water or even telephones. We must never forget that the way we live today is not the only way, nor necessarily the "right" way, and many people survive with so much less.
Look For Small Reminders Of Home When You're A Long Ways Away
I loved how the boys had a connection with the cows on Jack's farm and felt a little reminder of their happy days back in Sudan when they were with them. Even though the cows were not the same breed or color, they were cows just the same. You can pretty much find cows almost anywhere in the world, which is neat.
The stars are the same way. Even if we're miles away from home or separated from the ones we love, we can get a little bit of comfort knowing that we're all looking up at the same stars.
From Tragedy Comes Strength And Unity
I was also touched by the bonds that grew between all the various characters in the movie. They had been through so much together that they were a family regardless of blood.
I thought the script was really well written too. Nothing felt fake or over-scripted. Everything felt real and sincere. And the scene between Jack and Mamere towards the end is one testament to that.
Jack had been through a war himself, a very different war, and he was able to help Mamere cope with the anguish and emotional scars that had stayed with him for so long. Through the tragedies that everyone faced, came strength and unity.
Sacrifice Is A Choice And Changes Lives
We all would like to think that we'd be brave enough to give up our own lives to save someone else's. But who knows if we'd actually have the courage to do so if we were put in imminent danger. Hopefully none of us will ever be put in a situation like that, but we must remember that there are real people out there who have had to make life or death choices and difficult sacrifices.
Perhaps when the choice is to save or help someone you love it isn't as hard as it may seem.There are several moments of incredible sacrifice in this movie that touched me deeply. I won't spoil them in case you plan to watch the film. May one day no one have to face such desperate choices.
There are several moments of incredible sacrifice in this movie that touched me deeply. I won't spoil them in case you plan to watch the film, and if you've seen it I'm sure you know which ones I'm talking about. May one day no one have to face such desperate choices.
Transformation
Lastly, I loved the transformations that took place in the movie. Reese's character, Carrie Davis, has a commendable transformation and she performed the role perfectly. We see each of the refugees slowly transform throughout the film as well adapt to many ups and downs and lifestyle adjustments.
The movie is a good reminder of the power of human kindness, sacrifice, and love. May one day no more countries suffer from violence, war, oppression, and hunger.
The trailer for The Good Lie gives away too much of the movie in my opinion, so instead I've included a short video below featuring two of the film's actors, who are real Sudanese refugees.
There are still many families and children in Sudan who need help. If you're interested in helping the cause, you can donate to The Good Lie Fund, which supports Unicef, RefugePoint, and The Lost Boys Center for Leadership Development.
Ready to watch it? You can purchase or rent The Good Lie here or using the image below.
"If you want to go fast, go alone. If you want to go far, go together." African proverb
START YOUR PROFITABLE WEBSITE TODAY
Want to make more money and be more free? Work on building your brand by creating your own website the easy way with a WordPress site like mine through Bluehost for super cheap. You can register your domain for under $20/year and get hosting for only $3.49/month. Whatever your interests are, focus on building your skills and developing your own unique niche.
I've been blogging since 2010 and it has allowed me to break free from the corporate grind to travel, work from home, consult for companies that I like, and do so many more things I've always wanted to do but couldn't. The income is relatively passive as posts I've written years ago are still being found through Google and generating income. What's better than making passive income and creating a valuable asset you can one day sell for a multiple of annual income? There's not a week that goes by where I'm not thankful for starting this site!